Pet lovers rejoice – Animal Scents™ have arrived in Canada! Now you can share your love of essential oils with your beloved furry family members. Animal Scents products were formulated specifically for animals, so you can count on them being effective and safe for your pet.
But before you start using essential oils for pets, let's explore the basics:
The Basics of Essentials Oils for Pets
Start low and go slow! Every animal is different, so carefully observe how your pet responds to essential oils and react accordingly. Remember that your pet cannot tell you if something doesn't feel right! So, make it your duty to exercise caution and take a responsible approach to using essential oils.
Animal Scents are specifically formulated for veterinary use, so please keep out of reach of children.
With all animals, avoid using "hot" oils or high-phenol oils—such as Oregano, Wintergreen, Clove, and Thyme.
Take extra caution when using essential oils around cats, never use daily and avoid oils with citric ingredients entirely. If diffusing, always allow cats access to areas where they can avoid the diffused oil.
Always follow label instructions! Animal Scents are designed for both aromatic and topical applications – note that this does not include ingestion. If applying topically, follow dilution instructions carefully according to the size and species of the animal – additional dilution is recommended for smaller species.
 Remember that the tips we're sharing are general recommendations. If your veterinarian suggests otherwise, defer to your vet. After all, they are the animal health experts! If your pet is pregnant, nursing, under 8 weeks old or has a medical condition, be sure to consult your vet prior to use.
---
How to Introduce Pets to Essential Oils
Essential oils are potent, and an animal's sense of smell is much more powerful than our own, so your pet may need some time to adjust and acclimate to essential oils. Use these tips to introduce your pets to essential oils in a comfortable way:
Wear essential oils throughout the day and let your pets explore the scent on their own terms.
Diffuse essential oils in relaxing spaces in your home – and watch closely for signs of irritation like whining, shaking, sniffing or scratching.
If you find that essential oils are making pets jittery or nervous, apply a small amount of oil to yourself and stay near them for several minutes so they can get used to the aroma.
---
How to Use Essential Oils with Pets
Diffuse
Diffusing is the gentlest way to introduce and expose your pet to essential oils! Keep in mind that your dog's sense of smell is 100,000 times better than yours – so the scent of a couple drops of Lavender could smell like a whole Lavender field to them. Follow these tips to make sure your pet is comfortable with diffusing essential oils in your home.
Diffuse in small doses: Use small amounts of essential oil (start with 1 or 2 drops).
Diffuse for short periods: Start by diffusing for only ten minutes at a time.
Diffuse in open spaces: Provide the option for your pet to leave the room.
Diffuse in well-ventilated spaces: Make sure there is adequate fresh air circulation.
Diffuse and pay attention: Observe how your pet reacts.
If your pet seems uncomfortable, try to diffuse fewer drops next time. But if they seem uncomfortable no matter how much essential oil you use, listen to your pet and stop diffusing around them.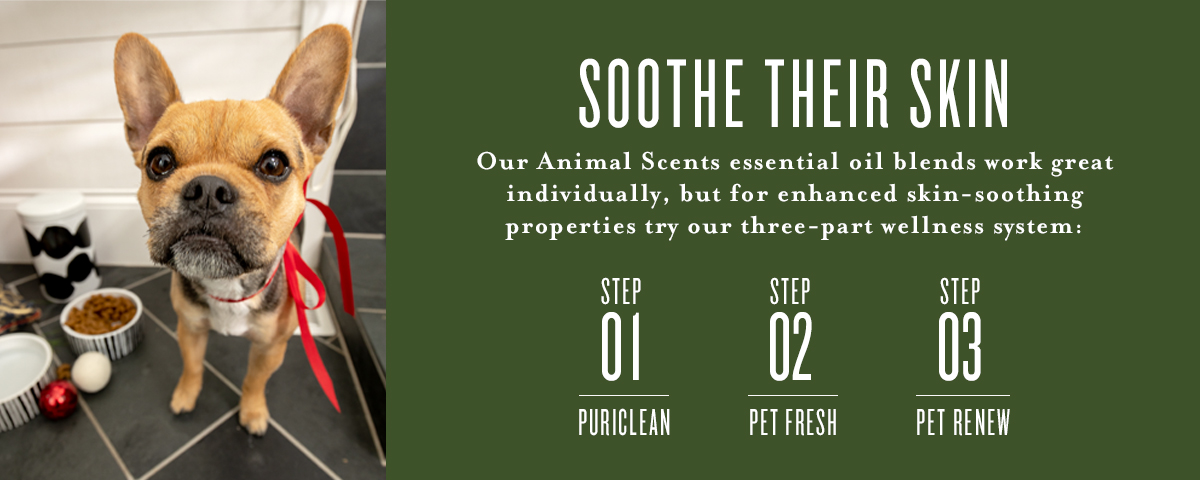 Apply
Similar to when you apply topical essential oils yourself, dilution is also recommended for pets. But how can you gauge the correct essential oil to carrier oil dilution ratio? We've got you covered with our handy dilution guide!
Small dogs or cats: 9:1 drops carrier oil to essential oil
Medium-sized dogs: 4:1 drops carrier oil to essential oil
Large dogs: 3:1 drops carrier oil to essential oil
Large animals (horses or cattle): 1:1 drops carrier oil to essential oil
Topical application should be reserved for pets that are veteran essential oil users only! What type of carrier oils are best for pets? We like gentle, easily absorbed options like V-6™ Enhanced Vegetable Oil Complex and liquid coconut oil!
Before you apply, mix your carrier oil and essential oil in your palm. Rub your hands together until your palms are no longer shiny and apply to your pet in gentle strokes avoiding their eyes, ears, mouth and other sensitive areas. A roll-on created with the same dilution ratio also works well!
---
When to Use Essential Oils with Pets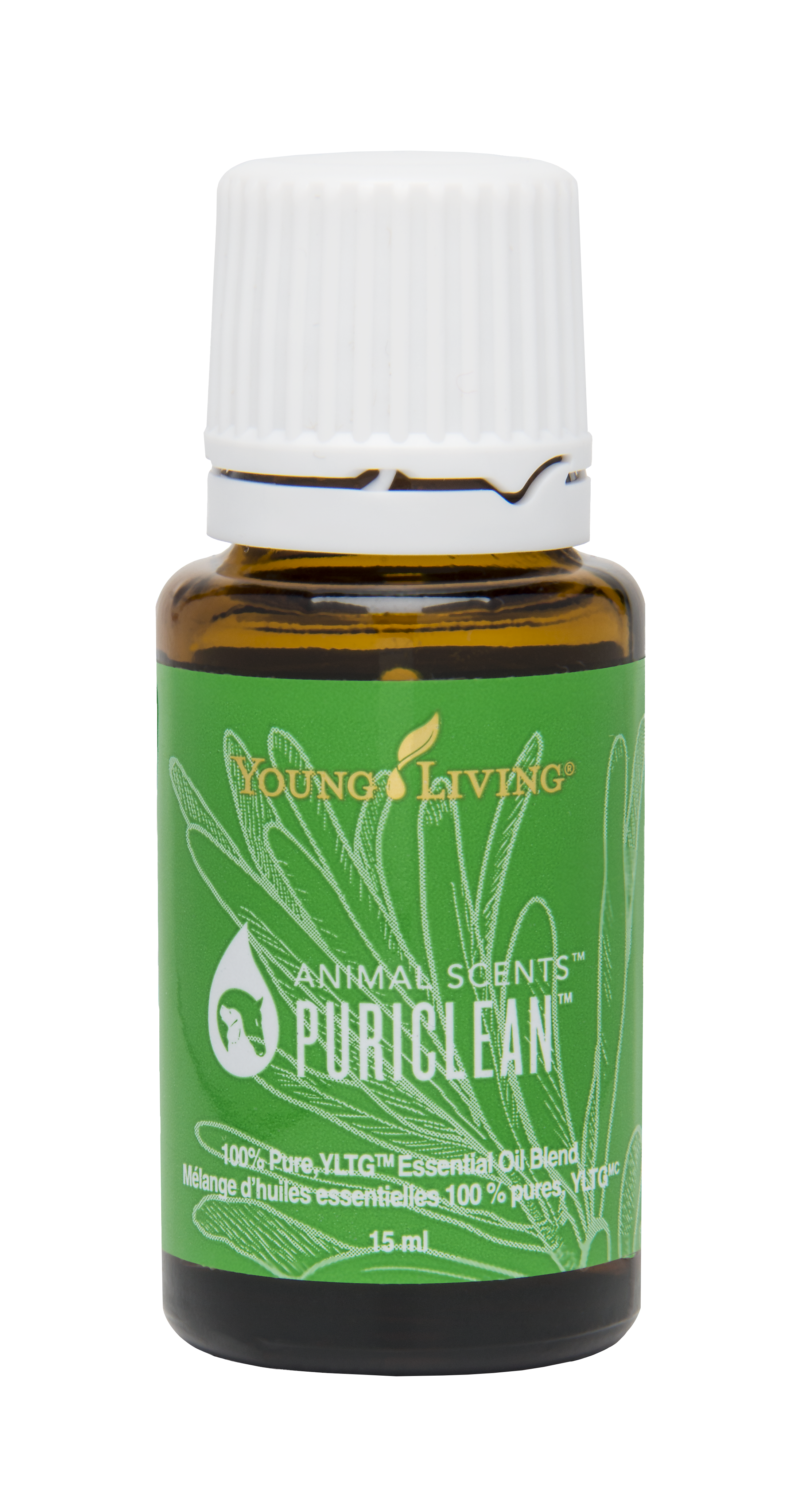 From scrapes and scratches to dry skin to abdominal discomfort, the Animal Scents line is here to help
relieve symptoms from the day-to-day issues that pets often encounter.
Scrapes & Scratches
Reach for PuriClean™ to cleanse and soothe minor scrapes, scratches and irritations.
Irritated Skin & Coat
Pet Fresh™ is a powerful blend that supports healthy recovery of irritated coat and skin, while guarding against
harmful contaminants.
Dry Skin
Perfect for an outdoor adventure! Pet Renew™ protects and moisturizes sensitive, distressed skin and improves
the appearance of a healthy-looking coat.
Nervousness
Small changes to routine can be a big deal for your pet! Use Pet Care™ to alleviate nervousness and
create a balanced environment for your pet during times of tension.
Abdominal Discomfort
Ease abdominal discomfort and restore your pets' inner peace with Inner Balance™.
The best part about Animal Scents?
When you choose Animal Scents you're supporting and protecting animals in need! A portion of all proceeds go to Vital Ground, a non-profit dedicated to protecting the habitat of grizzly bears and wide-roaming wildlife. Now that's something for all animal lovers to celebrate! Check out the full line of Animal Scents wellness essentials.
We want to hear about the pets in your life! Have you have used essential oils on them? Tell us in the comments!
This post is also available in: French