Jump to recipe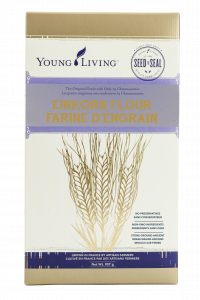 Let's face it. There are nights where getting dinner on the table can seem like an impossible task! Nights where we want to indulge in fun (and sometimes unhealthy) dinner options to "treat" ourselves and our families after a long, busy, exhausting and challenging (did we say busy?) day!
Eating healthier can be easier when we have one or two meals prepped and ready to go – especially a nutritious homemade pizza (crust and all)! No matter the makeup of your family, taking time to eat dinner together has so many benefits. Those pre-prepped meals can really save that special time together, especially when the word of the day is busy.
A wholesome option the whole family can help with is pizza. We recommend using Gary's True Grit Einkorn Flour to build your crust. With food allergies becoming more common, einkorn wheat can be a great alternative for those who are more sensitive. This ancient grain has lower gluten levels and is easier for our bodies to digest. Plus, it's a tasty twist on a classic pizza that's just as fun to make as it is to eat!
Helping Hands:
For this recipe, we suggest children ages 5+ may be able to make the pizza crust (with adult supervision), requiring extra help in steps three through seven. Children of all ages can help with the toppings.
Einkorn Pizza Crust - New York Style

Prep Time
2 hours, 30 minutes
Total Time
2 hours, 42 minutes
Ingredients
I 1/4 cups warm water, 100° F
I tsp. active dry yeast
I tsp. sugar
5 cups Gary's True Grit Einkorn Flour, plus more for dusting
2 tsp. fine sea salt
3 Tbsp. extra -virgin olive oil, plus more for greasing the pan
Your choice of toppings; try mozzarella and parmesan cheeses, pizza or marinara sauce,
mushrooms, olives, tomatoes, pepperoni... whatever you like!
Instructions
Dough: In a large bowl, mix together the water, yeast, sugar, and l cup of Einkorn flour. Let stand for 15 minutes until the mixture begins to bubble. Add the remaining 4 cups of Einkorn flour and the salt and mix together with a stiff spatula. Add the oil and begin kneading the dough in the bowl until it holds together. Lightly flour a work surface. Turn out the dough onto the work area and knead for 2-3 minutes until smooth.
Place the dough back in the bowl and cover tightly with plastic wrap for 2 hours at room temperature, until the dough rises by 30 percent.
Lightly grease a baking sheet with oil. Divide the dough into 2 pieces. Roll each piece into a tight ball and place it on the prepared baking sheet. Cover the dough with lightly oiled plastic wrap. Let rest for 15 minutes.
Place two baking sheets, pizza pans, or pizza stones in the oven. Preheat the oven, and baking sheet to 500°F for 30 minutes.
Heavily dust a piece of parchment paper with Einkorn Flour and place a ball of dough on it. Use your hands to gently stretch the dough into a 16-inch round. Gently form a 1/2-inch raised edge around the outside.
Repeat this process with the second piece of dough. Add your toppings, starting with the sauce of your choice. Do not over-top the pizza, it may become soggy. Carefully slide the dough and parchment paper onto the preheated baking sheets.
Bake the pizzas for 10-12 minutes until the edges are dark brown and the cheese begins to brown. Slice and serve hot out of the oven.
TRY THESE TOPPINGS:
Hawaiian-style Pizza: Organic marinara sauce, mozzarella cheese, Canadian bacon, pineapple
Jared's BBQ Chicken Pizza: Organic BBQ sauce, mozzarella cheese, grilled chicken, diced green peppers, diced red onion, chopped garlic
---
Have you made this recipe? Let us know how it turned out for you! Leave a comment below and share a photo on Instagram with our hashtag #YLRecipeCA
This post is also available in: French