Last month I had the privilege of introducing Young Living Essential Oils to thousands of people in Southern California at both the Women's Conference and the TEDMED Conference.
My journey started at the 24th annual Women's Conference, where over 14,000 attendees gathered to be inspired by the likes of Maria Shriver, Arnold Schwarzenegger, Michelle Obama, Dr. Jill Biden, the Honorable Sandra Day O'Connor, former Associate Justice the Honorable Ruth Ginsburg, Erin Brockovich, and Pulitzer Prize-winning and National Book Award-winning poet Mary Oliver, among many others. The central theme was "Empowering women to be architects for change," and the energy of inspiration and possibility was truly palpable.
Also speaking at the Women's Conference was fashion designer and philanthropist Donna Karan. Donna's commitment to philanthropy and global healing led her to found the Urban Zen Foundation, an organization that brings together like-minded people and organizations to define solutions and implement action in the areas of well-being, empowering children, and preserving culture. Young Living has partnered extensively with Urban Zen for the past two years, working to bring the healing power of essential oils to even more people.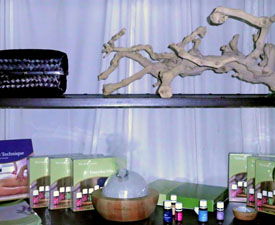 I was privileged to be part of Urban Zen's booth at the Women's Conference, which was a beautiful space where visitors relaxed while they waited for a complimentary 10–15 minute aromatherapy and Reiki healing session. Our space was a haven from the rest of the busy conference; I watched people visibly become more relaxed and calm as they inhaled the uplifting properties of the essential oils. We diffused Thieves® essential oil blend in an Aria™ diffuser, and the aroma carried into a majority of the enormous marketplace. Other essential oils used in the healing sessions included peppermint, frankincense, lavender, Peace & Calming®, and Valor®; in all we provided more than 120 wellness sessions throughout the entire conference!
After the Women's Conference ended we drove to San Diego for the TEDMED conference at the Hotel Del Coronado, an annual event where the best in health care and medicine come together to share the latest ideas. Again with Donna Karan and the Urban Zen team, we created a sanctuary for healing and wellness where we offered complimentary wellness sessions using Young Living essential oils. We used a wide variety of essential oils on our visitors, including Thieves, PanAway®, Deep Relief™ Essential Oil Roll-On, Valor, Joy™, frankincense, Gentle Baby™, Grounding™, jasmine, and peppermint.
Both events were great ways to showcase how companies like Urban Zen and Young Living are bridging the gap between Western and Eastern wellness modalities. I'm proud to belong to organizations that strive to honor their stewardship to bring healing to the world.
Blessings,
Tracy Griffiths, RPP, RPE, CMT