Your family vacations have wrapped up, the kids are sliding school supply lists on the counter, and you're left wondering how you're going to keep them entertained for these last few weeks of summer. Get them outdoors to catch those last few rays of sunshine with an art project that smells as good as it looks! Infused with essential oils, this DIY sidewalk chalk recipe will keep them entertained while leaving the mess outside the house.
DIY essential oil chalk
Inspire your children's inner Van Gogh with essential oil-infused chalk! Get their creativity flowing and help them create a masterpiece that'll leave the whole neighborhood peeking over at their elaborate designs. Craft all the art supplies they'll need with just a few non-toxic ingredients.
This recipe is meant to be used for one color. If you want to make multiple colors, repeat the recipe for each one. The quantity of chalks each batch makes will vary depending on the size of your mold.
What you'll need:
1/2 cup Plaster of Paris
6 tablespoons cold water
Acrylic paint or gel food coloring
1 drop KidScents® essential oil blend
Plastic cup
Plastic spoon
Silicone mold
Instructions:
1. Add the cold water to the cup. It is important that you use disposable cups and spoons to avoid getting Plaster of Paris in your sink. It can clog the pipes and cause problems.
2. Add your coloring to the water and mix until incorporated. To get a pigmented chalk, use at least 3–4 tablespoons of paint or enough food coloring until the mixture is your desired color. If you are using acrylic paint, one with a matte finish will mix with the water more evenly.
3. Add Plaster of Paris and essential oil blend and mix until everything is evenly incorporated.
4. Pour mixture into your mold and tap to help release the air bubbles. If you don't have a silicone mold, you can use a muffin tin, old toilet paper roll lined with parchment paper, or other small container as a mold for your chalk. However, a silicone mold will be the easiest to remove the chalk from.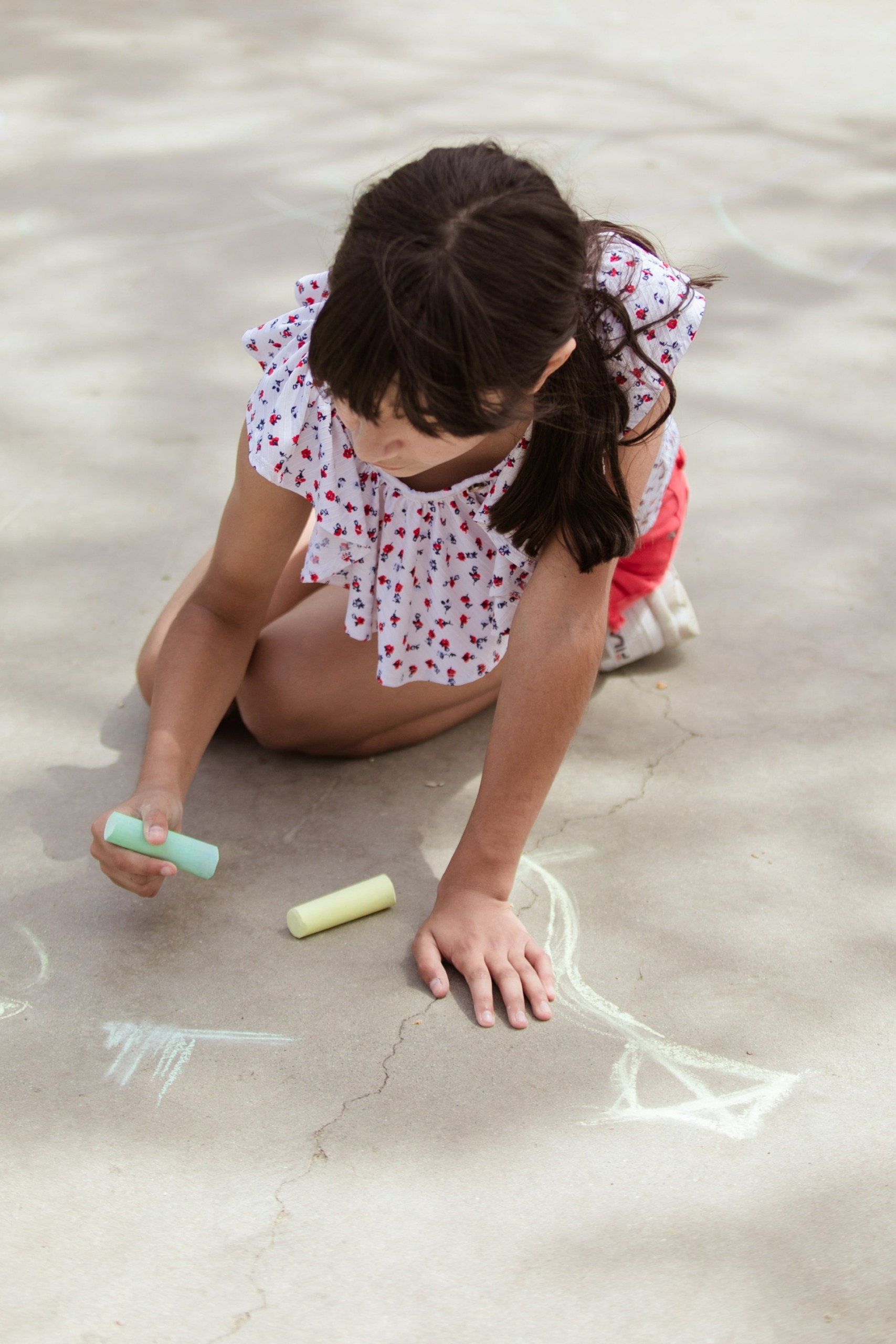 As the chalk dries, water will rise to the surface. This is perfectly normal, and it will dry up. If left out in the sun, the chalk will set after 6–12 hours but will still be slightly crumbly and wet. For best results, let sit for 24 hours. Remove from the mold and store your chalk in a dry place if the mixture is still slightly cold and damp, or in an airtight container once it has fully dried out.
Once the chalk is dry, let your kids' creativity fly! To clean up, wash their drawings away so your kids have a clean slate to start their next creation.
YL tip: While your younger children may want to help you make this exciting DIY, we recommend that you pour and mix the Plaster of Paris yourself to keep messes contained and prevent kids from ingesting or inhaling the plaster powder. Make sure you and anyone helping out is wearing a smock, apron, or work clothes in case of accidental spills.
DIY essential oil chalk paint
Need a quick way to entertain your kids without any drying time? Create your own simple chalk paint with ingredients you likely already have in your kitchen! When you're in need of a quick kiddo distraction, just whip together this simple DIY to get them out of the house and into the sun. Keep in mind that this chalk paint will have a more-watery consistency than regular paint, but once it dries on the sidewalk, it will look similar to traditional sidewalk chalk!
What you'll need:
¼ cup corn starch
¼ cup water
Food coloring (gel works best)
Small containers or muffin tin
Paint brushes, various sizes
Instructions:
1. In each of your small containers or muffin tin cups, combine ¼ cup each of corn starch and water. Mix until the corn starch dissolves.
2. Add food coloring until you have your desired paint color. For additional sensory fun, add 1 drop of your kid's favorite KidScents oil blend.
3. Hand your kiddos a paint brush and let the outdoor creative play begin!
No need to worry about your little Picasso's drawing taking a permanent place on your driveway. These DIY chalk recipes are washable and can be easily cleaned with a little rain or a hose.
Looking for more DIYs to keep the kiddos entertained? Try our homemade essential oil play dough or our DIY moon sand recipe!
Try out this fun DIY and let us know what you think in the comments below!