Moms give every day to their families, so give the mothers in your life a day that's just their own with these seven gift ideas! From the simple to the indulgent, there's something for any situation and any mom. You'll both love the chance to make her feel special.
1. Savvy Minerals Wristlet

Moms are always on the go. Whether she's running errands, meetings, play groups, or 5Ks, there's nothing she can't do! Spoil her this Mother's Day with a YL wristlet to carry her favorite oil bottles, roll-ons, and even her Savvy minerals lip gloss to keep the glam going on the go!
Bonus: this wristlets doubles as a wallet with 6 credit card pockets!
2. Bath & Shower Gels



Any mom welcomes a quiet moment to refresh—even if her only chance to get away is in the shower. Our Bath & Shower Gel makes shower time extra special with refreshing aromas such as Lavender and Morning Start™, or she can create a custom scent with the Bath & Shower Gel Base. For extra silky skin, use a gentle exfoliating glove.
3. DIY Foot Soak
Kids keep you on your toes, so it makes sense that motherhood comes with tired feet. A simple Silky Foot Soak is perfect for moms on their feet, and it's a DIY that feels anything but homemade. With rolled oats and Epsom salt, this mixture combined with warm water creates a velvety soak that softens and pampers skin. Plus, the added scent of her favorite essential oil will refresh her mood as well.4.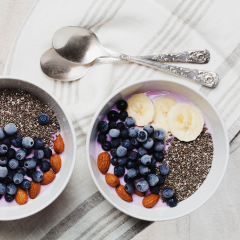 4. Breakfast in Bed 
Give her a break with a Mother's Day breakfast in bed. Our overnight chia bowls make it easy to whip up a healthy but extravagant breakfast for Mom on her special day. She will feel loved and pampered with five different flavors including Lime and Coconut, Chocolate Wolfberry, and Apple Cinnamon.
5. Lip Balm and DIY Lip Scrub
For lips that kiss scrapes and kiss goodnight, Mom needs a balm that keeps her lips soft and comfortable. Give her a petroleum-free lip balm in one of our three fresh flavors—Grapefruit, Lavender, and Cinnamint™—or treat her to all three! A homemade lip scrub offers extra pampering, and it's easy to make. Simply combine 2 teaspoons organic evaporate cane juice crystals, ¾ teaspoon coconut oil, and 1–2 drops essential oil such as Lavender or Peppermint. Place the scrub in a small jar and wrap with a ribbon or bow for the final touch.
6. DIY Bath Salts
The easiest way to create an at-home spa experience? Bath salts! Use our simple bath salts recipe for a DIY gift that will make her feel like a queen. It includes Eucalyptus Globulus and Juniper essential oils to create an invigorating and steamy atmosphere that's the perfect place to unwind.

7. Home Diffuser with a Custom Essential Oil Blends
A new diffuser is always a treat, whether or not you already have one! The Desert Mist Diffuser is the perfect way to start spring. We love using it in living rooms and bedrooms, but she can also enjoy it at work, in a home office, or craft room. Make the gift extra special with a custom, homemade blend that's personalized to include her favorite scents. Our list of favorite springtime blends make it easy to make your own.
---
What's your favorite way to spoil mom?
Let us know in the comments below!