Whether you're sitting in the sweltering summer sun or soaking up refracted rays on the snowy slopes, one thing is vital: protecting your skin. Natural sunscreen means more fun outdoors, without the worry!
---
How does sunscreen work?
Chemical sunscreens
Chemical sunscreens work by chemically absorbing UV light, which also presents the potential for system toxicity. Chemical sunscreens contain active ingredients like avobenzone, oxybenzone, retinyl palmitate, parabens, phthalates, petrochemicals, PABA and 1, 4-dioxane, UV chemical absorbers, artificial colours and synthetic fragrances.
In a recent study published in a peer-reviewed journal, researchers found that after using sunscreens with these ingredients as active compounds, chemicals were detected in the bloodstream.
Barrier sunscreens
Barrier sunscreens use active ingredients like zinc oxide or titanium dioxide to block UV rays, rather than absorbing them. These formulas often contain nanoparticle-sized zinc oxide, which can result in harmful particles entering the bloodstream.
What makes Young Living Mineral Sunscreen
different?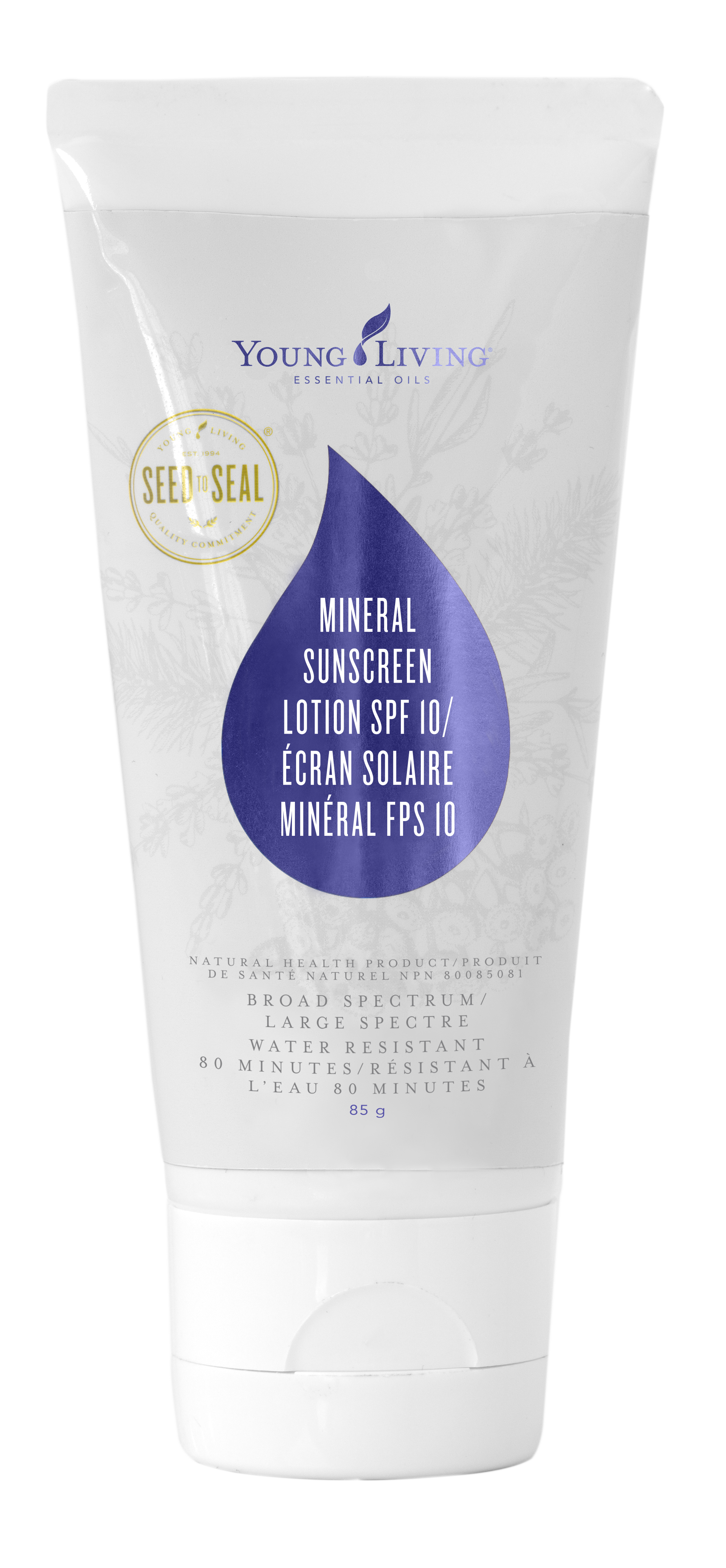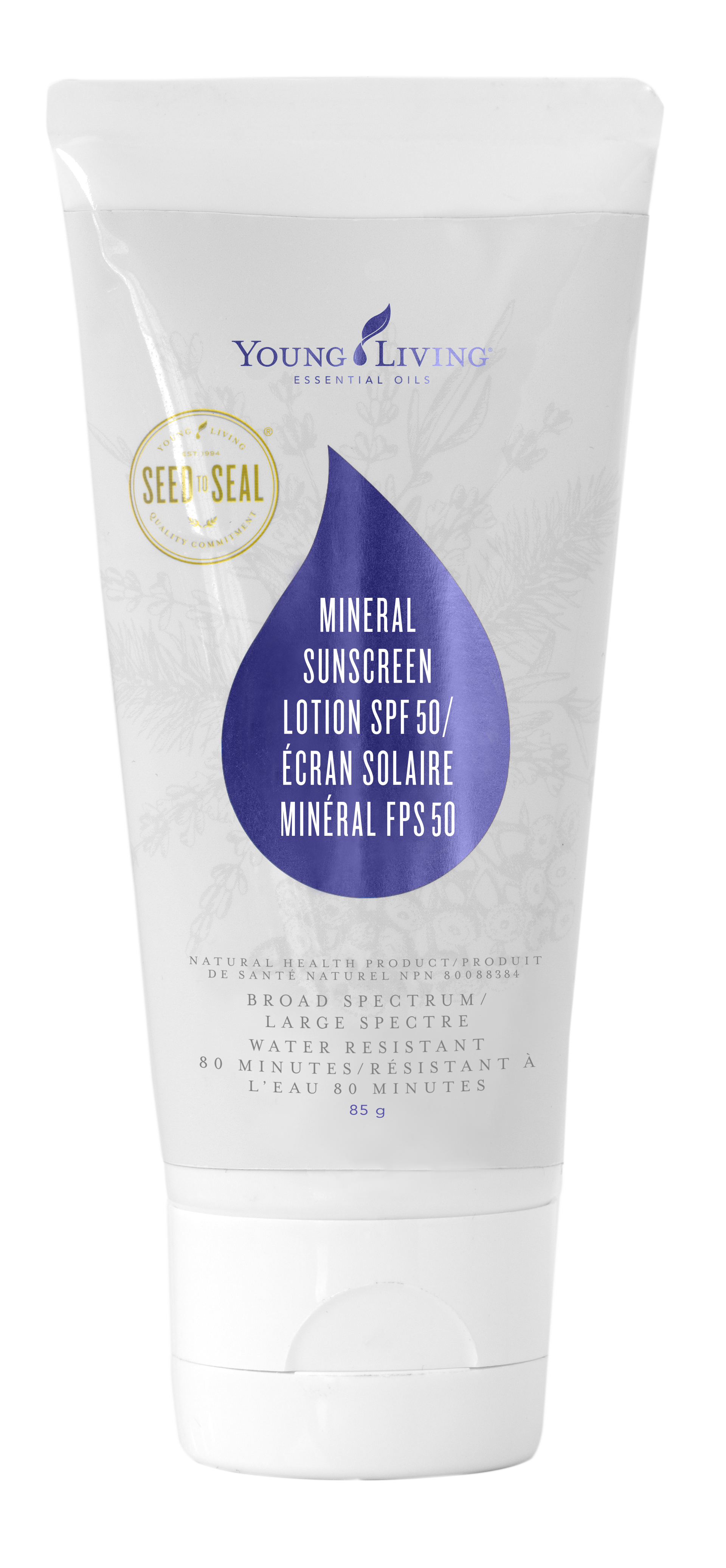 When the scientists at Young Living formulated our Mineral Sunscreen,
they wanted to develop the very best for everyone in your family! Blocking UV
rays was the right approach, so a natural barrier sunscreen was the right formulation.
So, we developed a sunscreen that uses non-nano zinc oxide – which means when you wear
this sunscreen, you won't absorb harmful chemicals into your bloodstream.
Here are even more reasons why Young Living Mineral Sunscreen is better than all the rest:
Our sunscreen is free of avobenzone, oxybenzone, retinyl palmitate, parabens, phthalates, petrochemicals, PABA and 1,4-dioxane, UV chemical absorbers, artificial colours and synthetic fragrances.
It is reef safe, which means it does not contain chemicals such as oxybenzone and octinoxate, which cause coral reef bleaching.
It is formulated with skin-loving essential oils including Helichrysum, Lavender, Myrrh, Carrot Seed and Frankincense.
It is lightweight, fast-absorbing and provides added protection from UVA and UVB rays.
It is non-greasy and absorbs into skin without leaving white residue behind – perfect to wear under your Savvy Minerals by Young Living® makeup.
It is sweat- and water-resistant for up to 80 minutes.
It is hypoallergenic and dermatologist-tested.
It has the Skin Cancer Foundation's seal of approval for healthy, daily use.
A little bit about SPF
What do you know about Sun Protection Factor (SPF)? This term can be confusing, with the assumption that a high SPF means more protection. Well, that's not entirely true. SPF is a measure of protection against UVB rays, which can cause cancer. For example, if your skin would burn after ten minutes of sun exposure, an SPF 15 sunscreen would allow you to stay in the sun for approximately 150 minutes – or 15 times longer – without burning. SPF is meant to help you determine the amount of time that you will be protected.
The SPF scale isn't linear. For example, SPF 10 blocks 90 percent of UVB rays, SPF 30 blocks 97 percent of UVB rays and SPF 50 blocks 98 percent of UVB rays. Super-high SPF like 75 or 100 do not offer significantly greater protection, but protection for a greater amount of time.
Whether you need coverage for a long day of sweltering sun or an option for day-to-day sun protection, we've got you covered with Mineral Sunscreen SPF 50!
Besides having fun, there's nothing more important in summer than staying safe in the sun! Learn more about photosensitive essential oils and how to safely use your favourite oils, all summer long.
Now that you've slathered on your YL Mineral Sunscreen, what outdoor summer adventures do you have in store? Let us know in the comments!
This post is also available in: French