Your skin is the largest organ in your body, so what you put on your skin matters! With a skin care routine anchored in clean, natural products you create a foundation for whole-body confidence.
When you love the skin you're in, you can confidently share your light with others. Let your skin care routine be the first part of your morning and the last step before bed. Enjoy this naturally nourishing skin care routine!
---
Step 1: Purify
Apply Satin Facial Scrub, Mint to warm, damp skin. Massage in gentle circles to slough off dry, dead skin, making
sure to avoid sensitive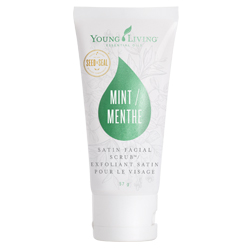 skin around the eyes.
Try adding a couple drops of Geranium to your Satin Facial Scrub – or try something new and create your own foaming facial blend!
What you need
A 119 – 178 ml (4-6 oz) foaming soap dispenser
¼ cup liquid Castile soap (unscented)
½ tsp almond oil
8 drops

Geranium

essential oil
Optional
3-4 drops vitamin E oil for dry skin
3-4 drops

Tea Tree oil

for oily or combination skin
Directions
Add Castile soap, almond oil and vitamin E oil (optional) to the foaming soap dispenser.
Add essential oils.
Fill to the top with distilled water.
Step 2: Exfoliate
Apply a fingertip scoop of Poppy Seed Lip Scrub and massage gently but firmly onto your lips.
Rinse and reveal smooth, soft lips!
Shake well and use to purify skin, day and night!
Step 3: Hydrate
On clean dry skin, apply facial lotion as normal. To tackle oily skin, try adding a drop or two of Tea Tree (melaleuca oil) to the mix!
Take a pea-sized amount of Wolfberry Eye Cream and tap onto the bony rim around your eyes. Massage into skin until absorbed. Apply morning and night – or whenever you need to uplift and hydrate throughout the day!
Step 4: Soothe & Shine!
Pucker up and apply Grapefruit, Lavender or Cinnamint Lip Balm as a smoothing base for lip gloss or lipstick.
These plant-based lip balms do more than just soothe dry lips!
Use as a primer! Apply gently to eyelids before applying Savvy eyeshadow to help it adhere to your lids.
Use as a cuticle remedy! Apply to dry cuticles or dry patches on your hands.
Your skin is as unique as you are – and it can take time to get your skin care routine just right! For more on how to craft your custom regimen, here are some more posts you may enjoy:
What is a go-to skin care essential that you just can't live without? Share in the comments below!
This post is also available in: French