Do you ever feel like life's stressors are catching up to you? Maybe you feel extreme pressure in your face and neck that just doesn't seem to go away. Good news: We've got the secret self-care solution and simple, daily routine to turn your frown upside down.
Meet the gua sha stone, your face's new best friend. This spa-quality relaxation tool is something you can enjoy from the comfort of your own home, on the go, or wherever you need a little R&R.
What is gua sha?
Gua sha is an ancient Chinese method that uses a special stone to scrape and massage the skin, helping to relieve tension and improve blood flow through facial massage.
Where can I buy a gua sha tool?
If you would like to add a gua sha stone to your self-care toolkit, simply follow these guidelines:
Make sure it is made from real stone (usually jade or rose quartz). This ensures the best results.
There are tons of sellers out there, but in order to honor ancient gua sha traditions, consider purchasing your gua sha stone from an Asian-owned company.
YL tip: Gua sha tools come in all shapes and sizes. Each of the different shapes will be used in a slightly different way, but the overall technique will remain the same.
Facial massage prep
Start by washing your face with your favorite skin care products. You can pat 4–5 drops of CBD Beauty Boost onto your face, neck, and chest. A generous amount is needed so that the gua sha can glide easily across your face without pulling your skin. You want your skin to feel extremely moisturized, but not too slick.
Don't have CBD Beauty Boost? Not to worry! Plenty of essential oils are great for skin care. Try one of our cleansing oils or one that your skin responds well to.
YL tip: Make your relaxing massage even more dreamy by diffusing Stress Away™ essential oil blend or Peace & Calming® essential oil blend.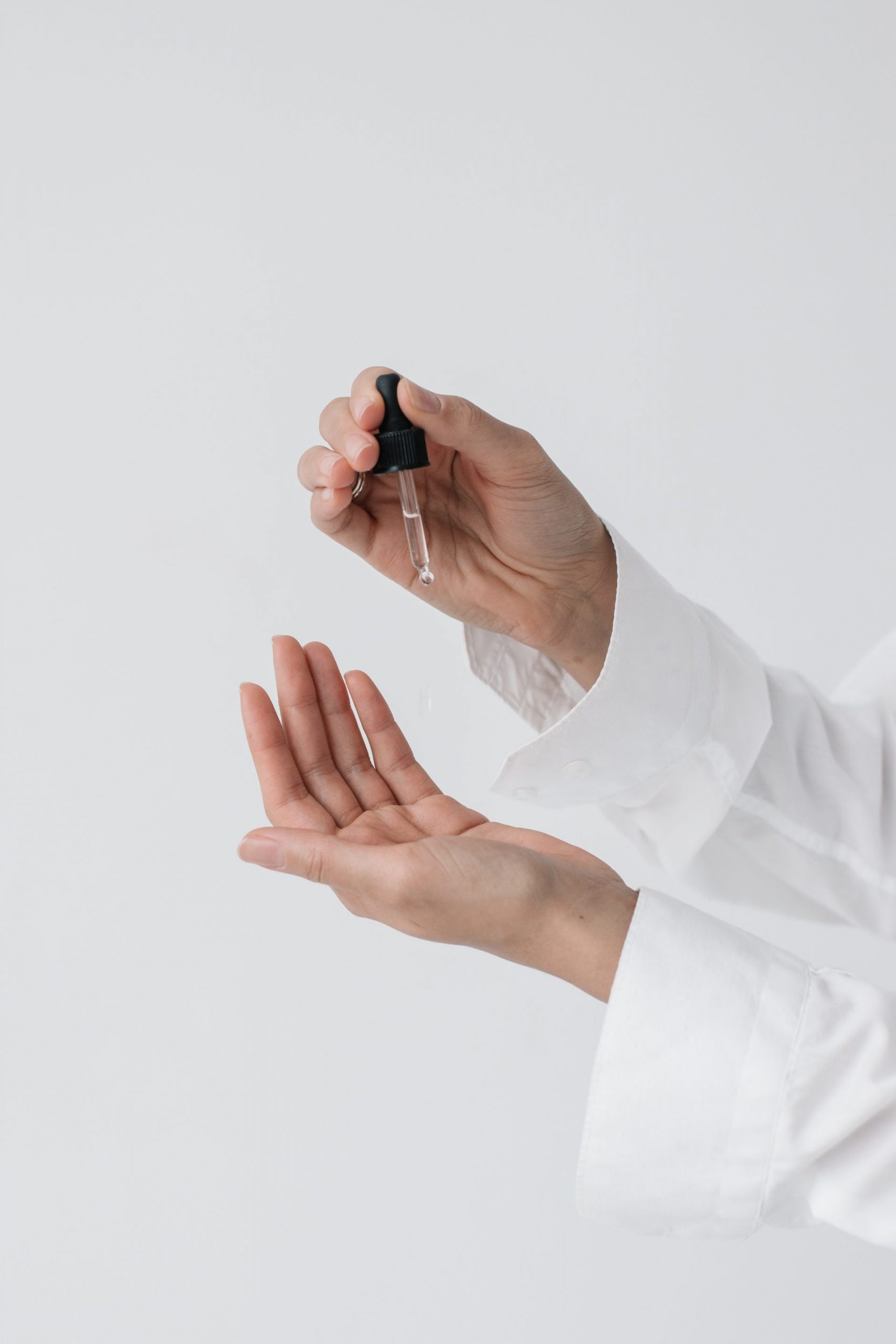 How to use a gua sha stone
Before you begin, please read this section carefully! Gua sha massage needs to be done in a very specific way to reap all the benefits without causing potential problems.
When using your gua sha, do not hold the tool perpendicular to your skin. Hold it at an angle (almost flat to your skin) in the direction that you are massaging. Adjust speed and pressure according to what feels good to you. You should not be pulling and dragging your skin; if you feel like your skin is pulling, slow down, lighten pressure, or add more oil. Take time to explore your face and find which areas hold more tension and are more tender. Maintain consistent pressure. Don't go too hard or too soft. After the end of each massaging swipe, gently massage at the end point indicated by the guide.
When massaging, use your free hand to gently press in the opposite direction of your massage strokes. This will slightly tighten your skin and make it easier for the gua sha to glide across.
Read the directions below before you get started, then use the infographic later in the post as a reference during your massage.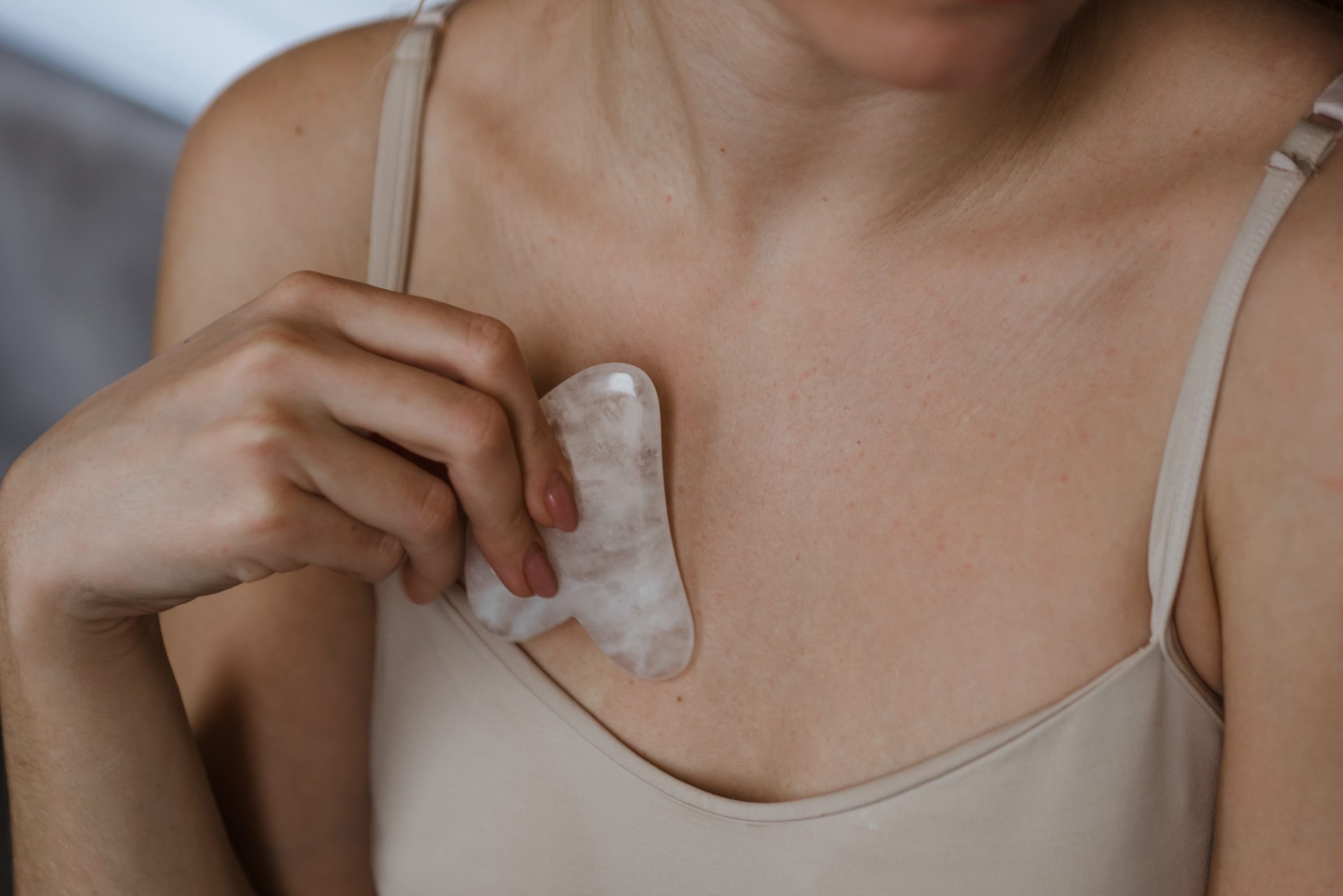 Neck & chest
With a clean gua sha tool, begin massaging the back of your neck. Start from the base of your neck and using slow strokes, gently work your way up to the base of your skull. Once you reach that point, use the tool to massage in small circles for a few seconds. Repeat this motion 5 times.
Disclaimer: If you feel any tenderness while massaging, that could be a sign of tension. Listen to your body and massage with a pressure that feels comfortable to you. Do not overdo it. Do not use on parts of your skin that have acne flare-ups, rashes, or severe sensitivity.   
Moving on to the sides of your neck, follow the same pattern of motion and glide the gua sha up from your shoulder to the soft spot behind the base of your ear. Massage that spot in circular motions. Repeat 5 times on each side.
Starting from your collar bone, move the tool up until you reach the underside of your jawline. Massage. Repeat 5 times. Repeat on the other side of your collar bone, then from the center of your chest up to the underside of your chin.
Face
Begin working your way up your face. Massage all parts of one side of your face 5 times each, then switch to the other side and repeat the individual steps.
Swipe from the center of your chin along the jawline to the base of your ear. You will slowly feel the knots of tension melt away. Repeat 5 times.
Then start from the side of your nose and move along your cheekbone towards your ear. Repeat 5 times.
With extremely light pressure, start from the inner corner of your under eye to your temple. Your undereye is very sensitive, so make sure you are not pulling the skin at all in this step. You may feel extra tender near your temple, so take the time to softly massage that out. Repeat 5 times.
Place the gua sha in between your eyebrows and massage for 30 seconds. We tend to hold a lot of tension in this spot as well, so the applied acupressure here will be extremely relaxing.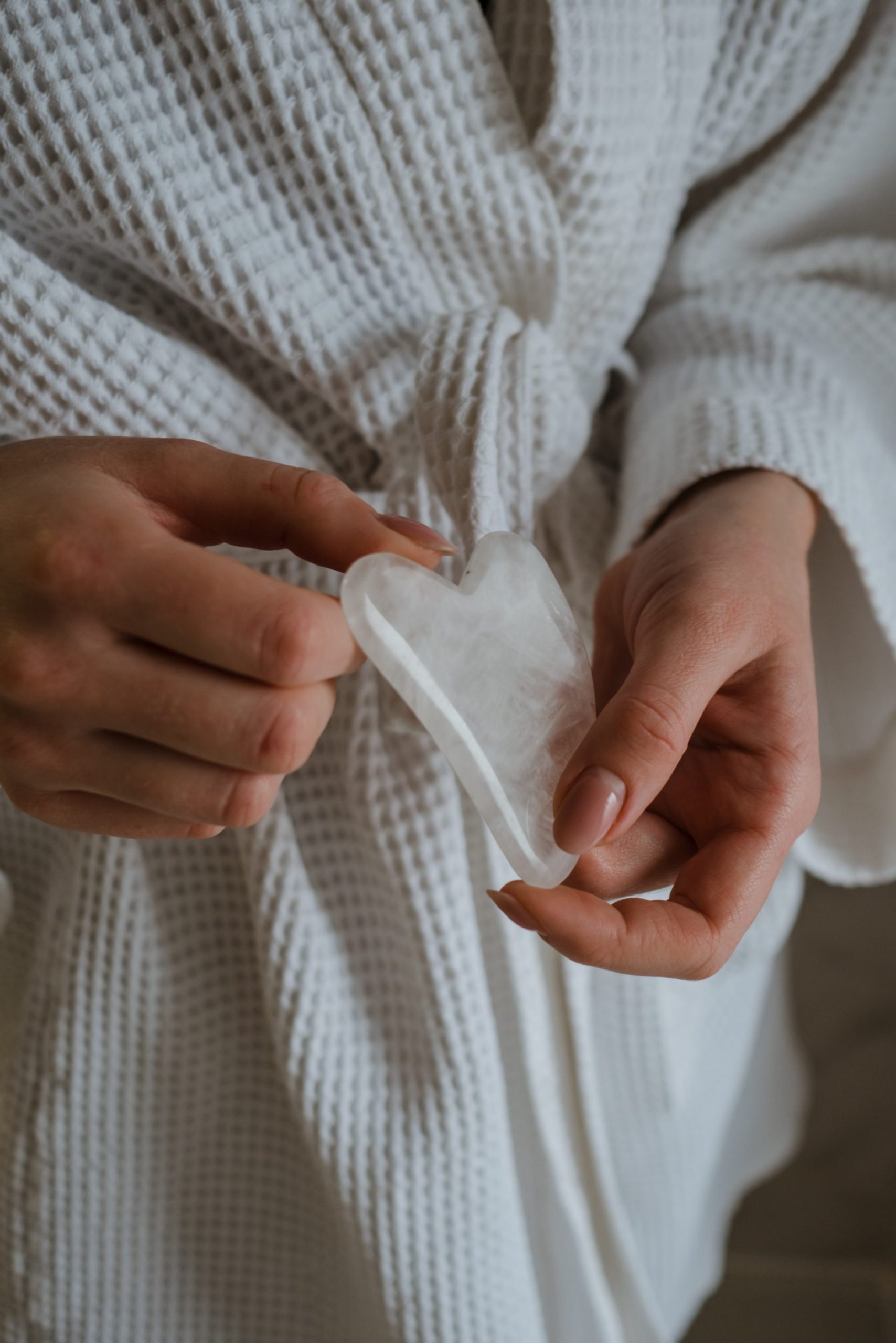 Start at the front of your eyebrow, then massage across your browbone toward your temple. Repeat 5 times.
Begin in between your eyebrows once again and move the gua sha up toward your hairline. Next, start on the center of each eyebrow and move up to your hairline. Repeat 5 times across your forehead.
It is important to hydrate your body after flushing toxins through massage. Add to your relaxation and reward yourself with a delicious and hydrating drink.

How to clean your gua sha stone
After each use, gently clean your gua sha tool with soap and water, being extra careful not to drop the stone (it could break). A bowl of soapy water is the safest option.
This timeless tool will certainly upgrade your self-care routine and help you create a consistent ritual for massage and meditation. We hope you enjoy your face's new best friend!
Still unsure how to get started? Check out this video for more information on how to use your gua sha stone.
Eager for more self-care? Discover all the hype behind our CBD Beauty Boost or try some of these Amazing oils in your next Bath. 
What do you like best about using your gua sha?
Tell us in the comments below!