Every day we get up and choose how we'll move through the world, utilizing our senses to piece together outfits and hair styles that bring our inner personality to the forefront. But self-expression isn't limited to the visual field. The fragrances we choose are yet another extension of ourselves, a way to tell our story without having to say a single word. Show up as your true self no matter where life takes you with a custom DIY body spray made in minutes.
While others may spend countless hours testing pre-made samples to find a fragrance that fits them best, you already know what scent matches your true essence. With only four ingredients, you can bring your vision to life with a simple DIY that can get you out the door in minutes.
DIY body spray ingredients
8-ounce glass spray bottle
1 tablespoon vegetable glycerin
1 tablespoon witch hazel
6 ounces distilled water
28–35 drops essential oil
How to make a DIY body spray with essential oils
1. Put vegetable glycerin, witch hazel, and water in the spray bottle.
2. Add essential oils.
3. Shake well to mix. The vegetable glycerin is an emulsifier, which helps the essential oils mix with the water.
4. Shake again before using. Spritz a few times onto wrists, chest, neck, or anywhere else you want a light scent.
YL tip: Start with about 30 drops of essential oil. For stronger scents, add more drops.
Essential oil combos we love 
Need a little scent-spiration to get started? Check out these tried-and-true blends so you can simply spray and slay!
Sunset Citrus body spray 
One whiff of this scent and you'll be instantly transported to the Amalfi coast, where glistening sea meets lush lemon groves. The tangy notes of Lemon Myrtle, Lime, and Grapefruit are beautifully balanced by the gentle, garden-like fragrance of Peace & Calming® II. If you like scents that are bright, light, and sweet, this one's for you. Follow the above recipe and add: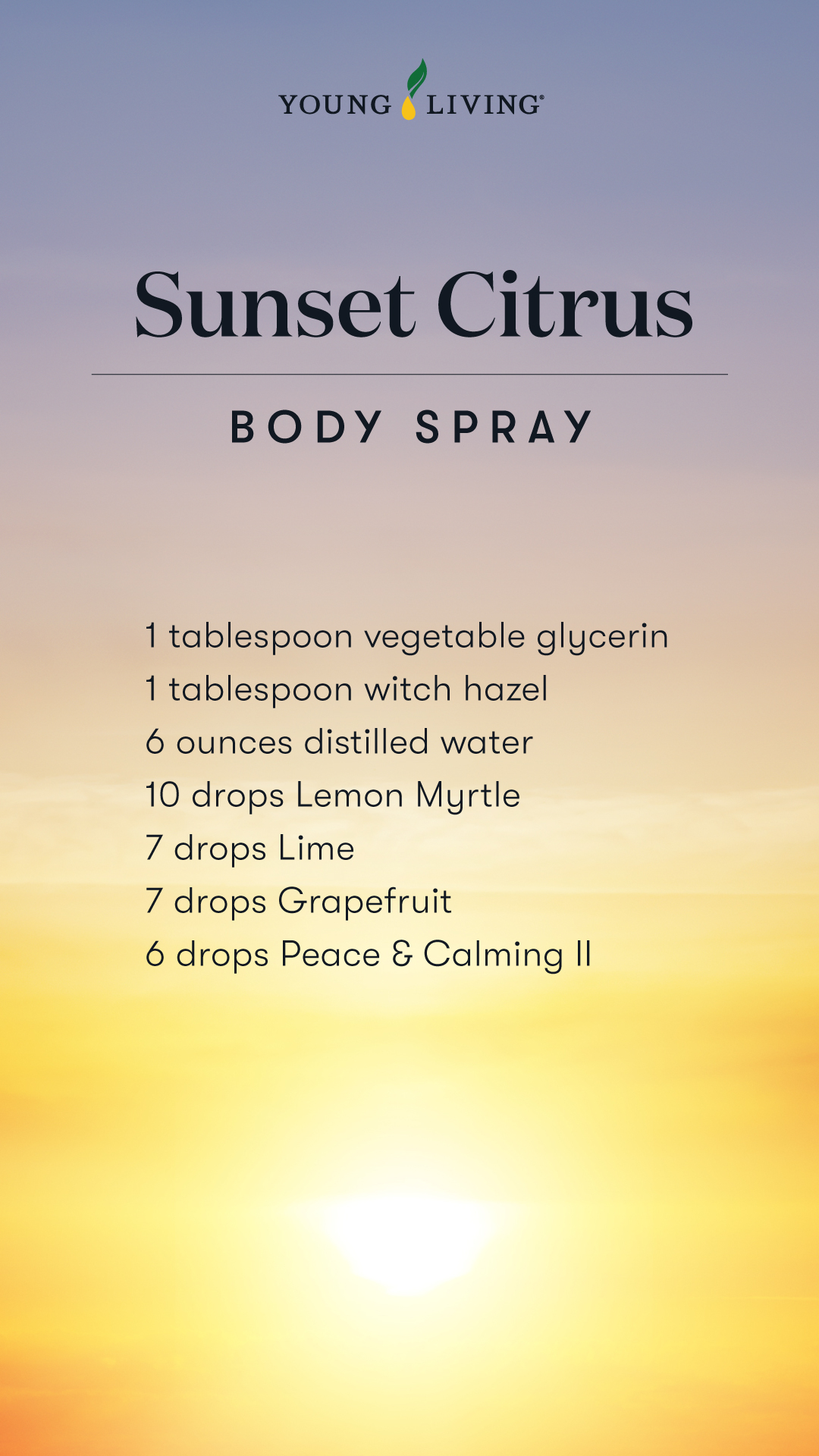 Bohemian Wildflower body spray 
Earthy and exotic, this floral fragrance captivates the senses. Patchouli's bold, musky scent blends with sweet Bergamot for an aroma that commands the room without overpowering it. Other notes include Jasmine and Myrrh, which bring it all together to form a soft yet intoxicating scent. Follow the body spray ingredients list and add: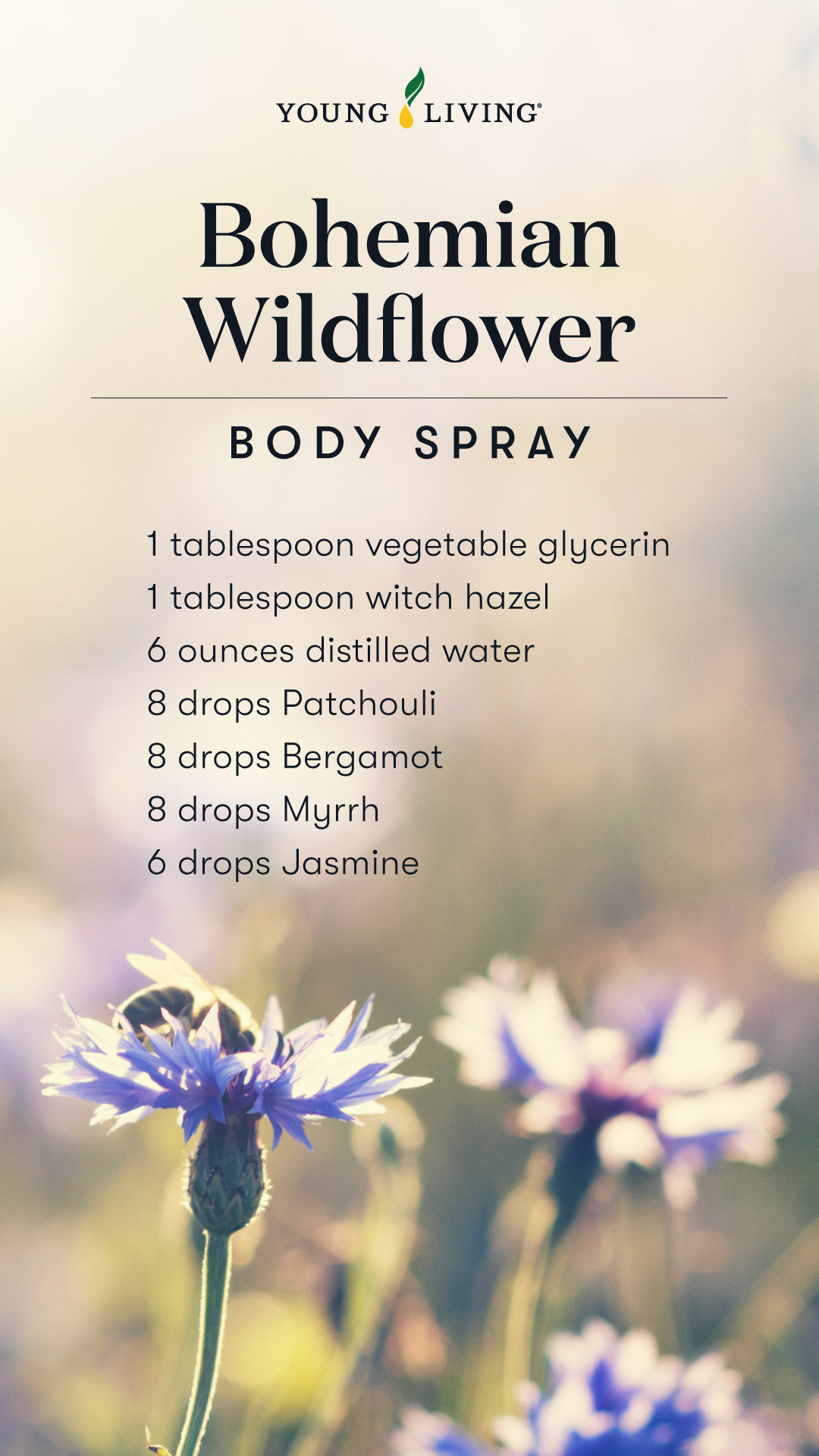 Bombshell Blossom body spray 
Reminiscent of orange blossoms and crisp apples, this delectable body spray is almost good enough to eat. Roman Chamomile and Lemon mingle for a fruity fragrance, while Rose and Neroli add a touch of floral luxury. Imagine an orchard drizzled in honey and you'll come close to this exquisite scent. Follow the body spray ingredients list and add:
YL tip: Substitute Geranium Bourbon, Joy™, Jasmine, or another floral oil for Rose if you don't have it on hand.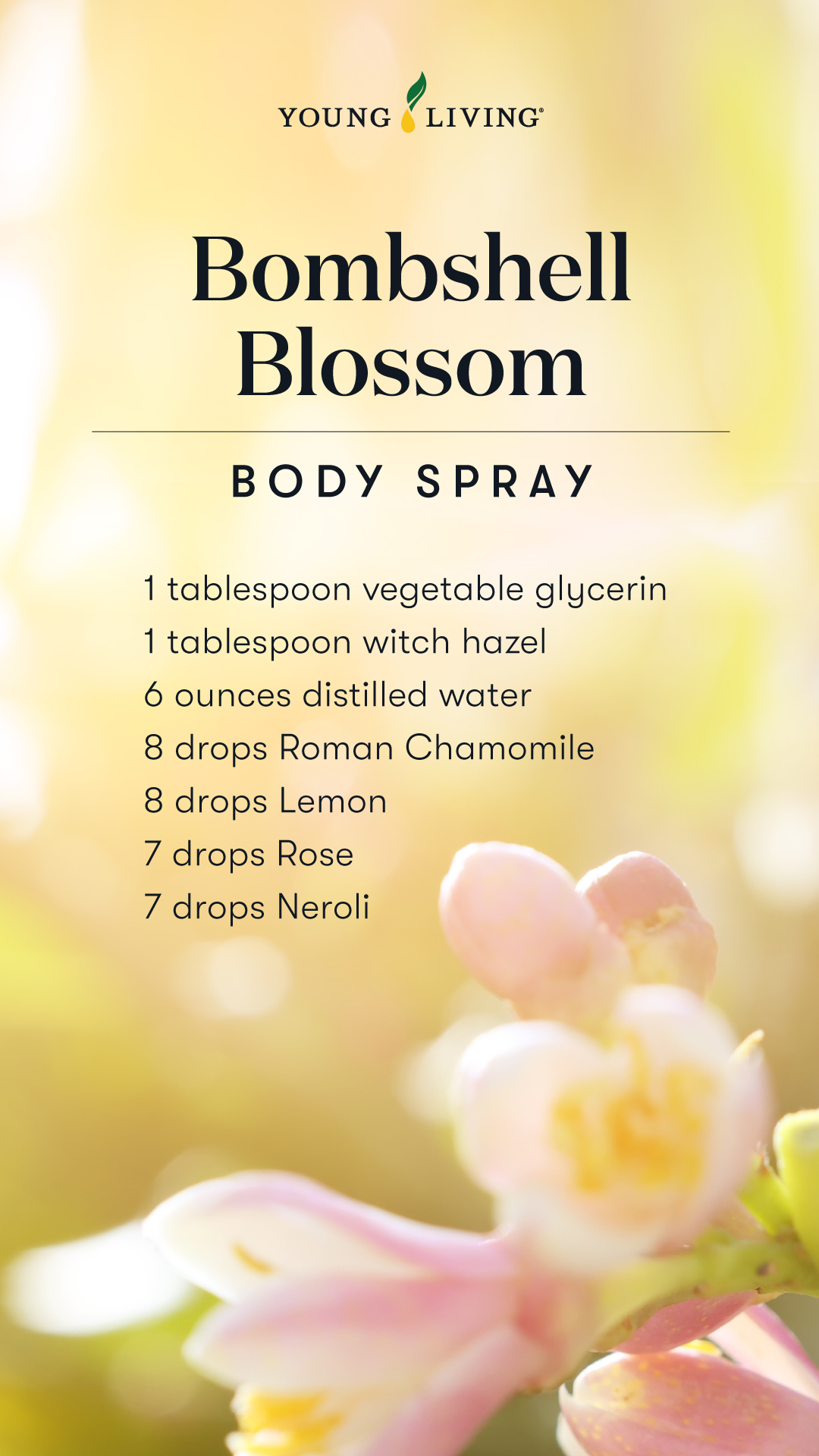 Swept Away body spray 
Spritz and escape! This fruity, creamy fragrance is your passport to a tropical paradise. The sweet, tart scents of Orange and Melissa blend seamlessly with the woodsy warmth of Stress Away™ and Sacred Sandalwood™ for a finish that's downright dreamy. Follow the body spray ingredients list and add: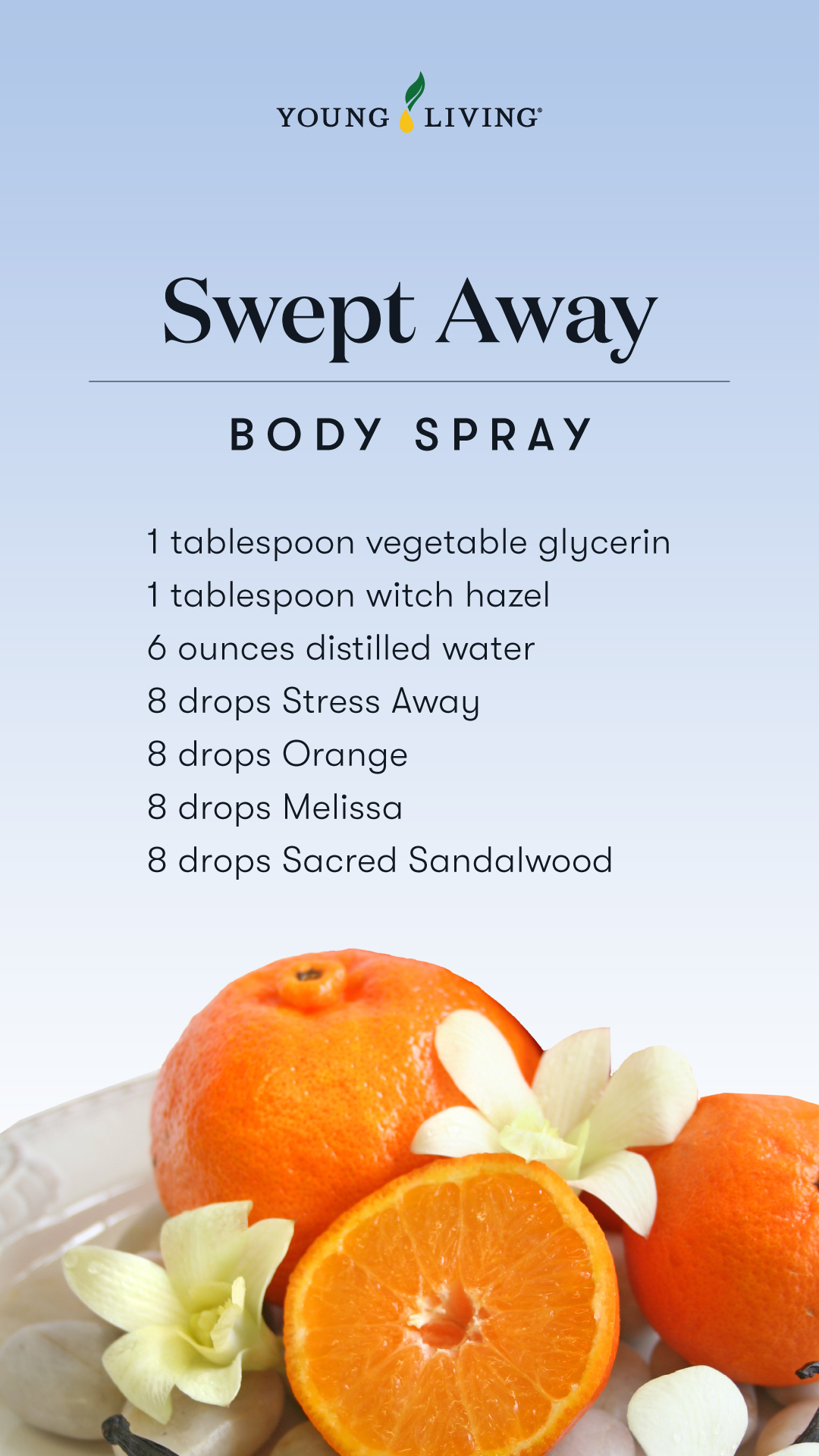 Caught in the Rain body spray 
Dew-drenched greenery and dampened earth are the inspiration for this blend. Ylang Ylang and Lavender lend a fresh, floral scent, while Blue Cypress gives off a woodsy sweetness, warmed by Cardamom. Comfy, musky, and electrifying—this fragrance smells like lavender in a thunderstorm. Follow the body spray ingredients list and add: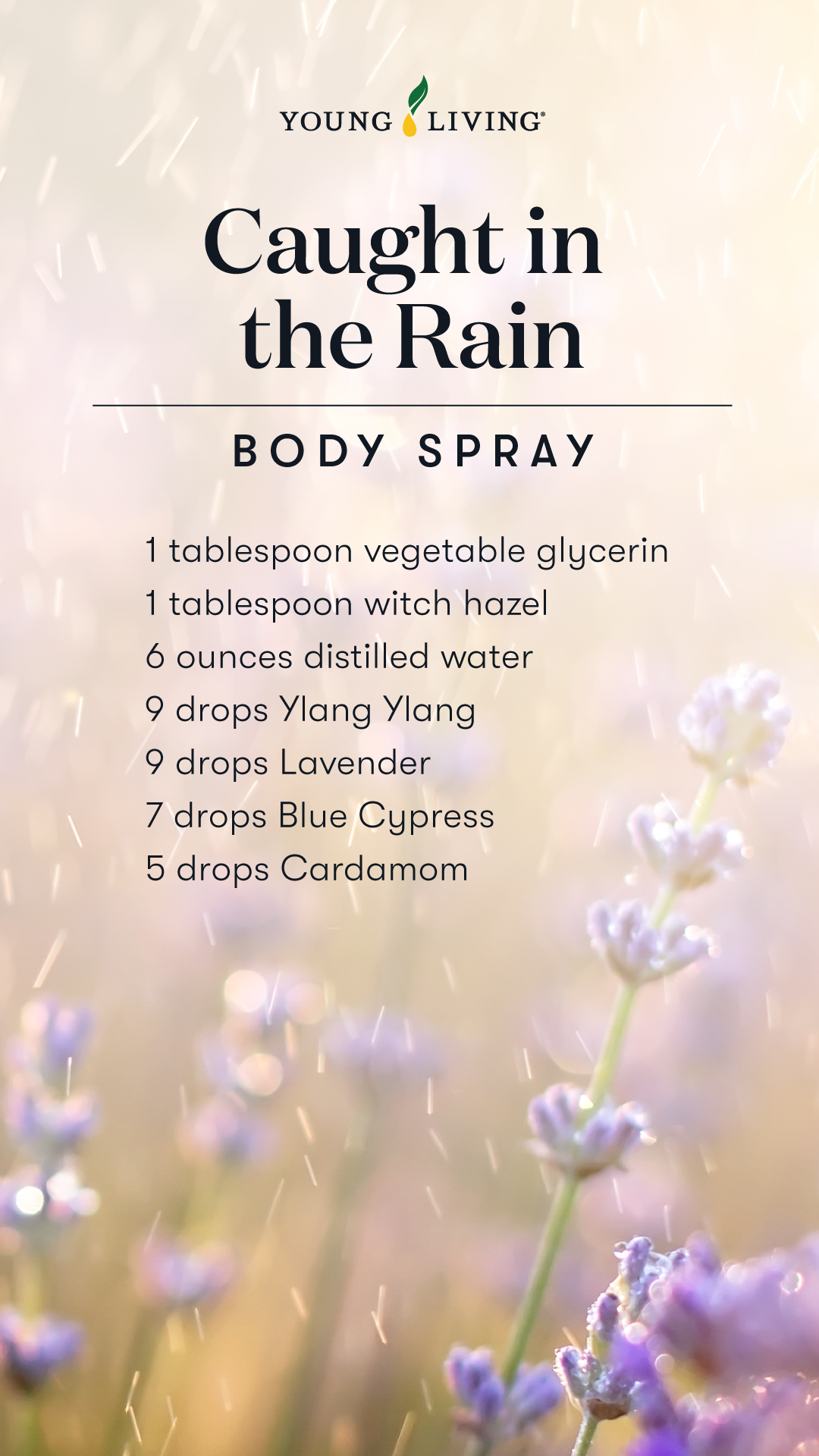 Woods and Water body spray
Get lost in the woodsy aromas of Sacred Sandalwood and Idaho Grand Fir. When you're looking for a scent that's adventurous but not too strong, this is it. With additional notes of Tangerine and Eucalyptus Radiata, this fragrance is every bit as refreshing as a cool breeze blowing through the trees in the summertime. Follow the body spray ingredients list and add: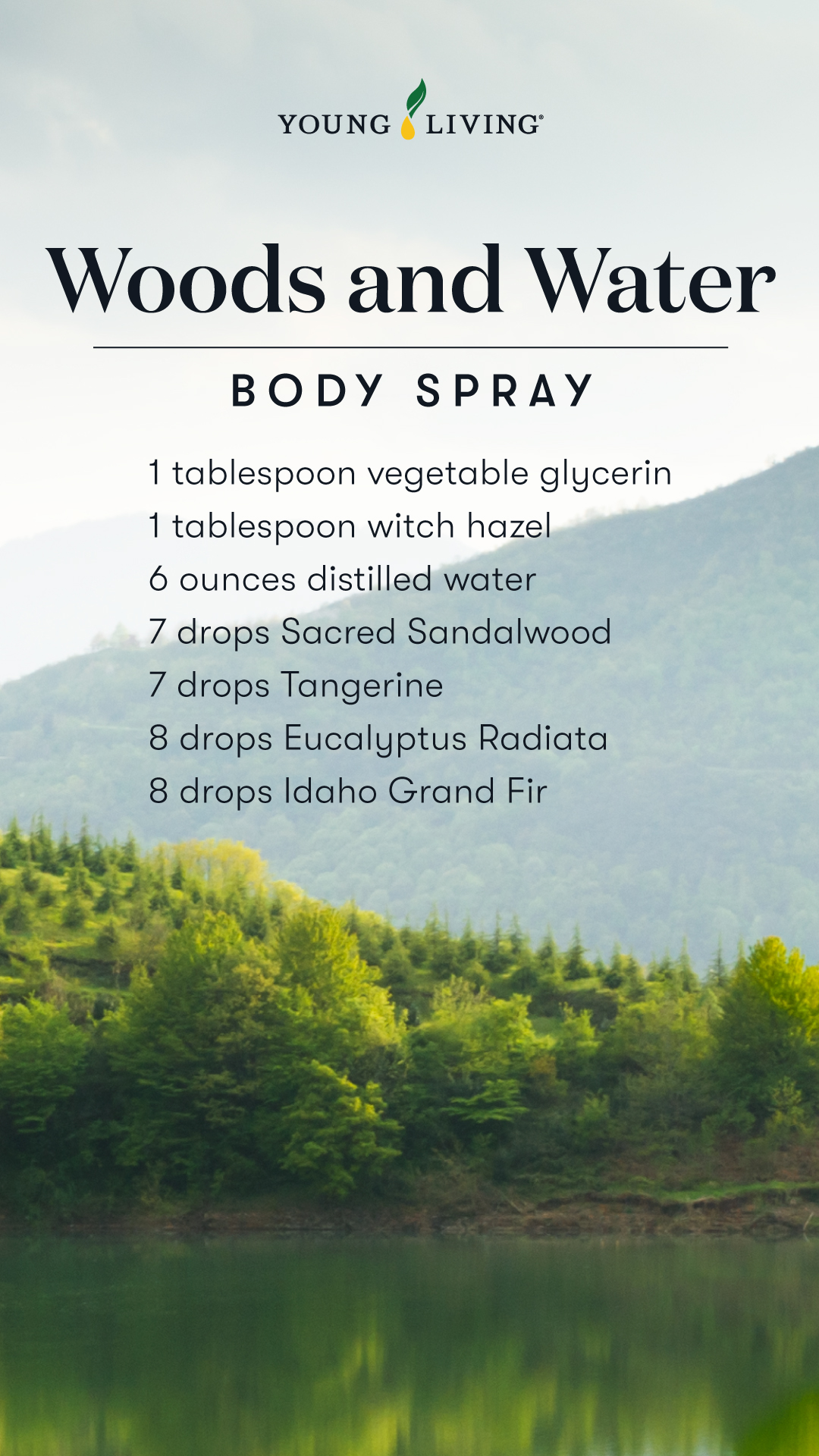 Midnight Spice body spray 
Go big and bold with the spicy scent of Black Pepper and the dark, earthy aroma of Patchouli. These notes are joined by Cedarwood and Vetiver for a scent evocative of freshly cut grass and newly sawn wood. Magnetic and mesmerizing, this fragrance is impossible to forget. Follow the body spray ingredients list and add: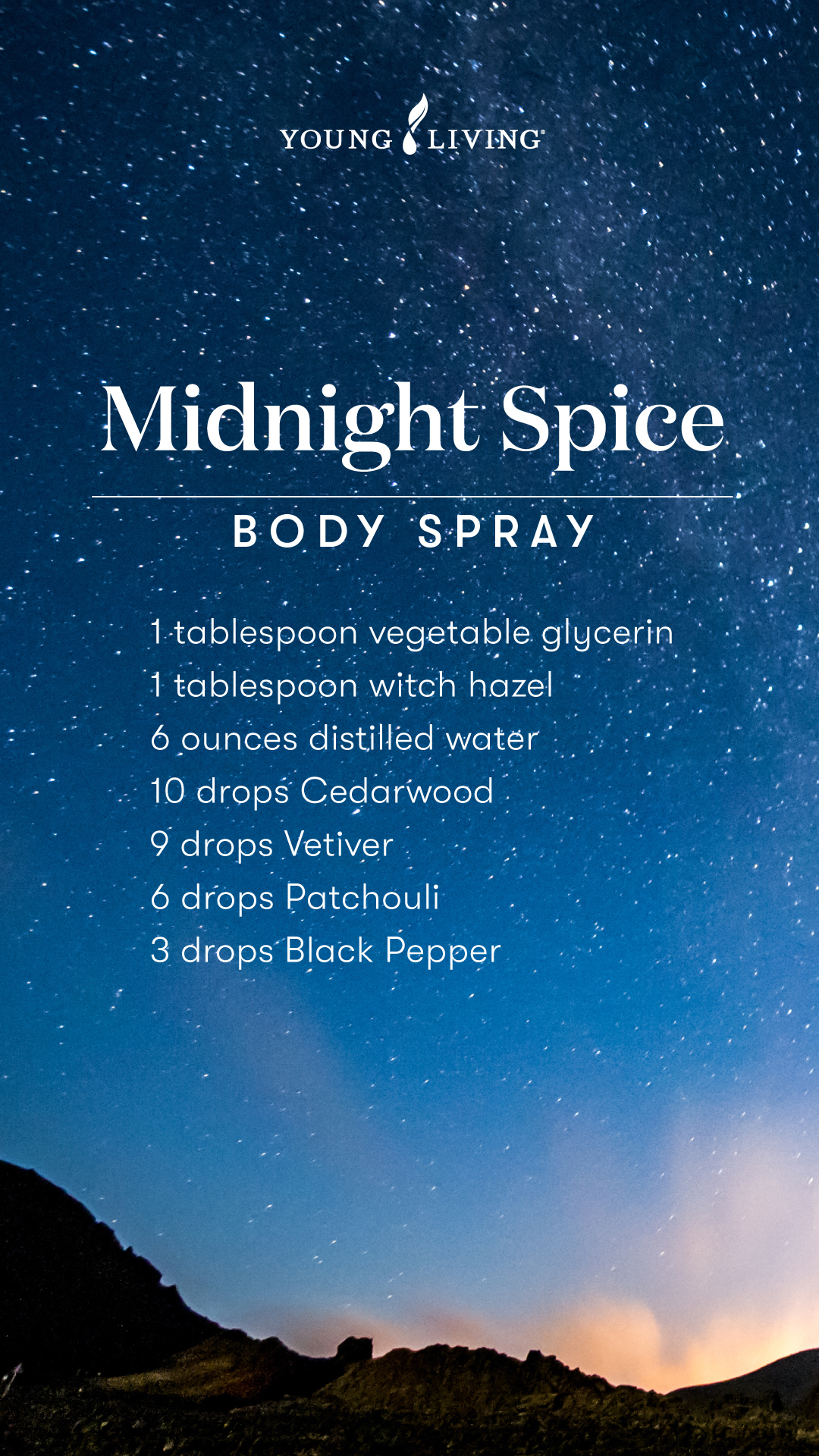 These custom body spray recipes can also be used as DIY room sprays to freshen up your space any time it needs a scent-sational boost. Simply spritz the air a few times and enjoy the delightful scent.
More of a perfume person? Check out this guide for making your own perfume or try your hand at DIY cologne!
Which body spray scents are you going to try?
Share your recipes in the comments!