Get ready to get cooking! Watch as Jared Turner and Travis Ogden square off in our test kitchen to introduce our fun YL Einkorn Cook-Off contest.
Send us your submission by January 31 for your shot at winning big in the YL Einkorn Cook-Off! Many submissions will be featured in our updated Young Living Cookbook. The top three winners will be awarded with $100 in product credit, an autographed edition of the official Young Living Cookbook, and a commemorative apron!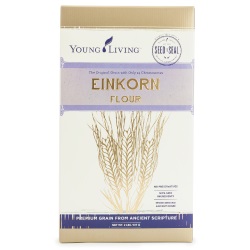 To help you get inspired, here are two inventive recipes to try out: New York Style Einkorn Pizza Crust and Agave-Glazed Whole-Grain Wolfberry Muffins.
Be sure to read our full submission guidelines below—and get ready to get cooking!
What's your favorite way to use Gary's True Grit™ einkorn products? 
---
Full Submission Guidelines
Our Executive team will taste-test five recipes and select the first-, second-, and third-place winners. The three winners will be awarded the prize of an exclusive YL Top Chef apron, $100 in product credit, and a copy of the cookbook autographed by the Young Living Executive team! The two runners up will receive a YL Top Chef apron.
Submit your recipe by email to recipes@youngliving.com with "YL Einkorn Cook-Off Recipe" as the subject. Each submission must include an introduction to the recipe, a full ingredient list, the recipe, a photo that features the finished product, and the Young Living products used in the recipe.
Submissions will be accepted until 11:59 p.m., MT, January 31, 2016. The top five participants will be notified by February 28, 2016, that their recipe was selected, and cook-off winners will be notified prior to March 1, 2016.
See the full rules here.
By submitting your recipe to Young Living Essential Oils, LC ("Young Living") you ("Entrant") grant Young Living a worldwide right and license to use Entrant's recipe, name, image, photograph, likeness, characterization, endorsement, visual and audio representation of Entrant's attributes ("Entrant's Attributes") in connection with the advertising, sale, and promotion of the Young Living's products, programs and business opportunity, including but not limited to use of Entrant's Attributes on Young Living's website, social media sites, audio/visual presentations, brochures and other promotional materials. Additionally, Entrant understands that, although the Young Living will endeavor to use Entrant's Attributes in accordance with standards of good judgment, Young Living cannot warrant or guarantee that any further dissemination of the Entrant's Attributes will be subject to Young Living's supervision or control. Accordingly, the Entrant releases Young Living from any and all liability related to the dissemination, reproduction, distribution, and/or display of the Entrant's Attributes in print or any and all other media, and any alteration, distortion or illusionary effect of the Entrant's Attributes, whether intentional or otherwise, in connection with said use.