Here at Young Living, we love using inventive ways to create recipes in the kitchen using our Plus essential oils. Thanks to their deliciously fruity and herby flavours, our Plus oils can be used to create tasty dishes in every season, from light and bright salad dressings to hearty casseroles and indulgent baked goods. However, as we're enjoying the summer sunshine and are firmly in BBQ season, this blog will be focusing on the many ways in which Young Living's Plus oils can be used to create flavoursome BBQ dishes that'll have your tastebuds feeling tantalised across the summer season! So, what are you waiting for? It's time to get stuck in!
Marinated Aubergines
When it comes to delicious vegetarian and vegan alternatives to serve at a BBQ, nothing is quite as delicious as BBQ marinated aubergines. If you're wondering how to BBQ aubergine, check out this tasty recipe that'll have meat-lovers reaching for second helpings of veggies in no time! At Young Living, we have plenty of recipes on offer for delicious summer BBQ marinades.
Ingredients
1 aubergine
150 ml olive oil
4 cloves garlic, minced
6 tablespoons balsamic vinegar
1 teaspoon red chilli, minced
Salt to taste
1 drop Black Pepper+
1 drop Parsley+
Method
Slice your aubergine into ½ cm thick rounds. Sprinkle your freshly cut slices with salt and place to one side for 30 minutes so the moisture can be drawn out. Give the slices a quick rinse to remove the excess salt without saturating the aubergine, and pat dry between two clean kitchen towels.
Combine your olive oil, garlic, 4 tablespoons balsamic vinegar, red chilli, salt, Black Pepper+, and Parsley+ in a bowl. Place the remaining 2 tablespoons of balsamic vinegar to one side.
Lay your aubergine slices in a flat dish and cover with the marinade. Let stand for at least 15 minutes.
Place your marinated aubergine on the BBQ and grill for roughly 2-3 minutes on each side, or until you see blackened BBQ grill marks.
Remove your aubergine slices from the BBQ, place on a serving platter, and finish off with the remaining balsamic vinegar. Serve immediately or enjoy at room temperature.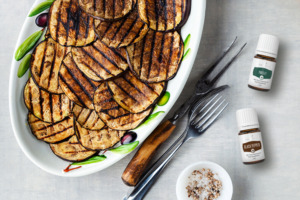 Tasty Turkey Burgers
When it comes to BBQ favourites, mouth-watering burgers are always a popular choice. In this recipe, we've combined some of our favourite Plus oils with healthy turkey patties, creating a super tasty treat that's full of goodness!
Ingredients
60 ml olive oil
1 drop Basil+
1 drop Lemon+
1 drop Orange+
1 drop Black Pepper+
1 tablespoon chopped parsley
1 teaspoon salt
2 cloves garlic, minced
1 large green pepper, coarsely chopped
2 medium onions, coarsely chopped
4 turkey burgers
4 hamburger buns
Method
In a large pan, combine olive oil, your essential oils, parsley, salt, garlic, green pepper, and onion before sautéing over a low heat until the mixture is lightly browned but slightly crunchy.
Place the mixture in a bowl and brown your turkey burgers on the BBQ until they're well-cooked throughout. Lightly toast the buns on the BBQ and layer the patties and vegetables on the toasted rolls before tucking in.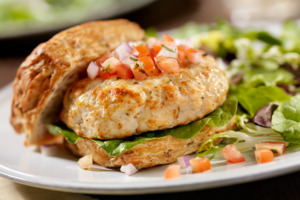 Lemon & Orange Prawn Kebabs
If you're looking for a showstopping recipe that'll be a real crowd pleaser with your family and friends, look no further than our Lemon & Orange Prawn Kebabs. We love serving these sweet and juicy prawns with crusty bread and delicious dipping oils, so why not give it a try yourself?
Ingredients
80 ml olive oil
2 tablespoons wholegrain mustard
3-4 cloves garlic, minced
4 drops Lemon+
4 drops Orange+
1 drop Basil+
30-40 medium sized prawns
10 wooden skewers
Method
Mix your olive oil, mustard, garlic, and essential oils in a glass bowl. Set your marinade to one side.
Thoroughly wash your prawns, making sure they are all shelled. Place in the marinade, coat the prawns well and leave to marinate for 30-60 minutes.
Thread 3-4 prawns on to each wooden skewer. Cook prawns on an oiled BBQ grill for 3-5 minutes and turn once during this time to ensure even cooking. Then, enjoy with rice, crusty bread, or salad.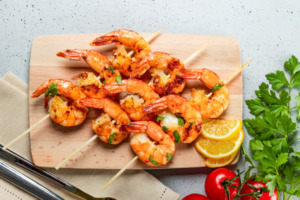 How are you hoping to use Young Living's Plus oils in your summer BBQ recipes? Write your comments below or contact us at mseublog@youngliving.com