Jump to recipe
The last thing you want after applying your makeup is to have it smudge, slide or melt off your face after a few hours. A good makeup setting spray is often the unsung hero in your makeup routine and an essential step to lock in your look from morning to night.
With just three natural ingredients at home, you can create and customize your own homemade makeup setting spray with essential oils.
Infuse your homemade makeup setting spray with drops of Frankincense essential oil for normal skin. If you tend to get oily, Geranium or Tea Tree essential oils are your BFFs. Myrrh essential oil is regarded highly for its moisturizing properties and is a hydrating choice for dry skin.
Whatever your skin type, this customizable, natural DIY recipe infuses the natural power of skin-loving essential oils to give you a beautiful, long-lasting makeup look that stays put.
Natural DIY Makeup Setting Spray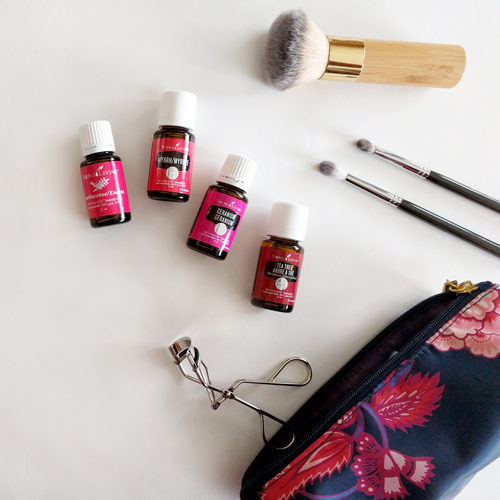 Ingredients
60 ml water
½ tbsp. vegetable glycerin
6 drops:
- Frankincense essential oil for normal skin
- Geranium or Tea Tree essential oil for oily skin
- Myrrh essential oil for dry skin
Instructions
Add water, vegetable glycerin and essential oil to a small spray bottle and shake well. We recommend using an amber glass spray bottle to help preserve the essential oils.
Hold spray bottle about 12 inches from face and lightly spritz 2–3 times.
Let dry completely.
---
BONUS: You can earn two of these oils free with your qualifying order as part of March's fresh-faced PV rewards! Geranium and Frankincense essential oils 15 ml are yours free when you order 300 PV or more – plus you get other free skin nourishing oils too!
Tried it and loved it? Let us know which essential oils are your favourite to use in your daily beauty routine!
This post is also available in: French