Want to make your home feel more like . . . well, home? A great place to start is by filling your space with some of your favorite household accents. Think cozy scents, luxurious bath products, and other chic but practical additions.
If you could use some inspiration, check out our list of home essentials that instantly elevate your living space. Whether you're a college freshman living on your own for the first time or a homeowner looking to upgrade to clean ingredients, we've got you covered with these homey must-haves.
Calm CBD Roll-On
Who doesn't need more peace and quiet at home? With Calm CBD Roll-On, you can help create a calming atmosphere no matter the mess or busyness. Better yet, it's available in two strengths—300 mg and 600 mg—so you can pick the potency that's right for you.
Want to learn more about CBD infused with essential oils? Get the scoop on Smart Spectrum™ CBD here.
Why it's essential
Calm CBD Roll-On is packed with the pure essentials oils you love, including Lavender, Vetiver, Eucalyptus Globulus, Frankincense, Orange, and Ylang Ylang. With its soothing, spa-like scent, it's a great addition to your nighttime routine. Just roll it on when you're ready to wind down or try one of these tips to get more out of the whole CBD line.
Lemon essential oil
When life gives you lemons, reach for Lemon essential oil. That's how the saying goes, right? In case you didn't know, each 15 ml bottle of Lemon boasts the bright, citrusy scent of a whopping 75 lemons. No wonder it's one of our best sellers!
Why it's essential
Think Lemon essential oil is just a pretty fragrance? Think again! This oil is as versatile as they come, and here are 21 usage tips to prove it.
Some of our favorites from the list include:
Pump up almost any diffuser blend with its sunny scent.
Add it to a cotton ball and rub over stubborn sticky residue.
Put a few drops in your DIY cleaners to make chores a little cheerier.
Thieves Household Cleaner
A versatile cleaner is an obvious necessity, but Thieves® Household Cleaner is not your ordinary cleaning solution. Made with powerful Thieves essential oil blend plus plant-based cleansing ingredients, this formula freshens every surface in the house without any harsh chemicals. Oh, and did we mention that it smells like fresh citrus and baked goodness in a bottle?
Why it's essential
Put simply, Thieves Household Cleaner does it all. And with its super-concentrated formula, one bottle goes a long way. When you need to get your home spic and span from top to bottom, look no further than these 29 ways to clean everything in your life with Thieves.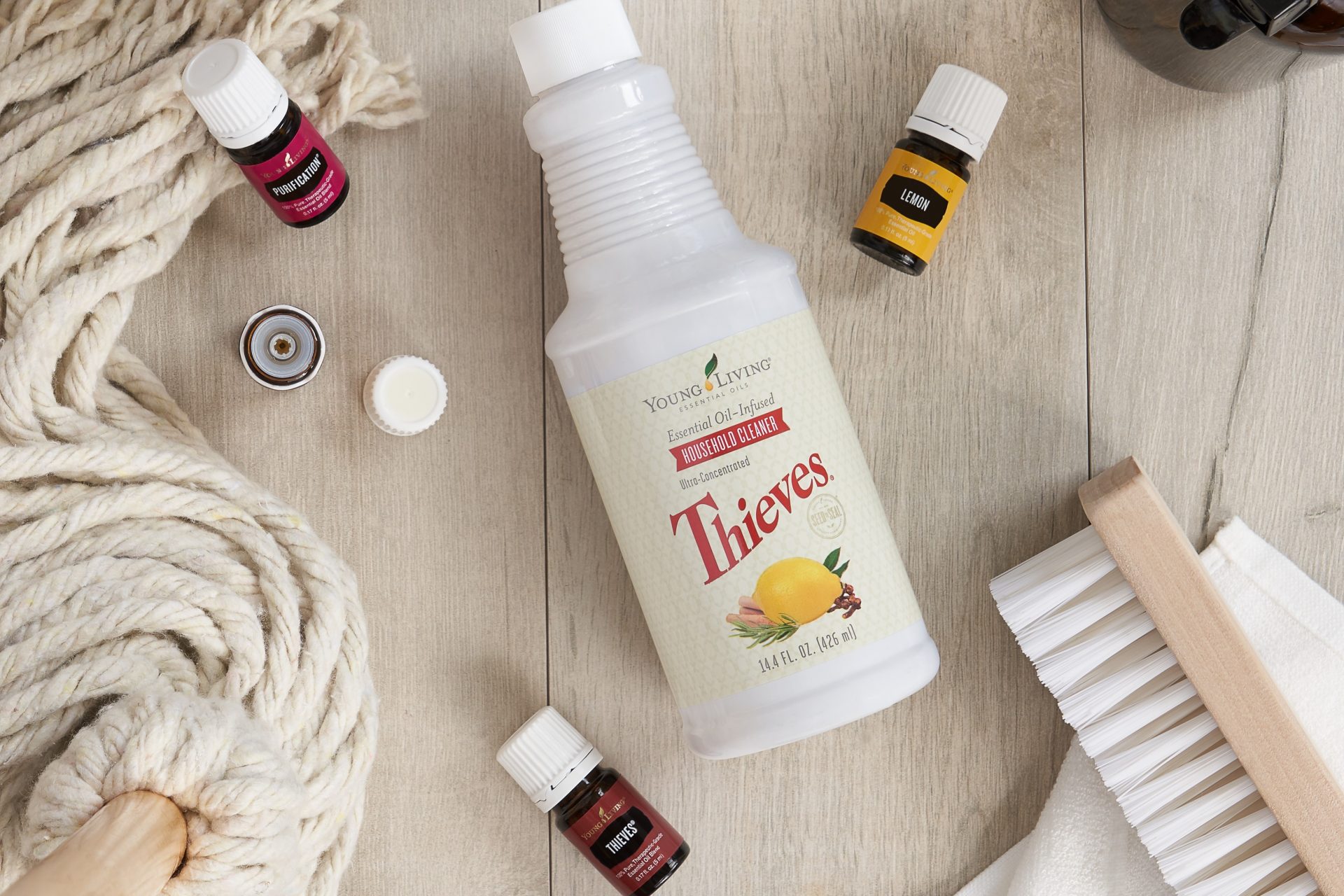 Diffuser
What doubles as trendy decor and a clean alternative to candles? Diffusers, of course! We have one to fit every room size and style. From small profile to large and sculptural, there's a diffuser for everyone. We even have a cute little wick diffuser designed to look like a potted cactus—the space-saving pick for small apartments and dorm rooms.
Why it's essential
A diffuser lets you fill your home with all your favorite scents—without the fire risk or paraffins in the air. Simply pop a few drops of your go-to essential oil in the diffuser or check out our guide on making custom diffuser blends.
Looking for a diffuser blend that takes you back to your hometown or a certain decade? What about one that smells like classic books? We have one for all of the above and more!
Stainless Steel Spray Bottle
No cleaning kit or bathroom cabinet is complete without a stainless steel spray bottle like this one. Stainless steel, unlike plastic, won't degrade when it comes in contact with some essential oils.
What makes our spray bottles really stand out is their sleek design. Available with either "Fresh" or "Clean" on the side, these bottles help you stay organized and remember what's in each.
Why it's essential
Stylish and durable, a stainless-steel spray bottle can safely store any concoction—especially all your essential oil-infused DIYs. Use it for your Thieves cleaning solutions, linen sprays, bathroom sprays, or even your homemade leave-in conditioner.
Want to make your home even more welcoming? Add some charm and cheer with a DIY scented wreath. Or hop on over to this post to learn tips for going green at home.
What are your home essentials?
Tell us in the comments!