Jump to recipe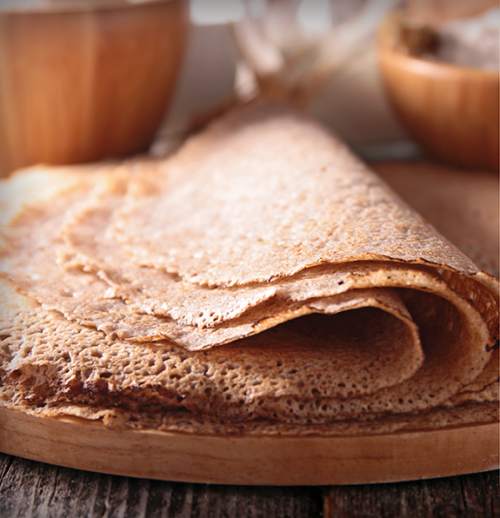 Ingredients
Einkorn Wolfberry Crepes:
Wolfberry Filling and/or Topping:
Instructions
Einkorn Wolfberry Crepes:
In a blender, combine Einkorn Pancake Mix, water or milk of your choice, eggs, vanilla, sweetener, salt, and melted butter. Blend until smooth. Cover and refrigerate 1 hour.
Heat a skillet over medium-low to medium heat and brush with oil or butter.
Pour about ¼ cup of batter into the pan and tip to spread the batter to the edges.
When bubbles form on the top and the edges are dry, flip over and cook until lightly browned on the other side and edges are golden.
Repeat with remaining batter.
Wolfberry Filling and/or Topping:
Combine Dried Wolfberries and boiling water in a large bowl and cover to keep in heat.
Let sit for 30 minutes. (Can be prepared in advance)
Pour off water, strain the wolfberries and return to bowl.
Add Ningxia Berry Syrup, Lemon Vitality™ and stir.
Fill and/or top crepes with Wolfberry mixture.
Assembly:
Lay crepe flat.
Pour Wolfberry filling down the center, leaving at least 1 inch from edge.
Fold the crepe in half (like a taco), then roll from the center out and place on plate.
Top or garnish with additional Wolfberry filling and fresh whipped cream, if desired.