We know how hard it is to run through life's busy daily routines, especially when you have so many demands on your time. Between early-morning carpools, long workdays, and late-night study sessions, it's no surprise we often feel tired, overworked, and simply drained.
While conventional energy drinks offer you a boost to help you get through the day, they're often filled with excessive caffeine, artificial sweeteners, and artificial flavors. It's hard to find a healthy energy drink option that delivers a boost without compromising our bodies. So when it comes to Young Living's NingXia Zyng®, we love it for what it's not. With this sparkling drink, you can rest easy knowing that, unlike other energy drinks or sodas, NingXia Zyng contains just the right amount of sweetness, carbonation, and pep.
How did we come up with the perfect blend of natural flavors, sweetness, and energy? Read on to check out the anatomy of Zyng and discover all the details behind this Young Living favorite!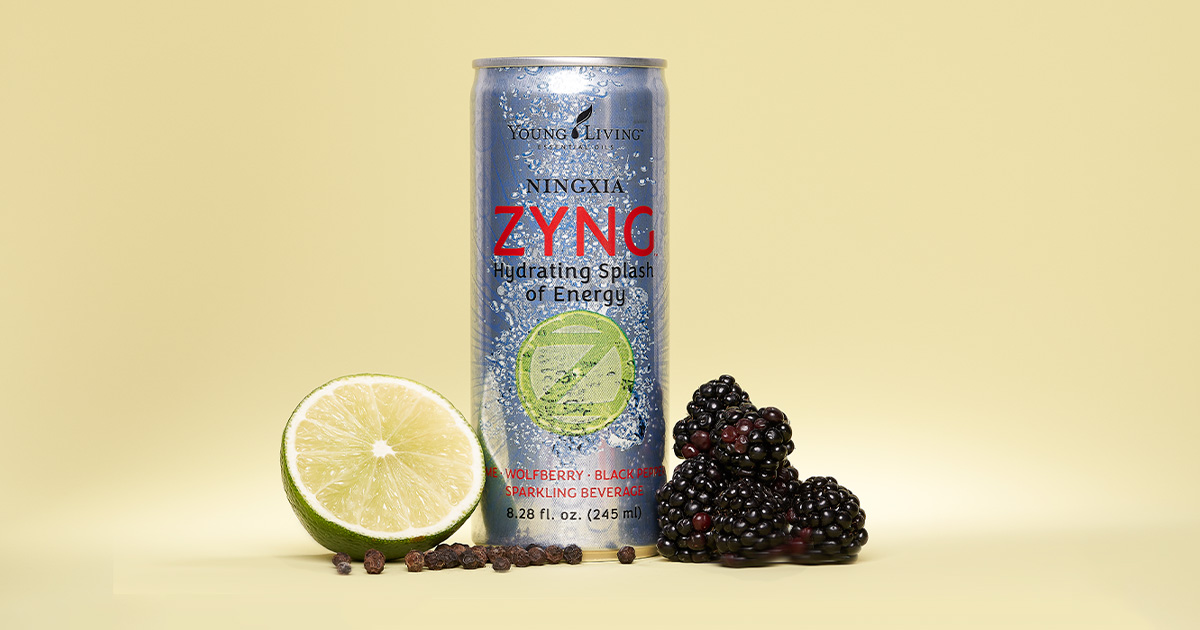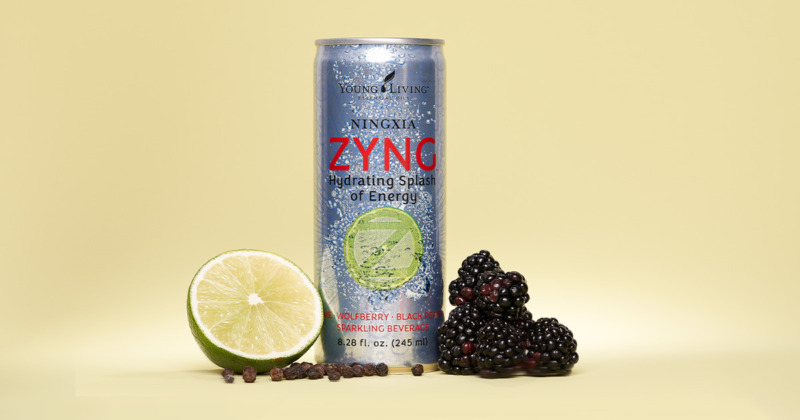 A blast of inspiration: Why we created NingXia Zyng
The idea for NingXia Zyng started with Young Living Founder D. Gary Young. He'd often work long hours on the farm and crave something to help him cool down and feel refreshed. When he looked for healthy drinks and found only sugary sodas and high-octane energy drinks, he decided to make something new. With no artificial flavors, colors, or preservatives and only 35 calories per can, Zyng is a delicious way to break free from over-caffeinated, over-processed options.
What makes Zyng zing: What goes into NingXia Zyng
What exactly goes into a can of balanced refreshment? We start with a base of carbonated water, pear juice and blackberry juice concentrate, and wolfberry puree. Then we add a splash of Black Pepper and Lime essential oils and natural sweetness from organic evaporated cane juice and stevia leaf extract. To top it all off, we finish with a little zing from white tea leaf extract to give you fresh flavors and a boost of energy.
Now you know the what and why behind Zyng, but you don't need us to explain the how. Keep a few cans in your home or work fridge and grab one whenever you need help getting through that to-do list!
NingXia Zyng's supercharged benefits
Zyng contains only 8 grams of sugar and 35 calories, while your average soft drink has 49 grams of sugar and 181 calories. Now you can enjoy daily delicious carbonation without the sugar high.
This tasty drink helps you fuel your day naturally with a just-right amount—only 35 milligrams per serving—of naturally occurring caffeine from China-sourced white tea extract, instead of the 130–300 milligrams of caffeine you find in other energy drinks.
NingXia Zyng is pasteurized, with a pH, total acids, and overall formula that combine to create a preservative-free product.
Taste the energy: NingXia Zyng recipes 
NingXia Zyng is refreshing and delicious served chilled on its own—but it also provides the perfect base for Vitality™ oils and other refreshing add-ins. Kick your hydration up a notch with these favorite Zyng recipes!
Peaches 'n' Zyng 
This peachy-keen blended slush is the perfect mix of tangy, rich, and sweet with the help of frozen peaches, coconut milk, and Tangerine Vitality essential oil.
½ cup frozen peaches
1 can NingXia Zyng
2 drops Tangerine Vitality essential oil
3 tablespoons coconut milk
Combine ingredients in a blender and blend until smooth.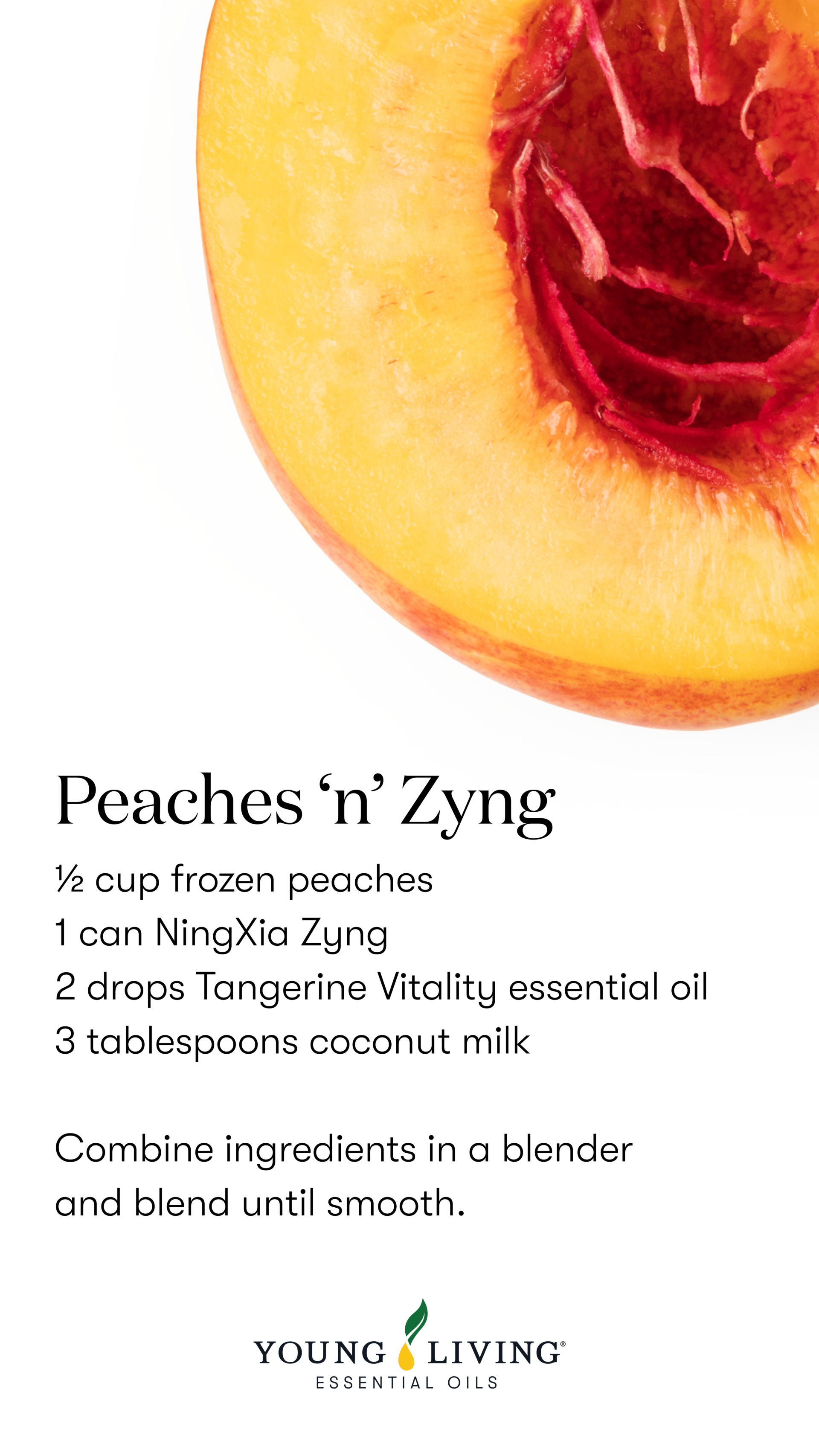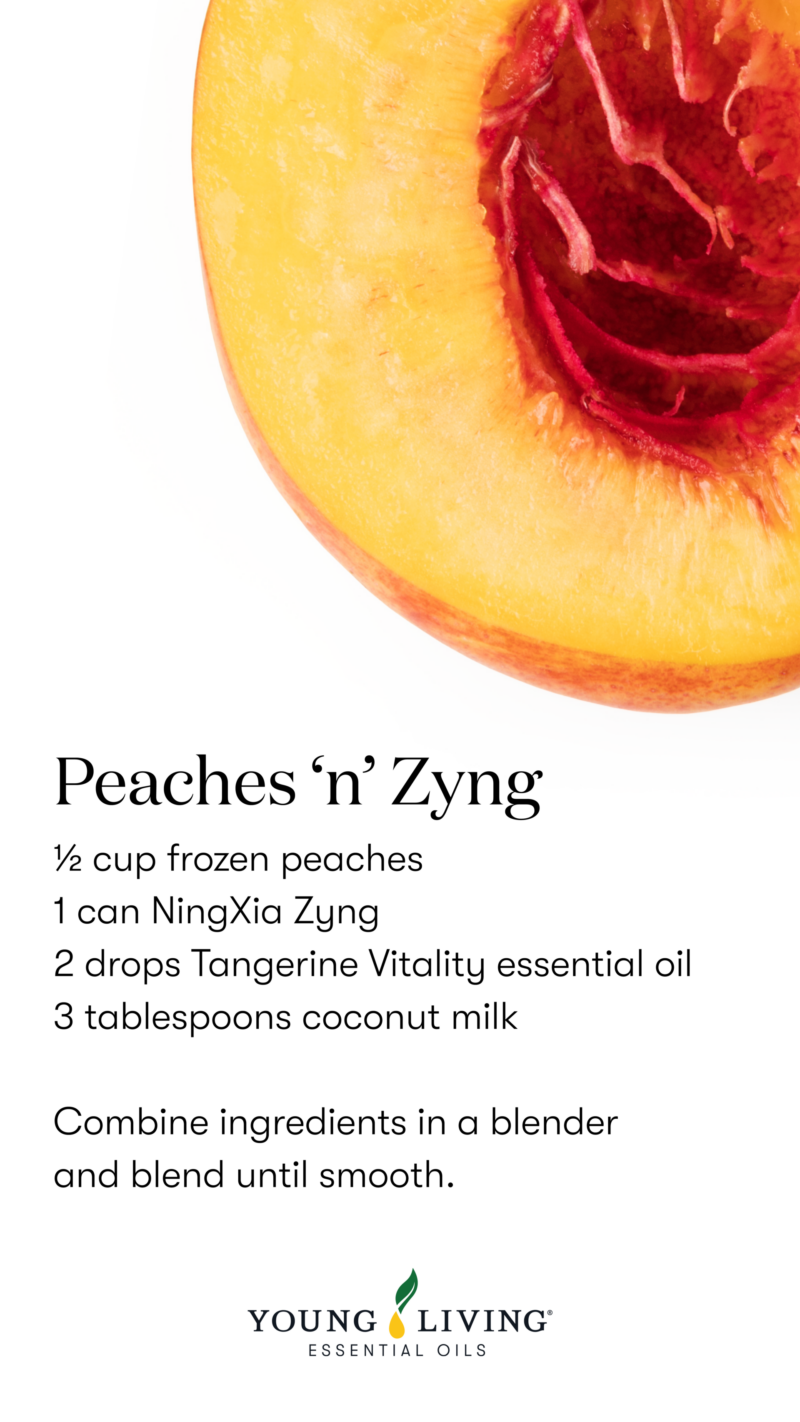 Vitali-Zyng Tang
Punch up the rich, tangy flavors of NingXia Red® with zesty and sweet Grapefruit Vitality essential oil.
1 can NingXia Zyng
2 ounces (1 single-serve packet) NingXia Red
2 drops Grapefruit Vitality essential oil
Add ingredients into a glass with ice. Mix and enjoy.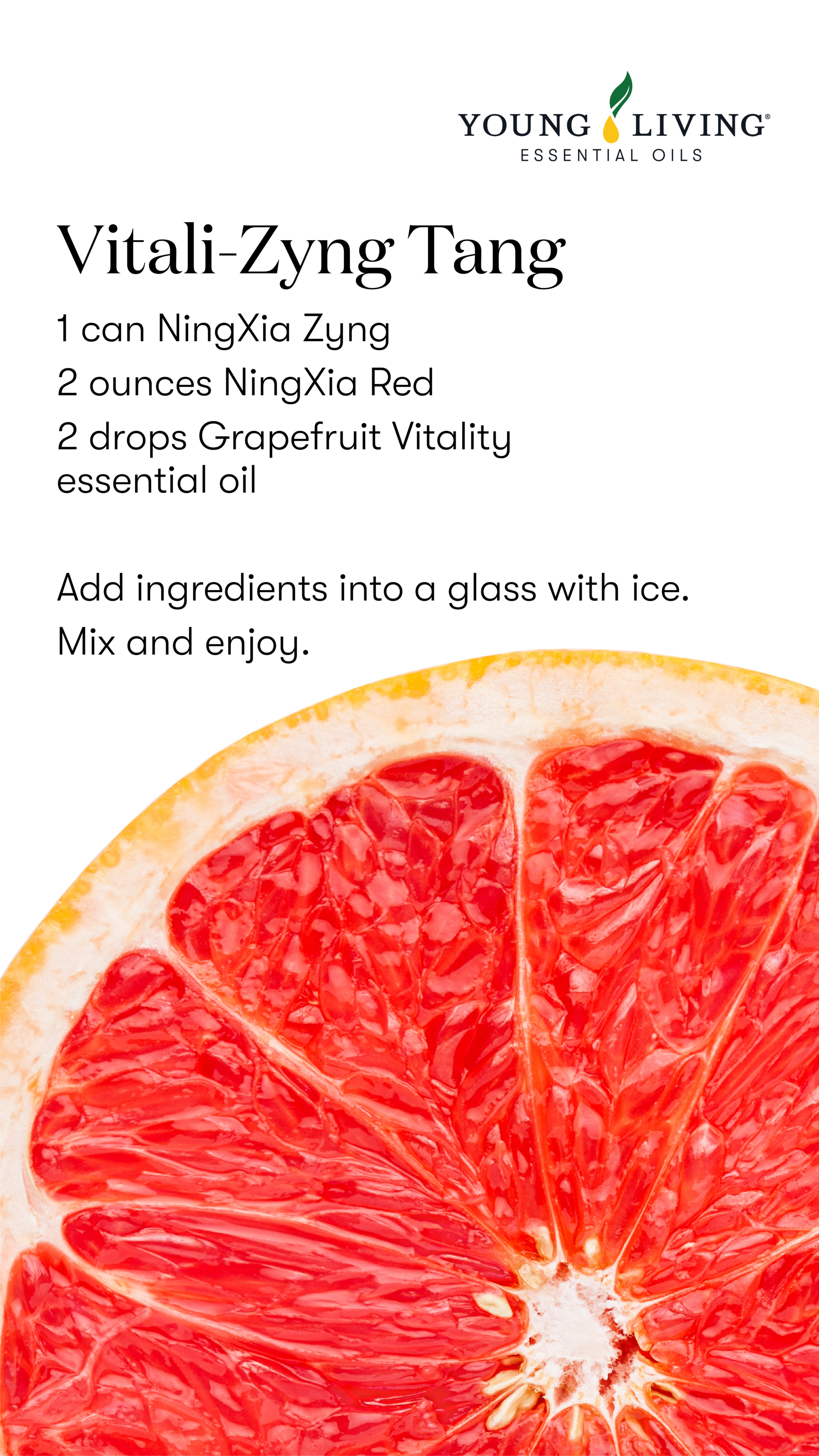 Citrus Frenzy
 Be your best all day with this delightful citrus treat. It features naturally sweet orange juice and refreshing Citrus Fresh Vitality essential oil blend.
1 can NingXia Zyng
1/4 cup orange juice
2 drops Citrus Fresh Vitality essential oil blend
½ cup ice
Combine ingredients in a blender and blend until you reach a slush consistency.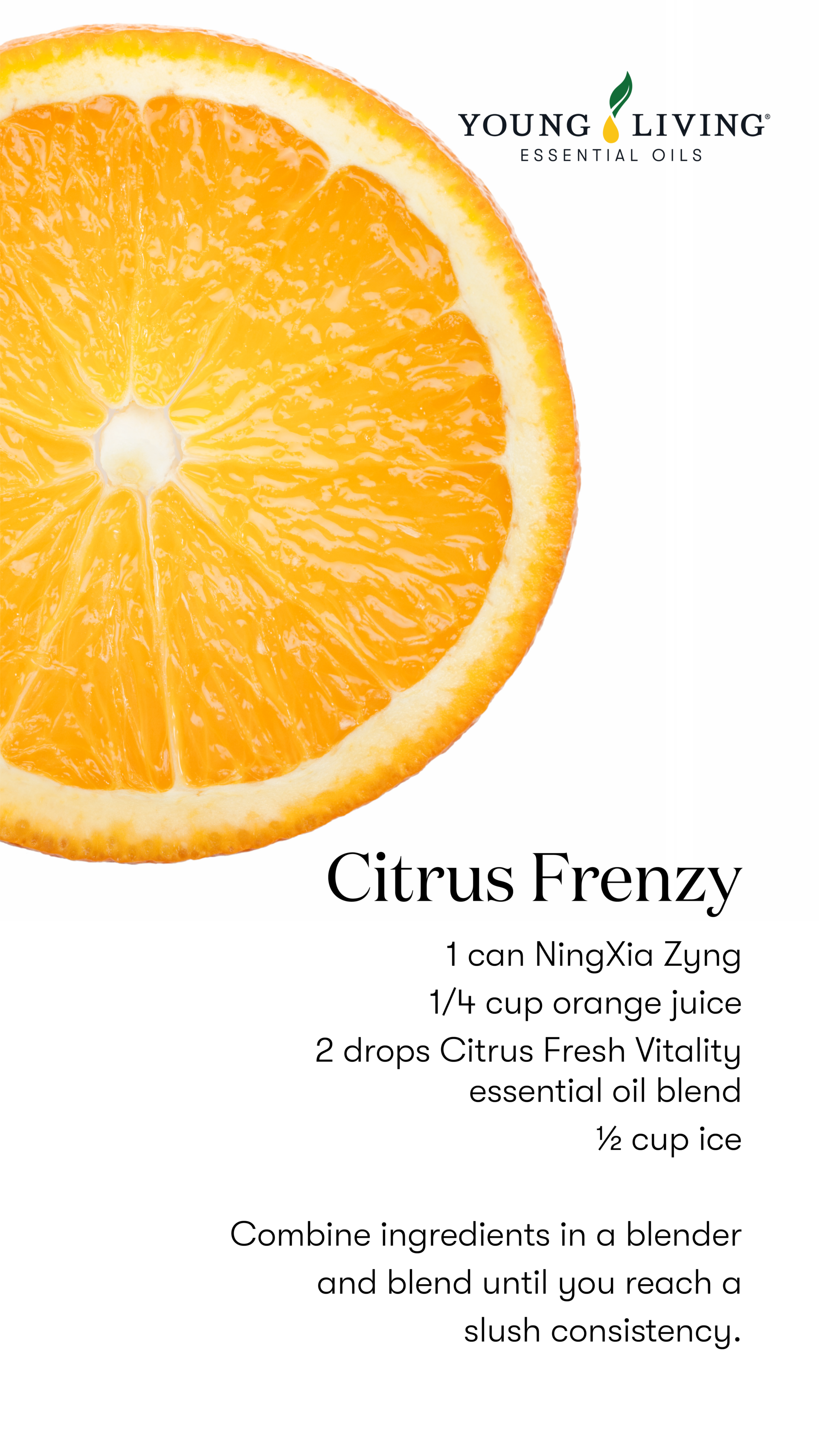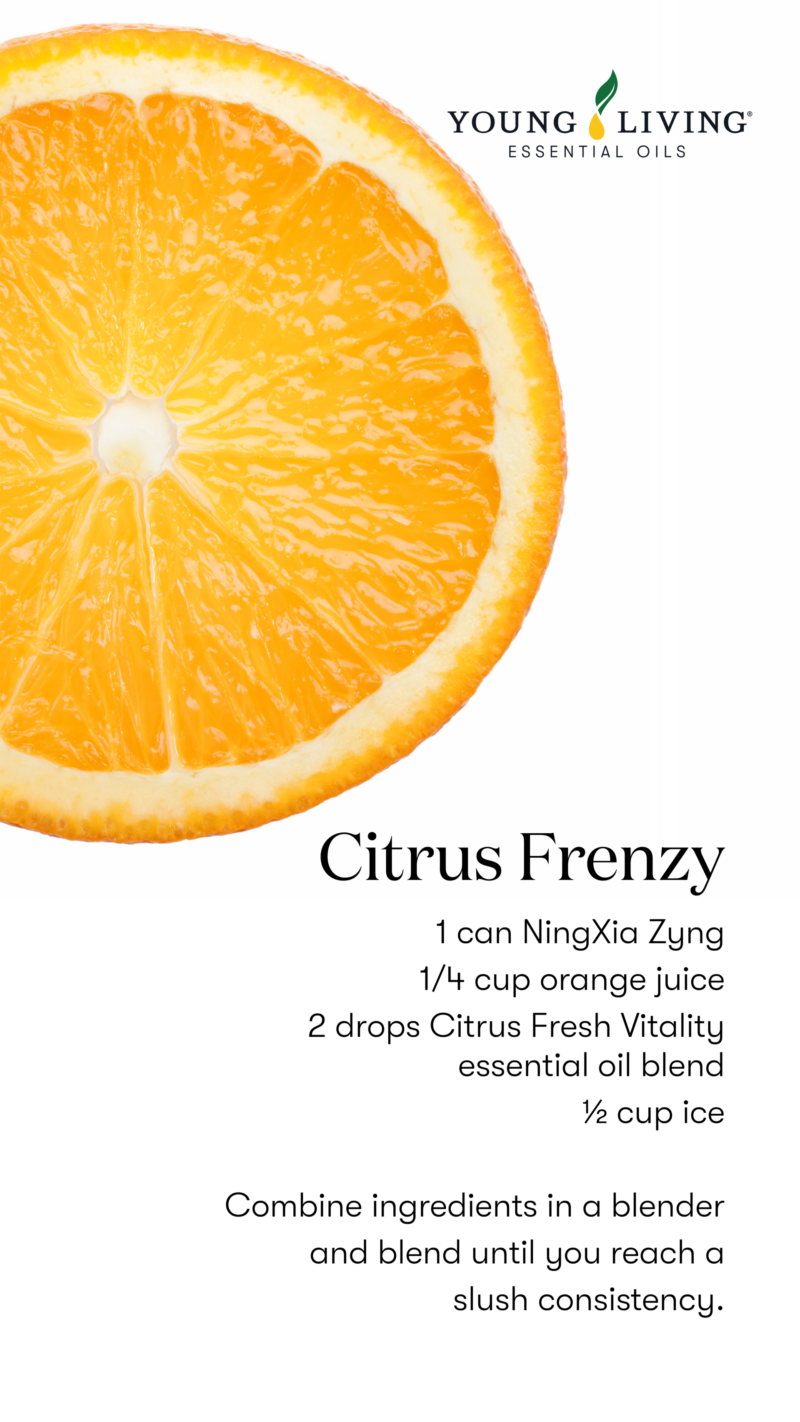 Tropical Zyng
The beaches in your mind are open year round with this fruity Lemon Vitality and pineapple-infused blend.
1 can NingXia Zyng
¼ cup pineapple juice
2 drops Lemon Vitality essential oil
4–6 blackberries
Fill a glass with ice. Top it off with Zyng and pineapple juice. Add in Lemon Vitality and stir. Muddle blackberries and add them to your glass for an extra kick. Mix and enjoy.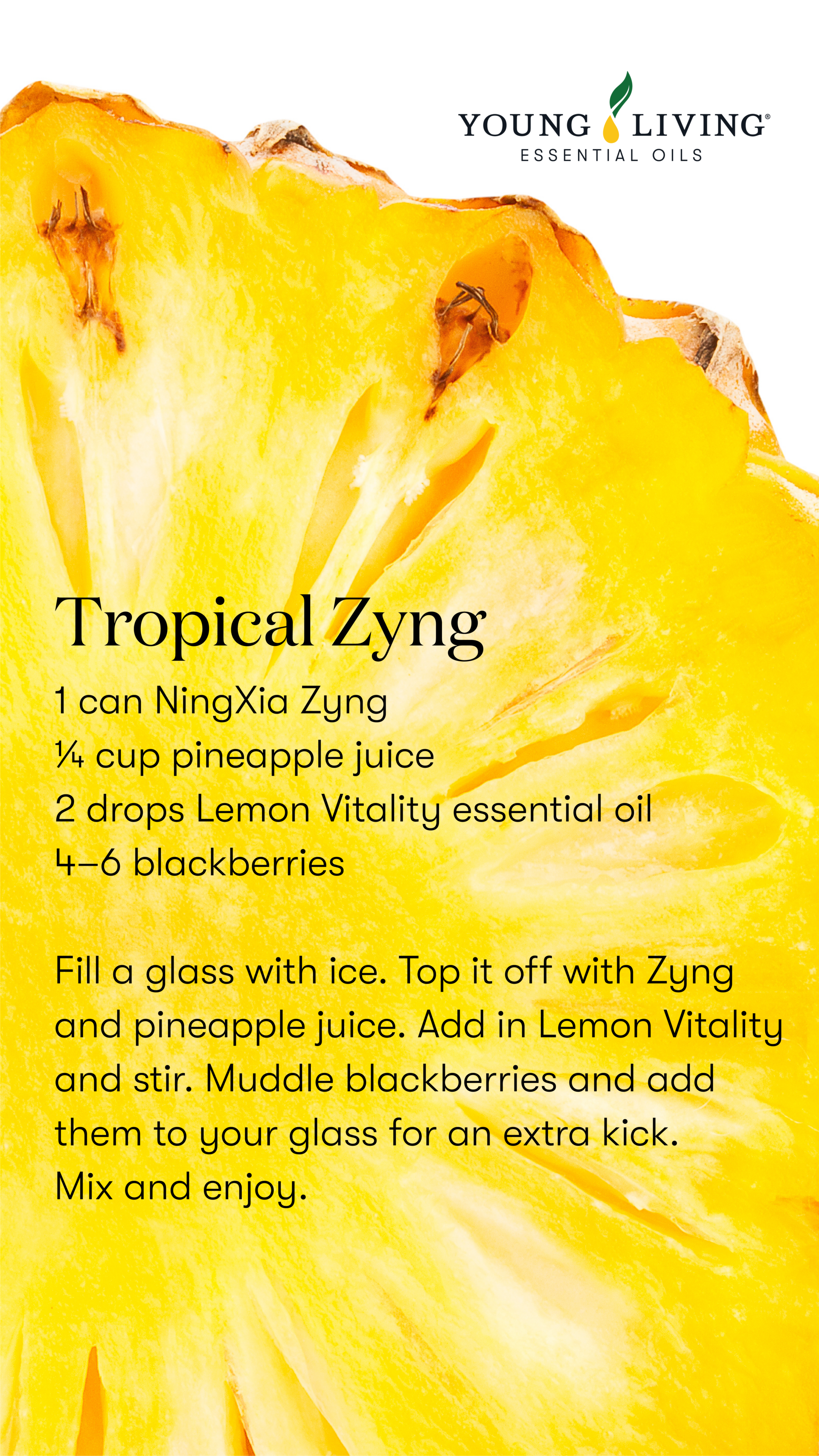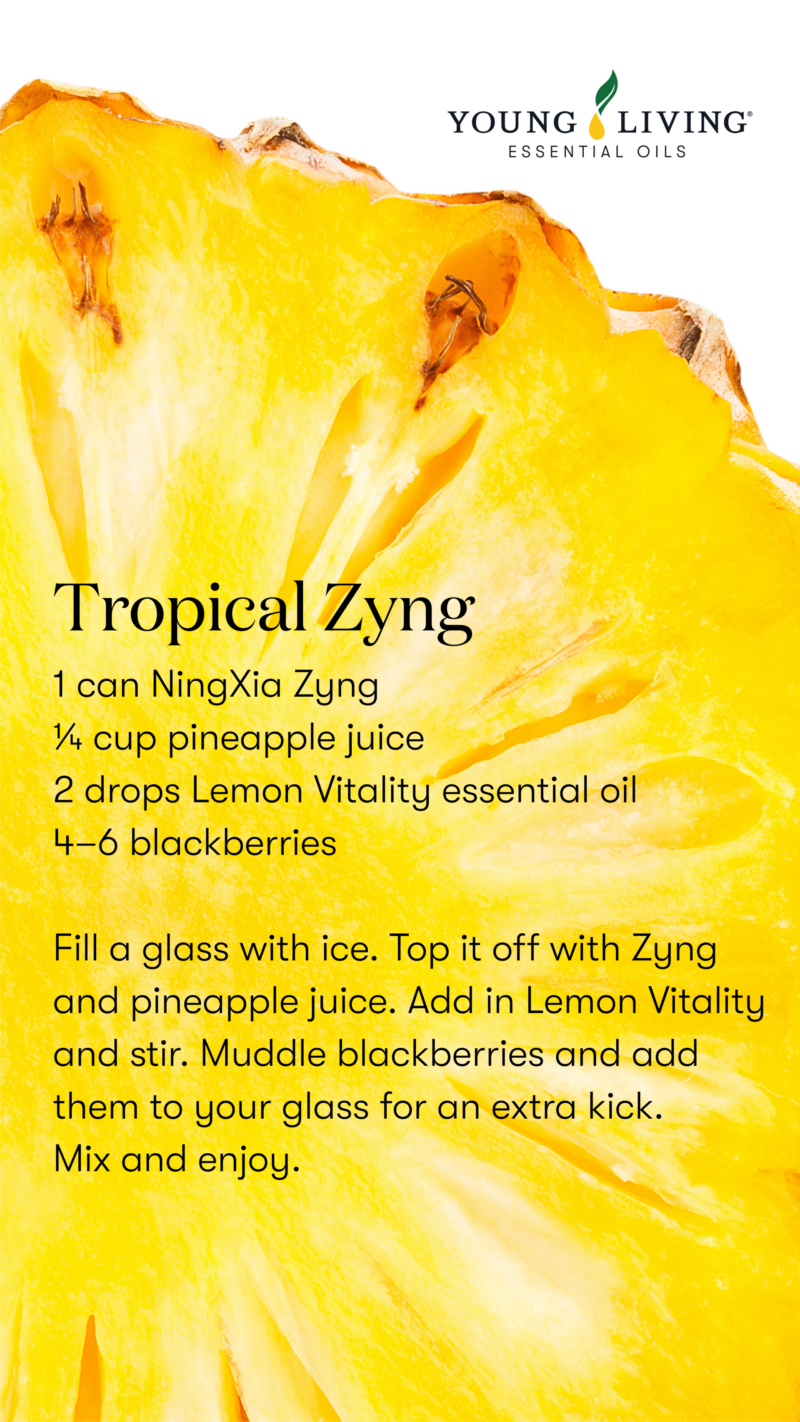 Disclaimer: Due to the naturally occurring caffeine in NingXia Zyng, we recommend that you use in moderation if consuming after 3 p.m. This drink is not intended for young children or those who may be sensitive to caffeine.
Love NingXia Zyng? Then you'll get a kick out of our delicious, energizing wolfberry drink, NingXia Nitro®.
Looking for more summer drinks to help cool down? Try a sip from these three refreshing summer mocktails, or power your day with these NingXia Red shots.
Which Zyng flavor combo are you excited to try?
Tell us in the comments below!