Are you looking for the perfect dessert that's not only tasty but also full of nutritious ingredients? Look no further. We created a delicious Vitality™ dessert that will send your senses to heaven and back—or at least give you a reason to break out your underused food processor.
This dairy-free blueberry-lavender cheesecake recipe will not disappoint. It's made with whole-food ingredients that will give you nutrients while also satisfying your sweet tooth. After all, what's not to love about a dessert made with essential oils?
How to make blueberry lavender cheesecake
YL tip: Start with the first two steps of the blueberry-lavender filling before beginning the crust.
Crust:
¾ cup raw almonds
¼ cup raw pecans (pecans give a rich flavor, but you can substitute for any other nuts or seeds)
2 tablespoons unsweetened coconut flakes
½ teaspoon cinnamon
¼ teaspoon Himalayan pink salt
1 cup pitted Medjool dates
½ teaspoon vanilla extract
2 heaping tablespoons nut butter
1 tablespoon coconut oil (for greasing molds)
1. Place almonds into the food processor and blend until they are broken into very small pieces. (Almonds are the densest—and hardest to break down—of all of the ingredients, which is why we process them first.)
2. Add in pecans, coconut, cinnamon, and salt. Pulse until everything is incorporated.
3. Combine dates, vanilla, and nut butter into the food processor. Blend until everything is mixed. You will know the mixture is ready if it holds its shape when pressed together.
4. Prepare your molds by spreading a light layer of coconut oil on all edges. You can make individual cheesecake bites using muffin tins or silicone molds, or you can make one large cheesecake using a pan or dish.
5. Place a small amount of the crust mixture into the molds. If you are making one large cheesecake, put all of the mixture into the dish. Pack the crust tightly. Place your crust into the freezer while you prep the filling.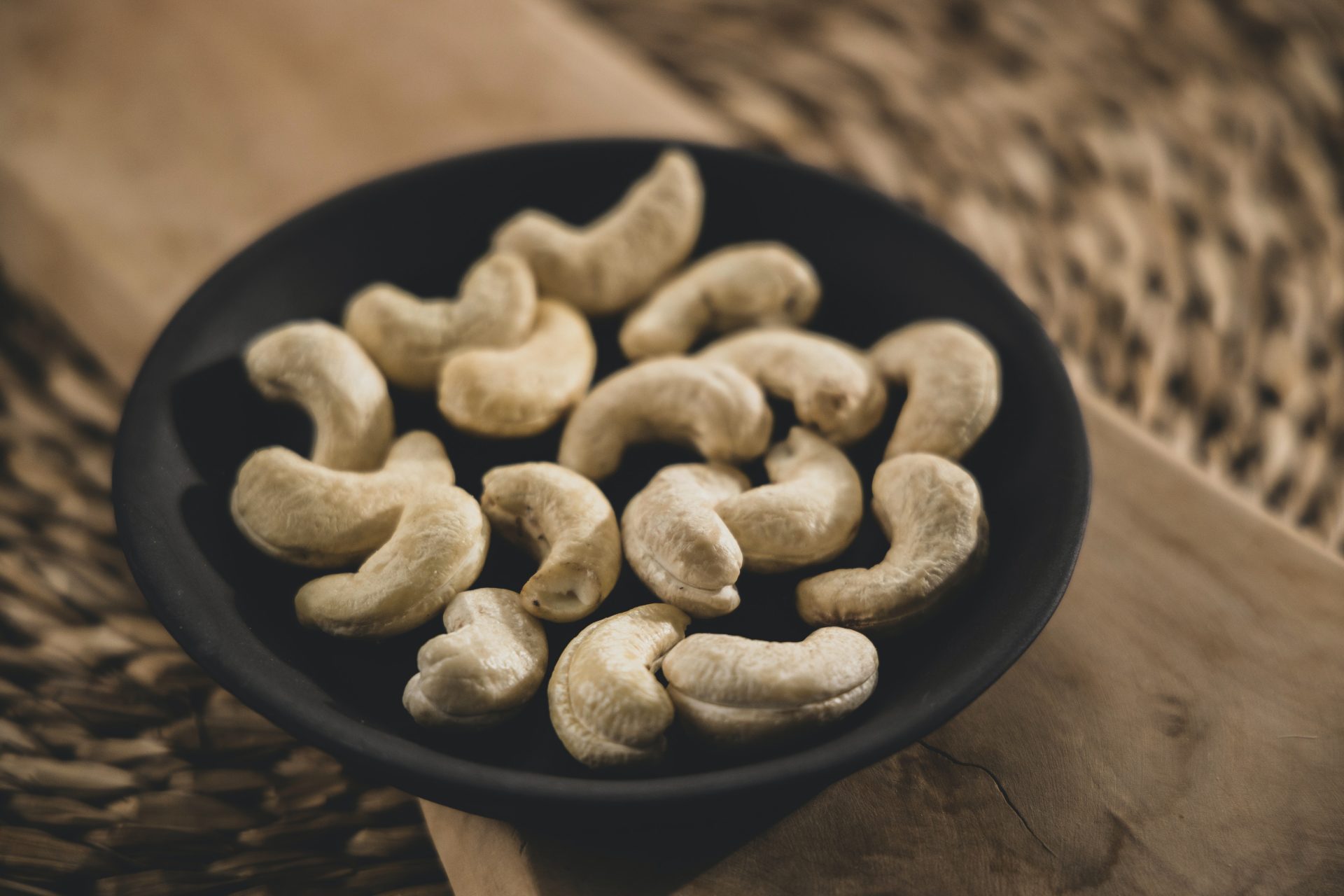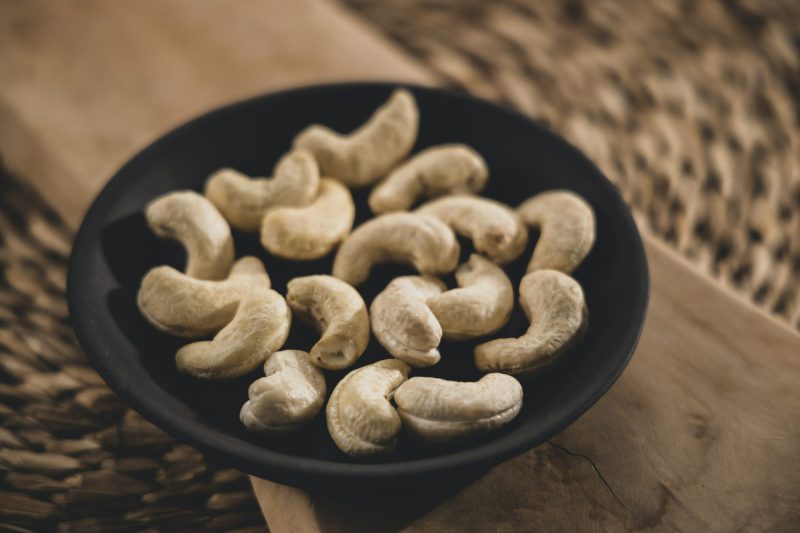 Filling:
4 cups cashews
1 cup coconut oil
1 can unsweetened full-fat coconut milk
½ cup honey (substitute with maple syrup or agave nectar if desired)
1 teaspoon vanilla extract
¼ cup freshly squeezed lemon juice
6 drops Lavender Vitality™ essential oil
½ cup frozen blueberries
Dried lavender sprig for topping (optional)
Additional berries for topping (optional)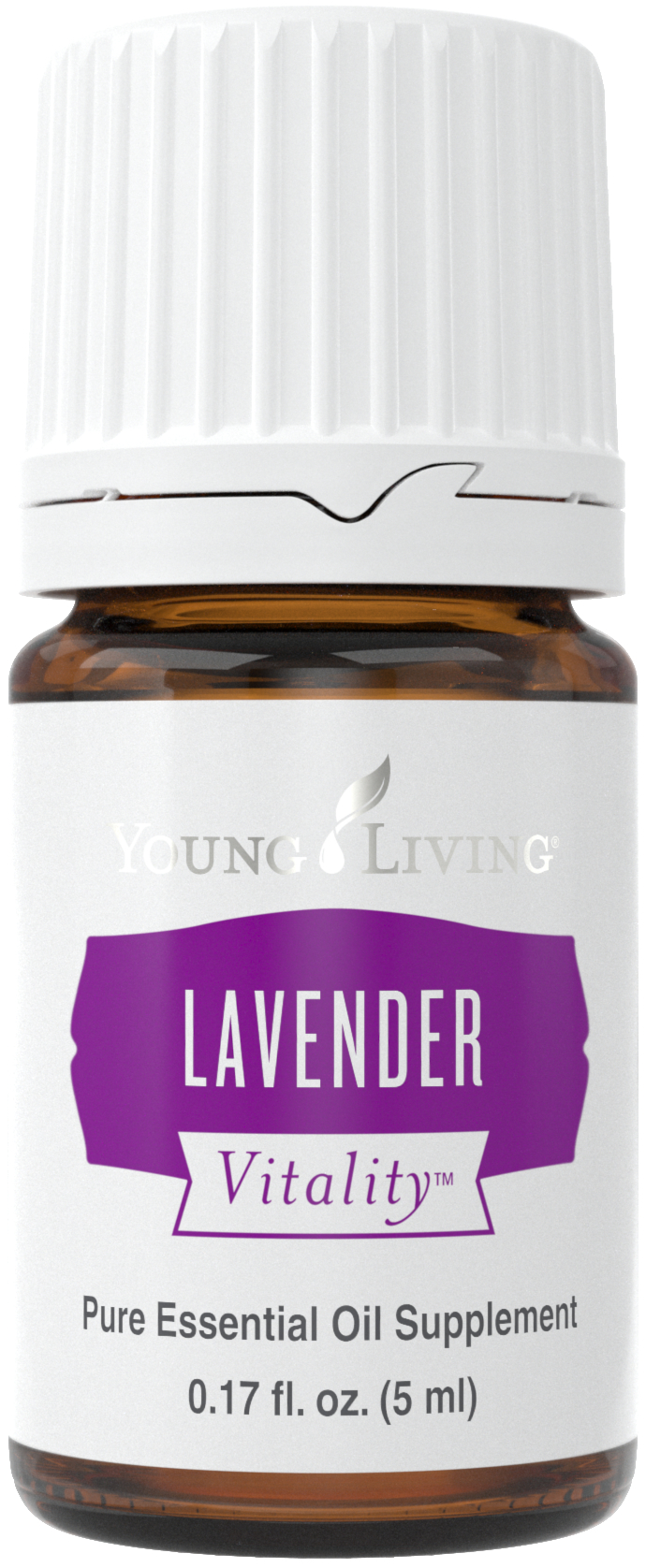 1. Put the coconut milk in the fridge at least 4 hours before you make this dish. It will help to thicken up the fats and create a thicker and smoother cheesecake consistency.
2. Place your cashews in a bowl. Top with enough hot water to cover and let sit for 30–40 minutes while you make the cheesecake crust. Once the cashews are softened, drain the liquid, and add the cashews to a blender.
3. Melt coconut oil in the microwave in 30-second increments. Add into the blender.
4. Add the coconut milk, honey, vanilla, lemon juice, and Lavender Vitality essential oil to the blender.
5. Blend until the mixture has a thick, creamy, and smooth consistency.
6. Take two-thirds of the mixture out and place it into a separate bowl.
7. Add blueberries to the remaining one-third in the blender and blend until smooth.
8. Take your molds out of the freezer and add both fillings on top of the crust. You can place the white filling and then the blueberry filling, do a swirl design, or get as creative as you want! (If you want the colored layers to be separated, pour the white filling on top of the crust and tap the mold on the table to get rid of air bubbles. Place into the freezer for 10 minutes, then pour the blueberry filling on top.)
9. Once you've filled the molds, decorate with your desired toppings (if any). Then place your mold back into the freezer and freeze for 4–10 hours, depending on the size.
YL tip: Taste test your mixture after it is blended. If you want it to be sweeter, add more honey. If you want more brightness, add more lemon juice. If you want a stronger lavender flavor, add more essential oil! This is your cheesecake, so tailor the flavors to your personal taste.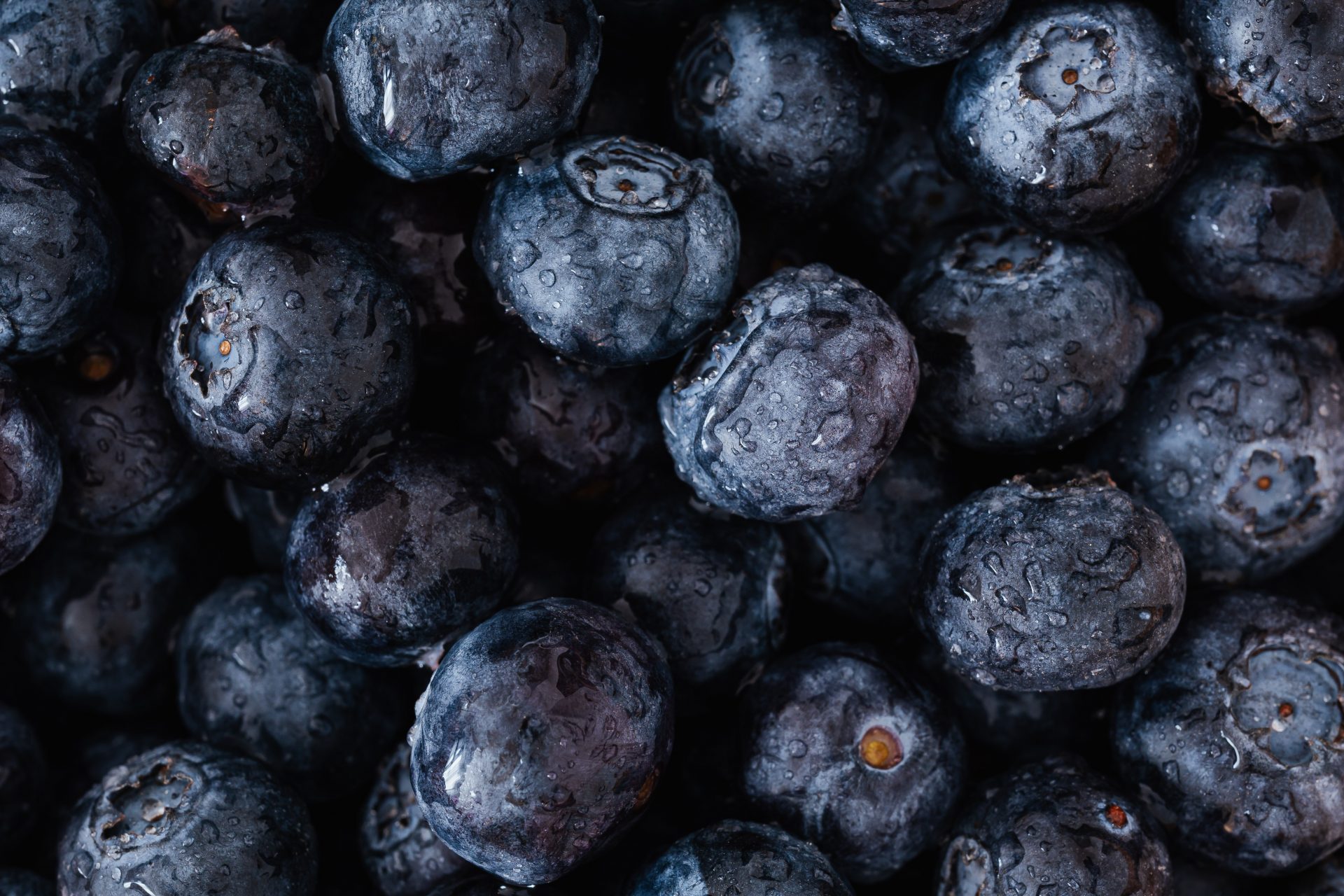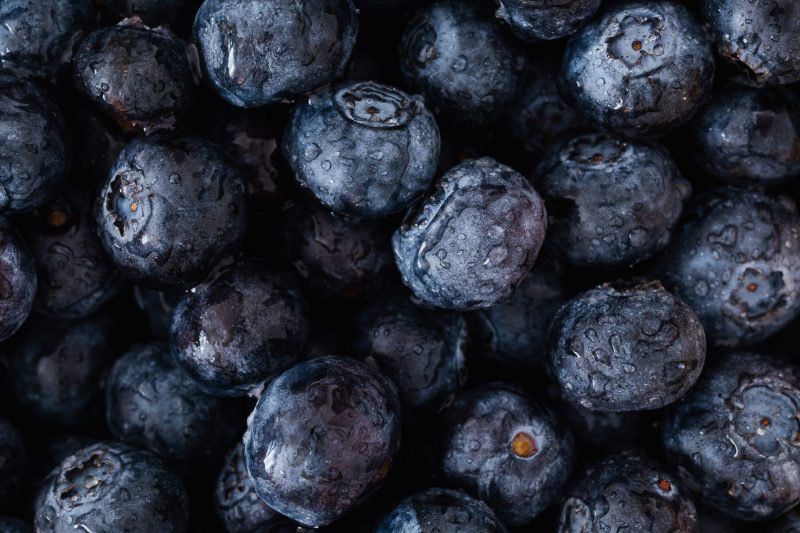 Blueberry sauce:
1½ cups blueberries (frozen or fresh)
½ tablespoon lemon juice
¼ cup honey (or maple syrup)
1 tablespoon organic cornstarch
2 tablespoon water
1. Add blueberries, lemon juice, and honey to a pot on medium heat. Stir occasionally, cooking until the mixture begins to bubble slowly (about 5 minutes). Move onto the next step while you wait.
2. Combine water and cornstarch in a separate dish and stir until incorporated.
3. Once the blueberry mixture is slowly bubbling, turn heat down to medium-low and add your cornstarch/water mixture.
4. Remove from heat.
When you are ready to eat this decadent dish, remove your mold from the freezer and let sit for 10–15 minutes. If you used a muffin tin, cut around the edges of the dish to help pop the cheesecakes out. Plate your cheesecake and top with the blueberry sauce and whatever else you want!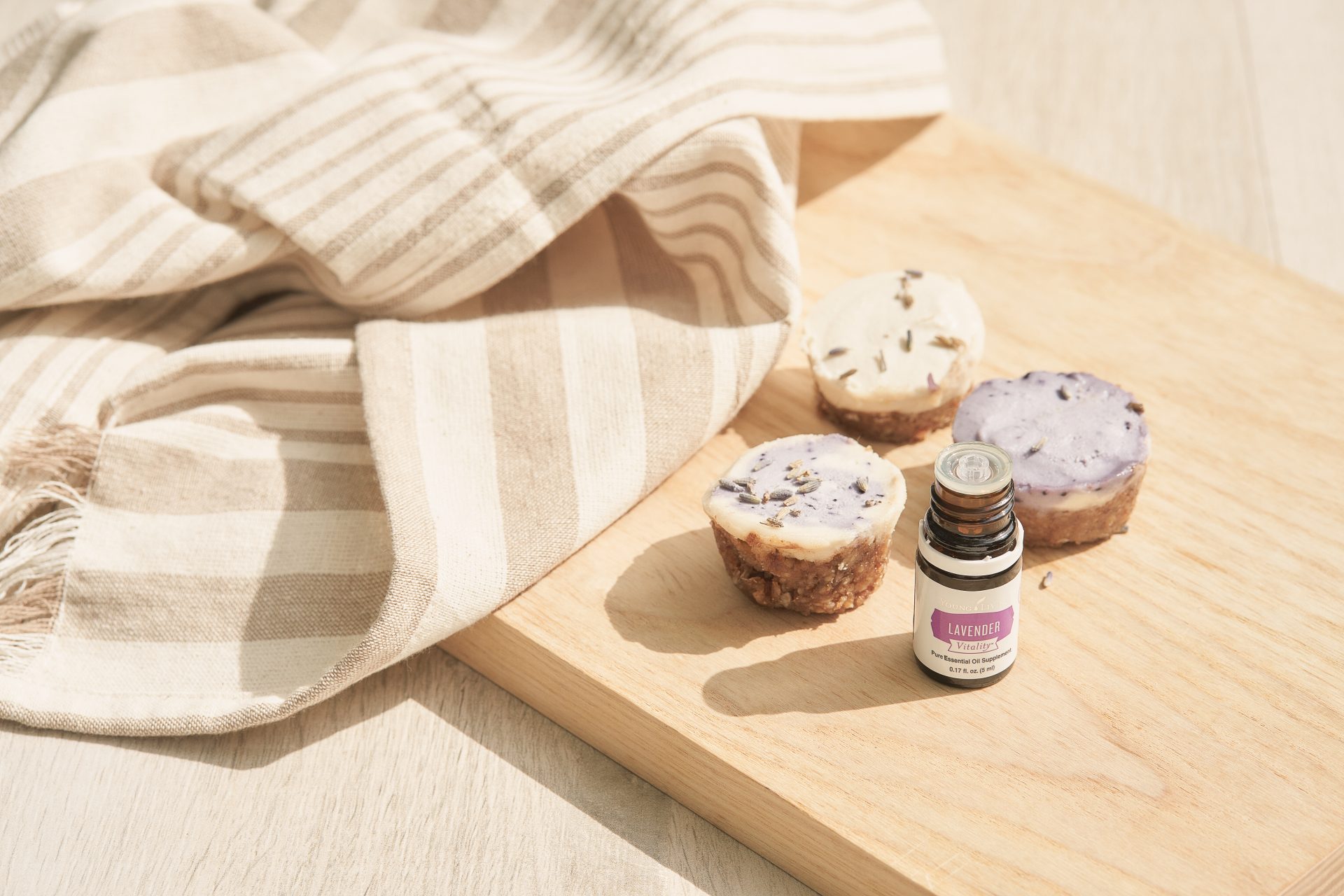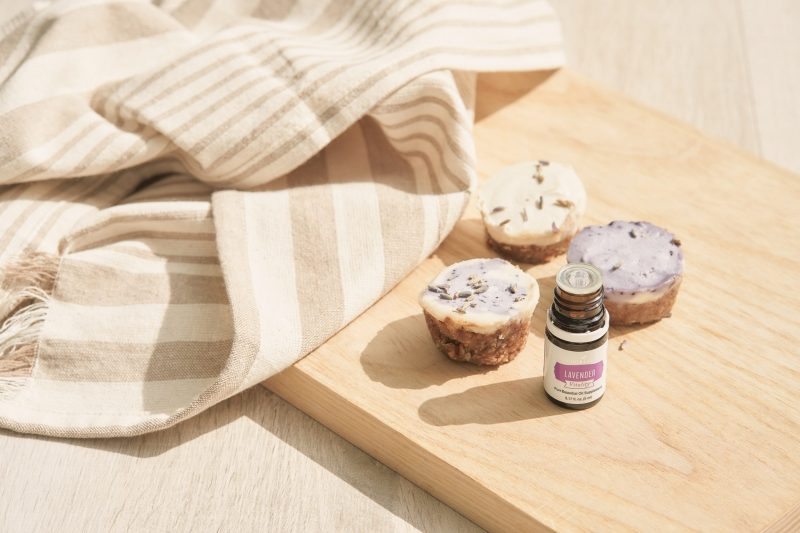 Don't like lavender flavor? Try making a Lime Vitality™ or chocolate cheesecake instead! This recipe is incredibly versatile and can be tweaked to your tastebuds' content. Simply leave out the Lavender and blueberries and add your favorite fruit or flavors to create your own personalized desserts.
Looking for more blueberry-lavender recipes? Try this fruity and floral ice cream for a delicious end to a hot summer day. Or whip up a mint-chocolate protein shake (that tastes just like dessert!).
Did you know you can make cheesecake without dairy?



What other flavors do you think would make a delicious dairy-free cheesecake?