Jump to recipe
My creamy-coconut herb salmon is so simple but elegant enough to serve to friends and family.
It's great for a week night dinner or perfect to serve for guests just double the recipe if needed. You can make the sauce a day or two ahead and cook the fish right before you are ready to serve and it's also wonderful served chilled for a light lunch with salad.
 Chef Kate TIP: You can also use 1 – 2 tbsp coconut oil or butter in place of the olive oil to cook the salmon or if you prefer you can poach the fish in water with 1 – 2 drops lemon oil until cooked through.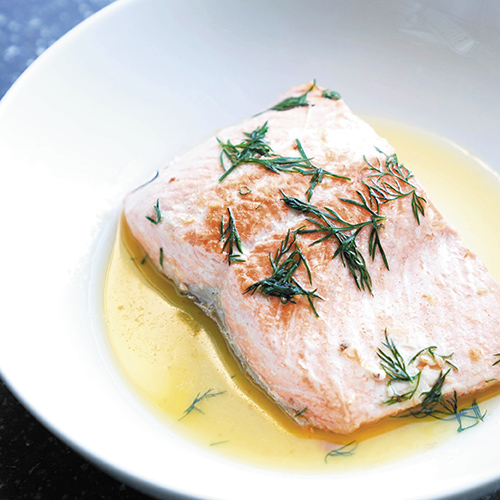 Ingredients
1 tbsp olive oil mixed with 1 – 2 drops lemon oil (for cooking salmon)
2 – 4 pieces of salmon (to cook)
Creamy Coconut Herb Sauce (recipe follows)
Fresh dill or parsley (for serving, optional)
Creamy Coconut Herb Sauce
This scrumptious sauce is great served over fish and is also wonderful poured over cooked veggies, grains, chicken or seafood.
Chef Kate TIP:

If you desire the sauce to be a little thicker simmer and stir often for a few minutes longer until it thickens a little more.
MAKES:

Approx. 1½ cup
PREP TIME:

5 minutes
COOKING TIME:

10 minutes
Ingredients
1½ cups (approx. 1 can) coconut milk
½ cup mixed finely chopped herbs (parsley and dill)
2 tbsp Tamari or Light Soy Sauce (to taste)
2 tbsp fresh lemon juice (to taste)
1 tbsp coconut syrup or honey (to taste)
¼ tsp sea salt (to taste)
Freshly ground pepper (to taste)
1 – 2 drops culinary Lemon Oil (to taste)
1 – 2 drops Dill Oil (optional, to taste)
Instructions
Salmon Cooking Method

Make the Creamy Coconut Herb Sauce before you start cooking the salmon. The sauce can be made up to 3 days ahead and refrigerated. Gently reheat the sauce right before you're ready to cook the salmon, cover and keep warm.
Place the oil in a medium to large frying pan (a safe non-stick pan works best) on medium high heat and preheat for 1 minute.
Gently place the salmon in the pan skin down (or any side for skin-less). If using salmon with skin on make sure the scales are all removed. Cook for 3 – 4 minutes. Then gently turn the salmon over and continue cooking for 3 – 4 minutes until cooked through. You may need to reduce the cooking temperature. The cooking time will depend on the thickness of your salmon pieces. You can also add ¼ cup water to the pan and cover to finish cooking the fish.
When ready to serve the salmon place the piece on a platter, in a shallow bowl or individual plates and pour the sauce over, sprinkle with a few sprigs of fresh herbs and enjoy.

Method

Place the coconut milk in a medium saucepan on high heat and bring to a boil, then immediately reduce the heat to medium—do not let it boil over and remove from heat if needed for a minute. Continue cooking while stirring until the coconut milk has reduced by about half.
Add the rest of the ingredients except the lemon and/or dill oil and continue cooking while stirring often, then check for seasoning and add a little more tarmari, salt and pepper, if desired.
© 2023 COPYRIGHT (C) 2018 - ALL RIGHTS RESERVED - YOUNG LIVING
Love using lemon oil in your recipes? Try our Salmon Poke Bowl Recipe by Chef Kate!