Massage has been used for millennia as part of Chinese, Egyptian, Greek, Roman, Japanese, and Indian traditions. Not only can massage help support circulation, increase energy flow in the body and promote well-being, it's also one of life's simple luxuries. No matter if you're getting a massage to help you relax physically, to take a mental retreat or both, incorporating essential oils can help you enhance any massage experience.
Whether you're a beginner or an advanced enthusiast, here are a few of our tips to use Young Living's essential oils to get the most from your massage: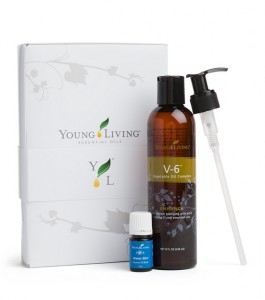 For the beginner:
Aroma Siez™ essential oil and our unique V-6™ Vegetable Oil Complex is a great combination to give basic back, hand and foot massages. If you're new to the wonderful world of massage, this is the perfect place to start.
For the athlete:
Young Living's new Cool Azul™ essential oil blend is ideal for a massage before, during and after physical activities. This blend includes the aromas of Young Living exclusives Dorado Azul and Plectranthus Oregano, along with Peppermint, Wintergreen, Sage, Copaiba, Blue Cypress, Elemi and other oils. Dilute with V-6 and apply topically for a cool sensation. For an even cooler essential oil experience, rub on Cool Azul Sports Gel after applying Cool Azul essential oil blend.
For the advanced massage enthusiast:
Once you've mastered the basics, try branching out your selection of essential oils during your massage routine. Try incorporating one of these premixed massage oils featuring V-6 infused with essential oils for different types of massage:
Post Exercise: Ortho Ease Massage Oil includes Wintergreen, Peppermint, Juniper, and Marjoram and has a refreshing minty aroma. Ortho Sport Massage Oil is infused with Wintergreen, Peppermint, Thyme, and Oregano. Thoroughly massage either of these blends into the body following exercise or activity.
Skin Nourishing: Cel-Lite Magic Massage Oil nourishes the skin with vitamin E and pure vegetable oils, along with Grapefruit essential oil to improve the appearance of skin texture and Juniper oil to help brighten the skin. Massage this blend into areas where you desire to support healthy-looking skin.
Relaxing: Relaxation Massage Oil combines the soothing essential oil scents of Lavender, Tangerine, Coriander, and Spearmint for maximum relaxation.
Togetherness: Sensation Massage Oil inspires and encourages feelings of romance and youthfulness with the beautifully blended fragrances of Ylang Ylang, Jasmine, Geranium and other essential oils. This special blend leaves the skin feeling smooth and soft.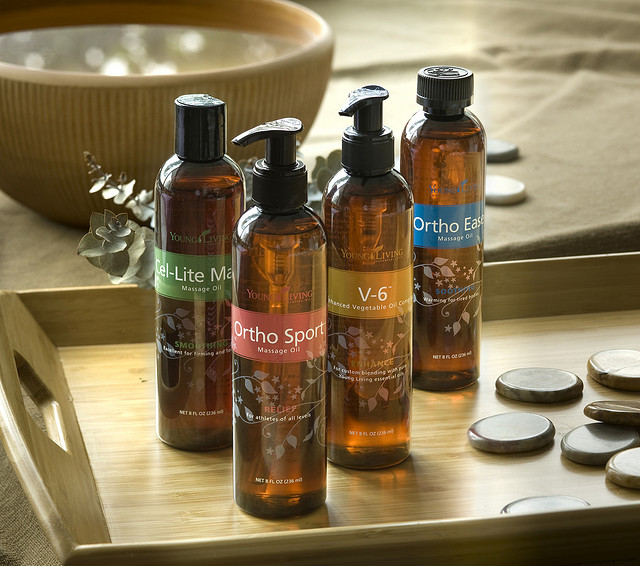 For the DIYer:
Young Living's V-6 Vegetable Oil Complex is a colourless, odourless mixture of pure vegetable oils that helps moisturise and nourish the skin. V-6 can be used to dilute your essential oils or to create your own custom massage blends. With so many oils to choose from, the possibilities are limitless. I love experimenting with essential oil combinations and creating blends that are just for me. Here are a couple of my favourites:
Moisturise and Meditate:
This massage blend has a fresh, slightly woodsy aroma and includes oils that help support the appearance of healthy-looking skin. I like to use this blend when I meditate to promote feelings of connection and peace.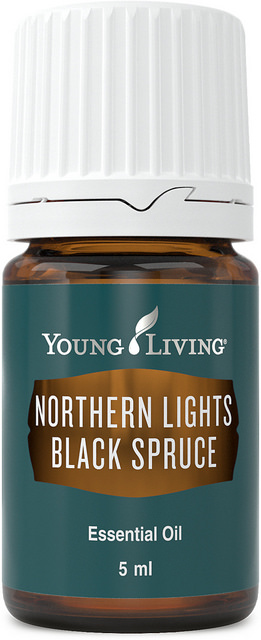 3 tablespoons V-6
3 drops Frankincense
2 drops Manuka
2 drops Northern Lights Black Spruce
2 drops Royal Hawaiian Sandalwood
2 drops Blue Cypress
Relaxing Spirit:
I've been using this blend during a massage at the end of the day to relax and centre myself before bed. It includes some of my favourite wood essential oils and its aroma has a wonderful and rich scent.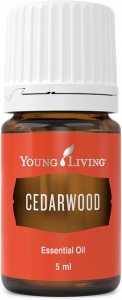 3 tablespoons V-6
2 drops Cedarwood
2 drops Hong Kuai
2 drops Hinoki
2 drops Sacred Frankincense
1 drop Tsuga