Jump to recipe
This tasty mash is great for open face sandwiches, as a dip with crackers or veggies, or it's wonderful spread on toast and topped with eggs for a weekend brunch. For a special dish try sautéing some mushrooms in a little olive oil or coconut oil with some sea salt and serve them over the mash on toast.
Chef Kate TIP: Try using a little culinary basil oil just swirl a toothpick in the oil then swirl into the avocado mash. Remember a little basil oil goes a long way and adds beautiful flavour but use it sparingly.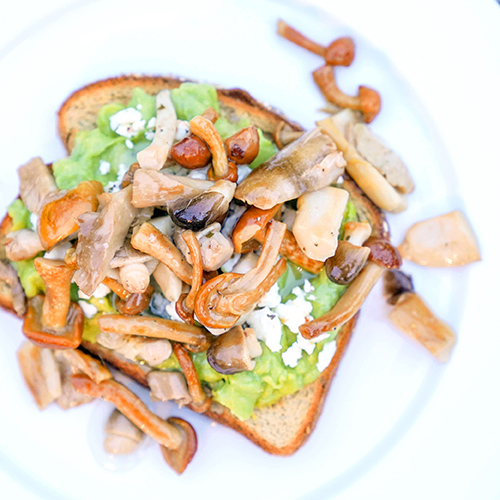 Notes
You can substitute 1½ cup frozen peas (thawed) in place of the avocado if you can't find any ripe ones. The pea and fetta mash is really delicious too and so easy to make. If using peas in place of the avocado, thaw them first and use a food processor to blend them with all the other ingredients except the fetta. Then place the pea mixture in a bowl and crumble in the fetta and stir to combine. Add a little honey if you like a little sweeter mash.

Ingredients
1 large ripe avocado (or 2 small)
1 tsp lemon juice (to taste)
½ tsp sea salt and freshly ground pepper (to taste)
1-2 drops of basil oil (to taste)
1 – 2 drops culinary lemon oil (to taste)
½ cup crumbled fetta cheese (to taste)
1 tbsp finely chopped parsley and/or coriander (optional)
2 – 4 slices of bread, toasted (use your favourite kind)
Instructions
Mash the avocado, lemon juice, salt, pepper and culinary lemon oil together in a bowl. Add the fetta and chopped herbs, if using and gently mix to combine. Check for seasoning and add a little more salt and lemon juice, if desired.
Serve immediately on slices of bread or toast and sprinkle with some crumbled fetta and a few fresh herb leaves.
© 2023 COPYRIGHT (C) 2018 - ALL RIGHTS RESERVED - YOUNG LIVING
Find more delicious Chef Kate Recipes on the blog!
Let us know your fave culinary oil tip in the comments below?