G'day! We're taking a trip to the land down under with one of our favourite Australians: Kunzea essential oil. Sheilas and blokes alike will defo fall in love with this fresh favourite.
What is Kunzea oil used for?
From soothing your skin to keeping outdoor spaces clear, we reckon Kunzea's heaps of uses and benefits will surprise you. Check out some of the things we love most about this herbaceous oil.
1. Aussie awesomeness
Crikey, Australia has a lot to offer. The kunzea plant is native to the coasts of Australia and Tasmania. The oil is extracted by steam distilling the leaves, stems, and seeds. This beauty botanical is part of the myrtle family, which also features plants such as allspice, clove, and even guava.
2. An oil has many names
In true Australian fashion, there are plenty of nicknames for this bold botanical. It's known as Kunzea ambigua in the scientific community, but it's also called white cloud, Tasmanian kunzea, and tick bush.
3. Fresher than a day at the beach
Fair dinkum, you'll get a breath of fresh air when you reach for this invigorating scent. We especially love using Kunzea essential oil during seasonal changes. Here are some of our favorite ways:
Apply 1 drop right beneath your nose.
Mix 1 drop Kunzea, 1 drop Peppermint, and 1 drop Eucalyptus Radiata with a tiny bit of lotion or coconut oil, then apply to the chest or bottoms of feet.
4. It reboots your runners
Kunzea has been used traditionally by Australian Aboriginal communities to comfort tired muscles. We love the way it feels when we massage it into tired toes after a long day on our feet.
Mix 3-5 drops of Kunzea with V-6™and massage into sore muscles and joints. For an extra boost, add 1-2 drops of Black Pepper.
5. An iffy air buster
We're stoked about how well Kunzea can bust bad odours. Don't panic if you run out of Purification® essential oil blend; one of Kunzea oil's benefits is that it can purify the air to send stale smells packing.
Add this spicy-clean oil to your diffuser, then order more Purification (let's be honest, you can never have too much).
6. Your skin's Australian BFF
Give your skin the affection your best mate would give you. Using Kunzea daily can help clear your skin of blemishes.
Use Kunzea to cleanse the skin. Apply 1-2 drops of Kunzea to 12 drops of carrier oil. Try grape seed oil, avocado oil, argon oil or jojoba oil. Make sure you do a small patch test first. Rub it onto your face with a cotton makeup pad.
Add it to our DIY face mask. Kunzea is a good complement to Tea Tree, Lemon, and Geranium.
this clarifying mask.
7. No worries, it's an incredible scent!
Good on ya for collecting all these fun facts about Kunzea. Our favourite thing about it is how refreshing yet bold it smells—one of our favourite adds to diffuser blends! Try this bright combo of Lime and  Bergamot with Kunzea.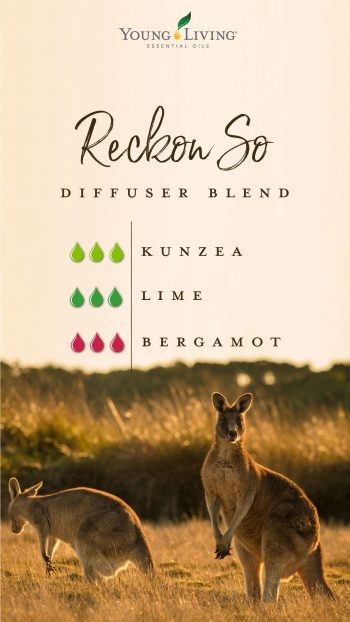 Now that you're feeling like an honorary Australian, dive into another Aussie fave: Blue Cypress; then transport yourself to Sydney (or another inspiring city) with one of these diffuser blends!
Feel rapt?
Tell us what you love about Kunzea in the comments.