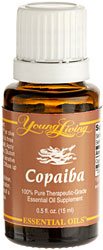 Later this month, you'll start hearing the buzz about copaiba, Young Living's latest single essential oil. Copaiba Essential Oil is an incredible essential oil that continues the tradition of South American essential oils being offered by Young Living.
Want to know the highlights of this potent essential oil? Deep in the heart of the Brazilian rain forest, the copaiba tree is harvested by "tapping" the heartwood similar to how rubber and maple are tapped. The resin is collected and then steam distilled, a process that delicately extracts the pure essential oil.
Copaiba has traditionally been used in native teas to aid in soothing digestive discomforts. It also has helped regulate people's natural immune response.* It's no wonder why copaiba is so effective. Copaiba essential oil contains the highest amounts of beta caryophyllene: 55 percent. This is the highest of any known essential oil!
You'll be hard-pressed to find real copaiba essential oil anywhere in the United States. It's true, other companies sell copaiba "oil" that contains the entire resin or is a distilled form of the leaf. Unfortunately these products don't contain the high amounts of beta caryophyllene that is in the Young Living Therapeutic Grade™ copaiba essential oil.
You probably have already tried copaiba in the Deep Relief™ and Breath Again™ Roll-On blends. If you look on the ingredient labels of these products, you'll see copaiba listed.
Let me know what you think of copaiba essential oil!
Toby Palmer
—Product Manager, Essential Oils
* This statement has not been evaluated by the Food and Drug Administration. This product is not intended to diagnose, treat, cure, or prevent any disease.