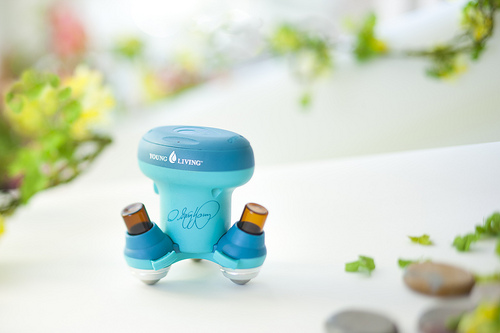 The power of essential oils and the Vitassage™ extends beyond its use on people. I have been involved in helping rescue horses and other horses with high emotional issues, especially in the racing industry.
In August 2012, Cole Woolley, vice president of Global Science, gave me a Vitassage to use on horses after he saw a presentation of my work on these majestic animals. Having done emotional clearings and the Raindrop Technique® on many horses, I was excited to see what the Vitassage could do.
I first tried the Vitassage with thoroughbred racehorses. They can be quite flighty, and the first mare was excited to see and smell me as I approached. Based on her history, I decided that the best oils for her were Peace & Calming®, Release™, and Valor®.
At first I offered a couple of drops of Peace & Calming from my hand. As the mare smelled my hand, she decided to lick the essential oils. It's truly amazing how horses are so attracted to these essential oils—it's like a treat for them!
I massaged her shoulders in a circular motion until she became used to what I was doing. I proceeded to introduce the Vitassage in the "Off" position first. I then turned it on and massaged her in a circular motion along each side of the spine from withers (shoulders), to the dock (base of tail), over the rump, and down the shoulders and chest. Within a few minutes, her head lowered and she closed her eyes. She was asleep! I spent about 15 minutes with this horse, and there was a major change in her demeanor. She went from being an agitated and anxious horse to a quiet and settled horse.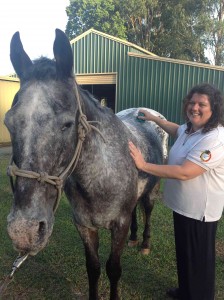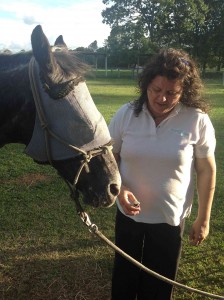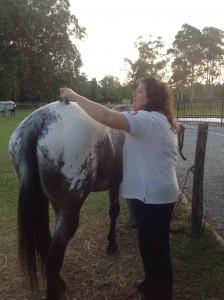 Recently I used the Vitassage with a 26-year-old purebred Appaloosa named Legend County Saints Thunder, affectionately known to his friends as Hector. Hector was a much quieter horse—quieter than any horse I had worked on before. Because of this, I helped him "choose" his oils. I held out a selection of open bottles, and with each one I would observe if he would move his head away or near the bottle or whether he would step away or closer to the bottle. Horses will tell you a lot about their preferences for the oils if you let them. The essential oils Hector chose were geranium, Peace & Calming, and blue cypress. After a few minutes, Hector was completely relaxed and closing his eyes. I proceeded to use the Vitassage on some tight spots along his spine and was able to provide a wonderfully relaxing experience for him.
The Vitassage provides complete relaxation for horses within a short amount of time. It is a great tool to use on horses for emotional issues.
—Jen Gallagher, YL Distributor, Aromatherapist, Teacher, and Author
Please share your comments below for a chance to receive one of three Vitassage massagers and a special companion gift that will be announced shortly. Stay tuned!