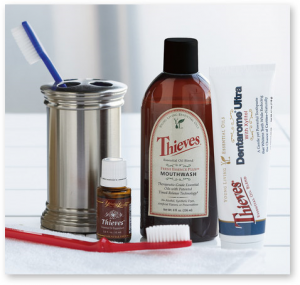 According to the Centers for Disease Control and Prevention (CDC), baby boomers will be the first generation where the majority "will maintain their natural teeth over their lifetime." Why? The fundamental differences between previous generations and the baby boomers are education and product quality.
But despite improvements in oral-health education and superior products, one out of every 20 adults or 5 percent of baby boomers between the ages of 40–59 is still missing ALL of his or her teeth, requiring full dentures or implants. When considering the preventative cost of good dental hygiene in comparison to the therapeutic cost of implants or dentures, choosing and using the most effective oral-care products becomes a critical priority.
That is why Young Living offers a variety of toothpastes to meet individual needs, has improved Thieves® Dental Floss for more effective results, and provides Thieves Fresh Essence Plus Mouthwash, which thoroughly cleans teeth and gums while freshening your breath.
Young Living has a product for everyone at a price that is good for your mouth and your wallet. However, the fundamental issue that is easily missed when comparing pricing is quality. Remember: Commercial brands put in harmful fillers, synthetic ingredients, preservatives, and dyes. The old adage, "You get what you pay for" is applicable.
Here's what Young
Living distributors have to say about using Thieves toothpaste:
"A year ago, in addition to other things the dentist asked me to do, I added Thieves® Dentarome Ultra Toothpaste to my regular brushing, flossing, and six-month dental checkup regimen. This morning the results of my checkup amazed my dentist of over 30 years. Not only were my teeth cavity-free, but my gums were also healthy. Thank you!"
"I started using Thieves® Dentarome Plus Toothpaste a few weeks ago, and my teeth are noticeably whiter! The toothpaste started working within a few uses. I have whiteners from the dentist but didn't feel comfortable using them because of the chemicals in them and the way my teeth felt so sensitive afterward. Now I brush longer and my teeth look great. I enjoy my smile in the mirror!"
Your smile is your best accessory, and to give you one more thing to smile about, we are giving away 10 free tubes of Dentarome Original Toothpaste to 10 randomly selected people who leave a comment on our blog.
Can't wait to hear from you,
—Gloria Russo, YL Product Marketing Manager
TIP:  Once you have loaded your toothbrush with your favorite Young Living toothpaste, add a drop of lemon oil to further brighten your smile.
Don't forget to share your thoughts about using Young Living oral-care products to beautify your best asset!