We all know that variety is the spice of life, so why not explore a hidden gem of an essential oil and add some new spicy scents to your home with a few drops of Cassia?
The benefits of Cassia essential oil are so numerous, it's no wonder this oil has been used throughout history by ancient civilizations from Egypt to China. Fortunately, you don't have to travel back in time to harness the power of this pure essential oil. You can take advantage of all those benefits today!
What does Cassia essential oil smell like?
Do you love the warm, cozy scent of Cinnamon Bark oil but wish you could tone it down just a notch? Cassia essential oil is your new go-to. Its aroma—just the right balance of sweet and spicy—will remind you of mornings when Grandma made her famous cinnamon rolls.
Cassia essential oil is extracted from the steam-distilled bark of the cassia tree. The result is a warm and cozy aroma with a lighter, softer scent than other spicy oils.
Cassia vs. Cinnamon Bark: What's the difference?
Think of Cassia essential oil and Cinnamon Bark oil as siblings. Cassia and Cinnamon Bark come from the same family of tree barks but vary in color and scent strength. Looking for a softer cinnamon scent? Bust out a bottle of Cassia. Ready to kick the spice up a notch? Bring on the Cinnamon Bark!
Just like Cinnamon Bark oil, Cassia essential oil should be diluted at a 1:4 ratio of Cassia to carrier oil before being used topically. That means for every drop of Cassia oil, you should use four drops of carrier oil.
Cassia essential oil
Latin name: Cinnamomum cassia
Aroma: Cinnamon-like, but sweeter and lighter
Also called: Chinese cinnamon
Cinnamon Bark essential oil
Latin name: Cinnamomun zeylanicum
Aroma: Warm and robust like the spice in your kitchen cupboard
Also called: Cinnamon
Aromatic spice
Diffuse the sweet, light aroma of Cassia essential oil in times of doubt to center yourself. The subtle hint of spice wrapped in the warm, cozy scent will help bring what's truly important into focus.
Want to create your own essential oil diffuser blend? Cassia blends especially well with citrus and conifer oils. A few drops of Cassia create a lovely aroma when combined with oils such as Juniper, Bergamot, or Grapefruit.
There's a Cassia diffuser blend for any level of sugar or spice you're looking for.
Try some of these blends to get started!
Still Mind diffuser blend
Diffuse Cassia essential oil with Frankincense during meditation or while you practice mindfulness to encourage inner connection and positive self-awareness. The combination of earthy, pine-like Frankincense and light, sweet Cassia will fill the room with sweet scents while you reflect.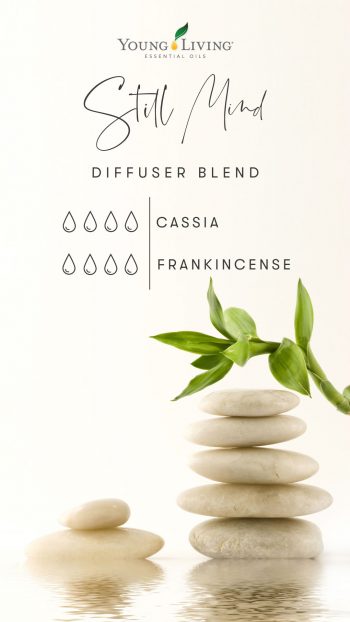 Which tip will you use to spice up your life with scent of Cassia?
Share with us in the comments!