Spring Break is full of photo opportunities! Times when you'll head outdoors with your family and friends to celebrate the warming weather. Check out our top seven tips on how to capture the moment with the perfect selfie.
1. Prep Your Canvas
Before the cameras start flashing, start the day off right with the right beauty products! Use the ART® Skin Care System while getting ready to look your most radiant for all your outdoor activities and photos. Remember to add a bright lip color just before you get snapping.
2. Make Things Interesting
The best selfies offer something for the audience. Give your viewers something to look at or something to laugh about. Bring some personality to your photo, but make sure to keep it natural—avoid fake smiles and staged poses. A picture is worth a thousand words, so make them count!

3. Good Lighting is Your Best Friend
Lighting plays a key role in the outcome of a perfect photo, and selfies are no exception. Make sure to capture your selfie in well-lit areas with as much natural light as possible. Try to position yourself so that the light is in front of you to avoid shadows on the face.
4. Do a Quick Background Check
Great selfies often feature a great backdrop that gives your audience the inside scoop on where you are and what you're doing. Your viewers would much rather see a pretty background or a neutral wall instead of a bathroom toilet or a room full of laundry.
5. Know Your Angles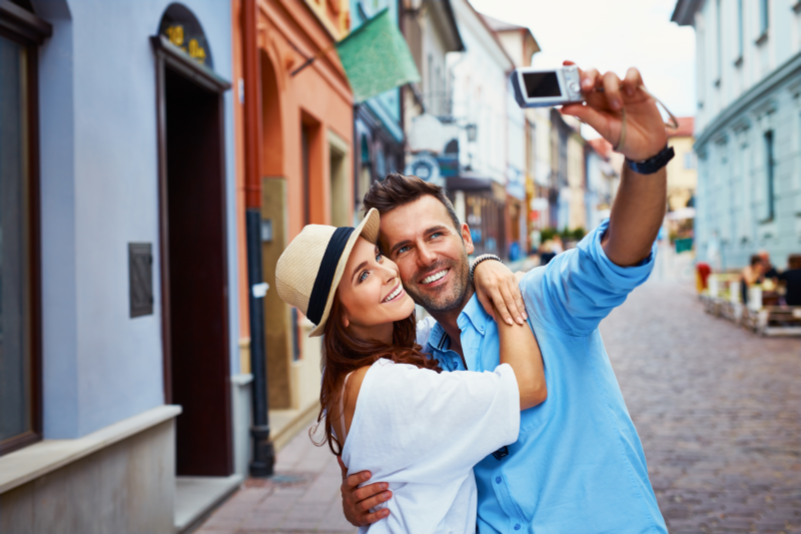 It's important to know your angles, because looking into a camera isn't like looking into the mirror. Practice and play around with different poses to see what angles turn out to be most flattering to you. Try holding your device stretched away from your body, a little above eye level with your head slightly tilted to one side. That way your chin and cheekbone are visible, ensuring a slimming angle and a grade-A selfie.
6. Take Plenty of Photos and Pick a Winner
We all know that professional photographers take hundreds of photos only to narrow them down to a few golden shots, so why shouldn't you? Just make sure you've got enough memory in your smartphone so you really get the one you want. Like other great photographers, remember to only share a few of your best shots—posting selfies sparingly will create the biggest impact.
7. Edit
The right photo-editing app can make a huge difference in how your final picture turns out. Don't be afraid to apply a filter to your photo to make it more flattering! Instagram has the basics, but there are tons of other apps and tools out there that can help you get rid of the little blemish on your nose or even add a Cindy Crawford-esque mole.
---

Giveaway
What other tips do you have for taking a selfie? Let us know in the comments for a chance to be randomly selected to win an ART® Skin Care System valued at $144.41!
Giveaway rules:
To enter, simply comment on this post.
Contest ends at 11:59 p.m., MT, on Thursday, March 10.
One winner will be chosen randomly and announced on the blog on Friday, March 11.
Click here for official rules.
***UPDATE***
Congratulations to our randomly selected giveaway winner, Heather Ludwick!  Thanks everyone for your participation and great comments!