We are excited to announce the newest product in our Young Living diffuser family! The Aroma Diffuser utilizes ultrasonic technology to break up the mixture of essential oils and water into extremely fine microparticles and disperses the ingredients in essential oils into the air. It provides an excellent method of calming and moisturizing to build a healthy, natural, and pure living environment.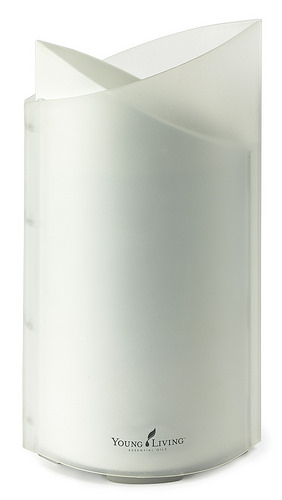 Features of the new Aroma Diffuser include an LED light; an elegant, bamboo-inspired design; timer settings for 1 or 4 hours of continuous diffusion; and the ability to use ordinary tap or mineral water. Approximate dimensions are 25.2 cm high, 12.6 cm wide, and 7.5 cm deep.
I've been fortunate enough to use the Aroma Diffuser and find that not only is it a stylish design that would complement most décor, but it is also quiet and generates a generous vapor volume. This new diffuser is a simple and effective way to introduce the benefits of Young Living essential oils to others.
Here are a few blend suggestions from our Young Living Facebook fans that you can test out in your new Aroma Diffuser:
"Weight loss blend: Peppermint, Lemon, and Grapefruit!" —Danica N.
"Peace & Calming® and Clarity." —Bri J.
"Rosemary/Lemon, Citrus Fresh™/Lavender, Lavender/Citrus Fresh, Grapefruit/Peppermint." —Amarilys B.
"Seven drops of Lime and three drops of Hinoki." —Dionne G.
"Cedarwood and Tangerine!" —Michelle J.
"Lavender and Lime!" —Dana B.
"Orange and Peace & Calming are good together." —Jennifer K.
Leave a comment and let us know your favorite diffuser blends. If you have the opportunity to try the new Aroma Diffuser, we'd love to hear your comments as well!
—Heidi Jeanfreau, YL International and Portfolio Brand Manager