Do you love licorice? Then you'll adore Fennel essential oil. This anise-like-scented oil is produced when crushed seeds of the fennel plant are steam distilled. It has a long, rich history that goes back to ancient times when Roman warriors were said to have consumed fennel to prepare for battle. Maybe Fennel is just the oil you need while you fight your own battles!
Check out some ways you can incorporate Fennel into your life below.
Divine diffuser blends
Fennel goes well with so many different essential oils—it adds warmth to citrus oils and sweetens up earthy ones. Start with a few drops of oil and increase to your preferred fragrance strength. Get creative with your blends and utilize your favorite oils for a personalized combination.  A few of our picks include: 
A tasty tranquility tea
Steep serenity with this creamy, tastes-like-a-treat tea. Fennel Vitality™ adds a delicious, complex flavor that is easy on the stomach, while Lavender Vitality™ and chamomile help cultivate an incredibly soothing drink. Enjoy in the evening before bed, after a meal, or while you're inviting extra peace into your day.
1 cup water
¼ cup nondairy milk or creamer
2 drops Fennel Vitality essential oil
2 drops Lavender Vitality essential oil
1 tablespoon dried chamomile herb or 1 chamomile tea bag
1 tablespoon maple syrup (adjust sweetness to your personal preference)
1. Steep chamomile in hot water for 3–5 minutes, or until desired flavor strength is reached.
2. Add essential oils, milk, and maple syrup. Mix and enjoy!
YL tip: For an even richer, more velvety drink, steep the chamomile in hot milk instead of water.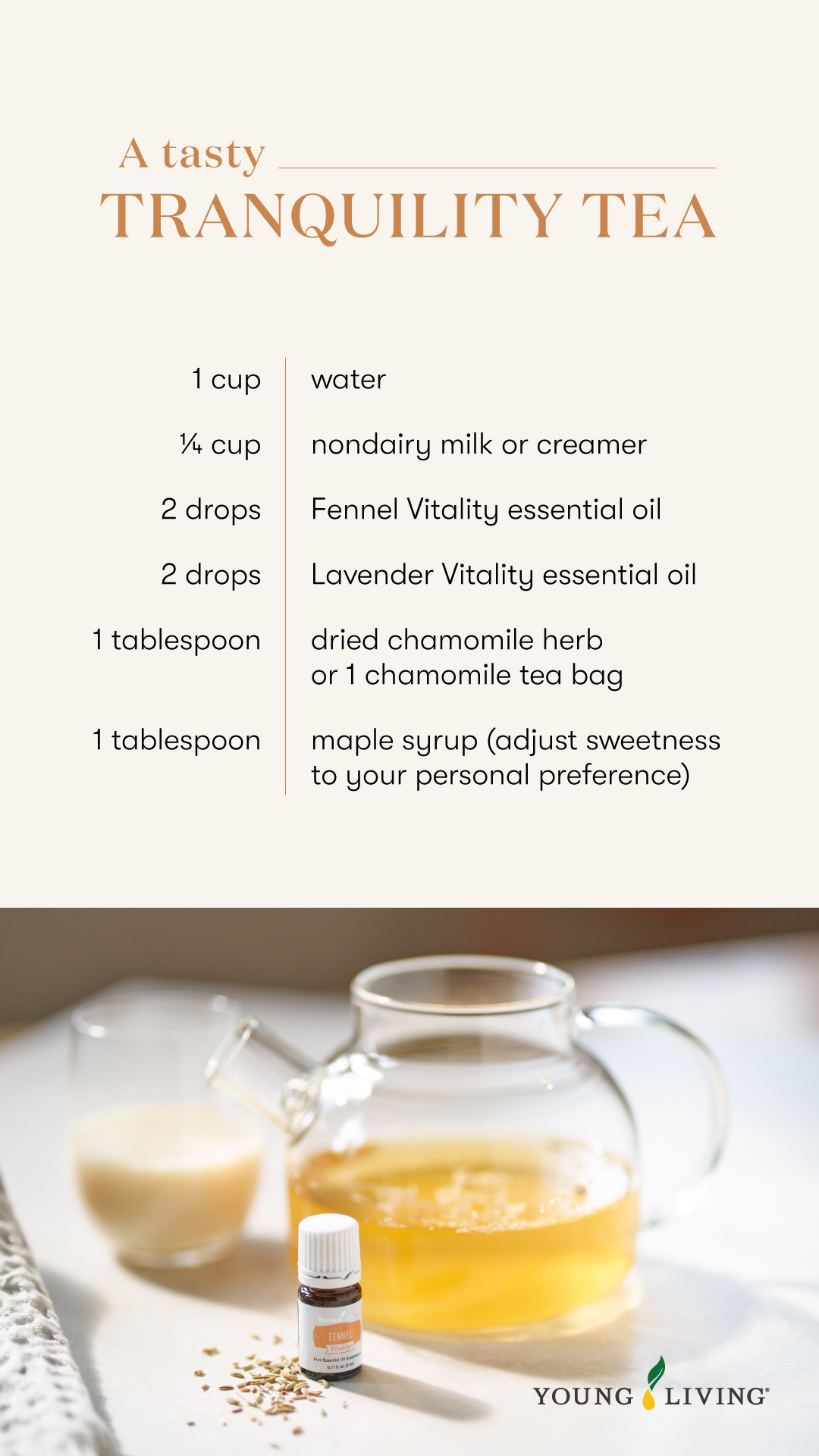 A breathtaking detox bath
 Quiet your mind after a crazy day with a hot, essential oil-infused bath. As your body soaks in the steamy, oil-scented water, your Zen levels will increase tenfold!
2 drops Fennel essential oil
3 drops Juniper essential oil
3 drops Lemon essential oil
1. Run bath water.
2. Add essential oils.
3. Sit back, relax, and breathe in the irresistible aromatherapy.
YL tip: Do you get too hot in the bath? Make a refreshing beverage using essential oil-infused ice cubes to boost your bathtime and bring on the luxurious vibes.
A relax-to-the-max massage
Sometimes heading straight to bed after running around all day doesn't cut it. Enhance your wind-down routine with a calming massage oil. Focus on your neck, shoulders, chest, and stomach or get a partner to work on your back or legs.
An unforgettable foot massage
Don't forget about those tired toes! Ease puffy, swollen feet and ankles with a foot massage so good, you'll never need to go out for pedicures again.
5 drops Cypress essential oil
5 drops Fennel essential oil
4 teaspoons carrier oil
1. Mix essential oils with carrier oil.
2. Massage oil mixture into feet and slip into a state of bliss.
Blends with Fennel essential oil
 Still waiting for your order to arrive? Try out our Fennel-infused blends. They'll hold you over until you get your hands on Fennel.
DiGize—DiGize® essential oil blend combines Tarragon, Ginger, Peppermint, Juniper, Fennel, Lemongrass, Anise, and Patchouli and is an excellent choice for a massage over the abdomen. It contains antioxidants and may support a healthy digestive system when taken internally.
AromaEase—AromaEase™ essential oil blend is perfect for creating a comforting space. The blend's key essential oils—Peppermint, Spearmint, Ginger, Cardamom, and Fennel—make an aroma that is minty, fresh, and bold. Try diffusing it at home, around the office, or even in your car. AromaEase can also be used topically on your neck, shoulders, or abdomen for a refreshing sensation and aroma.
JuvaFlex—Combining Blue Tansy, Fennel, Geranium, Helichrysum, Roman Chamomile, and Rosemary essential oils, JuvaFlex™ has an uplifting and peaceful aroma that's perfect to diffuse or apply topically to give skin a natural glow.
SclarEssence—SclarEssence™ essential oil blend supports overall wellness with the properties of essential oils, including Clary Sage and Fennel.