There's nothing like sitting in a salon chair watching as the barber works his magic. After a relaxing wash, a sharp haircut, and a close shave, you're feelin' fabulous. But how do you preserve your pompadour or give props to your pixie once you've left the land of polished locks? The answer is simple: DIY hair pomade.
Our hair pomade recipe harnesses the power of natural ingredients like shea butter so you can manage your mane without harsh chemicals. Whether your style is business in the front or bedhead all around, toxin-free hair products are a total hair DO.
DIY hair pomade recipe
Looking for a non-greasy formula that can take on the unruliest fringe or smoothest slick back? This DIY recipe for hair pomade  holds your hair without getting stiff. Medium hold means maximum style and minimum flyaways.
A little hair pomade goes a long way, so those who are all "short hair, don't care" may find one batch is enough to get them from pixie to ponytail.
Instructions:
1. Melt the shea butter and beeswax pellets in a double boiler. Stir the mixture frequently.
2. Combine the jojoba oil and cornstarch in a separate bowl. Mix well so there are no clumps and the mixture is smooth.
3, Add the shea butter and beeswax to the jojoba mixture. Mix thoroughly with a hand mixer until the texture is thick, about 5 minutes.
4. Add essential oils and mix to incorporate.
5. Pour the mixture into a small, lidded container (e.g., wide-mouth glass jar, clean mint tin).
6. Store in a cool, dark place.
To use: Put a small amount of hair pomade on fingertips and rub together. Once fingertips are evenly coated with pomade, run them through hair and style as desired. Start with a small amount of pomade and add more as needed.
Why use pomade?
When it comes to hair styling, pomade is a cut above other products like gel or mousse. It textures and tames without stripping hair of moisture. That means while it's holding your hard part in place, it's hydrating those thirsty locks.
Different formulas have different holds. This DIY hair pomade offers flexible hold with the right amount of shine. And you thought your 2-in-1 shampoo was the only hair care multitasker!
YL tip: Our pomade recipe can be used on longer hair too! Use it to hold asymmetrical pixies in place, add texture to messy waves, tame frizz, and define long curls. DIY hair pomade also makes a fun gift. Nothing says "you're my mane event!" like handmade hair products!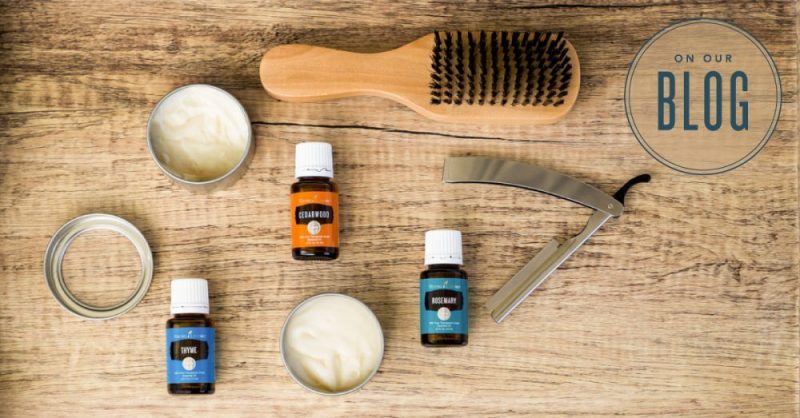 What's in our pomade recipe?
Have you ever tried to detangle the ingredients on commercial hair care products? You'll find a long list of parabens, fragrances, and other synthetics—a serious hair DON'T.
This recipe for DIY pomade is formulated with nourishing ingredients, making it a natural choice for your hair.
Shea butter is a conditioning powerhouse. Its lightweight hydration moisturizes hair for luminous locks day or night. Shea butter also prevents pomade from hardening, so your spikes are more fashion statement than secret weapon.
Beeswax is all about the boost. It improves pomade's staying power without feeling greasy. When your date runs their fingers through your hair, your style—and your date—will stay intact.
Jojoba oil is one of our favorite oils for hair. It features a light and airy texture that soothes while it smooths.
Cornstarch thickens more than Grandma's Thanksgiving gravy. When used in this pomade recipe, it creates a consistency ideal for application and holds even the straightest side parts in place.
Rosemary strands and delivers. If you want hair that smells as good as it looks, reach for hair pomade infused with Rosemary oil.
Cedarwood conditions from roots to razor-cut ends. It soothes the scalp and brings a centering, woodsy aroma to the mix.
Thyme ties up the trio of essential oils in our DIY hair pomade with an herbaceous, more masculine scent that works for buzz cuts and bobs.
YL tip: If you prefer a pomade with a lighter, sweeter scent, swap out Thyme for Lavender. Lavender essential oil soothes the scalp while its calming aroma helps soothe the soul.
Does your hair care routine include beard management? Check out these 15 essential oils for beards. They'll have you rockin' facial hair faster than you can say "mutton chops." Remember finish your look with a drop or two of DIY men's cologne.
What's your favorite essential oil-infused way to take care of your hair?
Tell us in the comments!