Ever feel like you're in a scent slump? You've tried all the staple essential oils like Lavender, Peppermint, and Lemon, and now you're looking to add a little luxury to your collection. If this sounds familiar, then get ready to elevate your life—and your EO toolkit—with BLOOM™ by Young Living essential oil blend. Combining lush, floral notes with warm, woodsy tones, this exclusive blend brings sophistication to your home, office, or personal fragrance lineup. Whether you use it as a naturally derived alternative to air fresheners or pair it with a brightening skin care routine, you'll love the way it lends a luxe touch to your day to day.
BLOOM essential oil ingredient breakdown
Our BLOOM essential oil blend features 10 premium essential oils sourced from around the world to create an exquisite, luxurious scent:
Vetiver: Distilled from vetiver roots grown in Haiti, Vetiver essential oil has a unique, earthy aroma and contains the constituents isovalencenol and beta vetivone.

Blue Cypress:

Obtained from botanicals grown on Young Living's Outback Botanical Reserve and Distillery in Australia, Blue Cypress essential oil includes the constituent guaiol.
Davana: Native to India, Davana contains the constituents davanone and linalool.
Royal Hawaiian Sandalwood: Made from wood harvested from the Kona Sandalwood Reforestation Project in Hawaii, Royal Hawaiian Sandalwood™ features the constituent alpha-santalol.
Clove: Native to Madagascar, Clove has a spicy, warm aroma and contains the constituent eugenol.
Jasmine: Created from botanicals grown in Egypt and India, Jasmine has a romantic, floral aroma and contains the constituent benzyl acetate.
Carrot Seed: Native to Europe and Asia, Carrot Seed is distilled from the seeds and aerial parts of the plant, yielding an essential oil with an earthy, slightly sweet aroma.
Spearmint: Spearmint is extracted at the Labbeemint Partner Distillery in Washington and contains the constituents carvone and limonene.
Geranium: Sourced from botanicals grown in Egypt, Geranium essential oil has an uplifting, floral fragrance and features the constituent geraniol.
Sacred Frankincense: Sacred Frankincense™ is extracted at Young Living's Arabian Frankincense Distillery and includes the constituents alpha-pinene and limonene.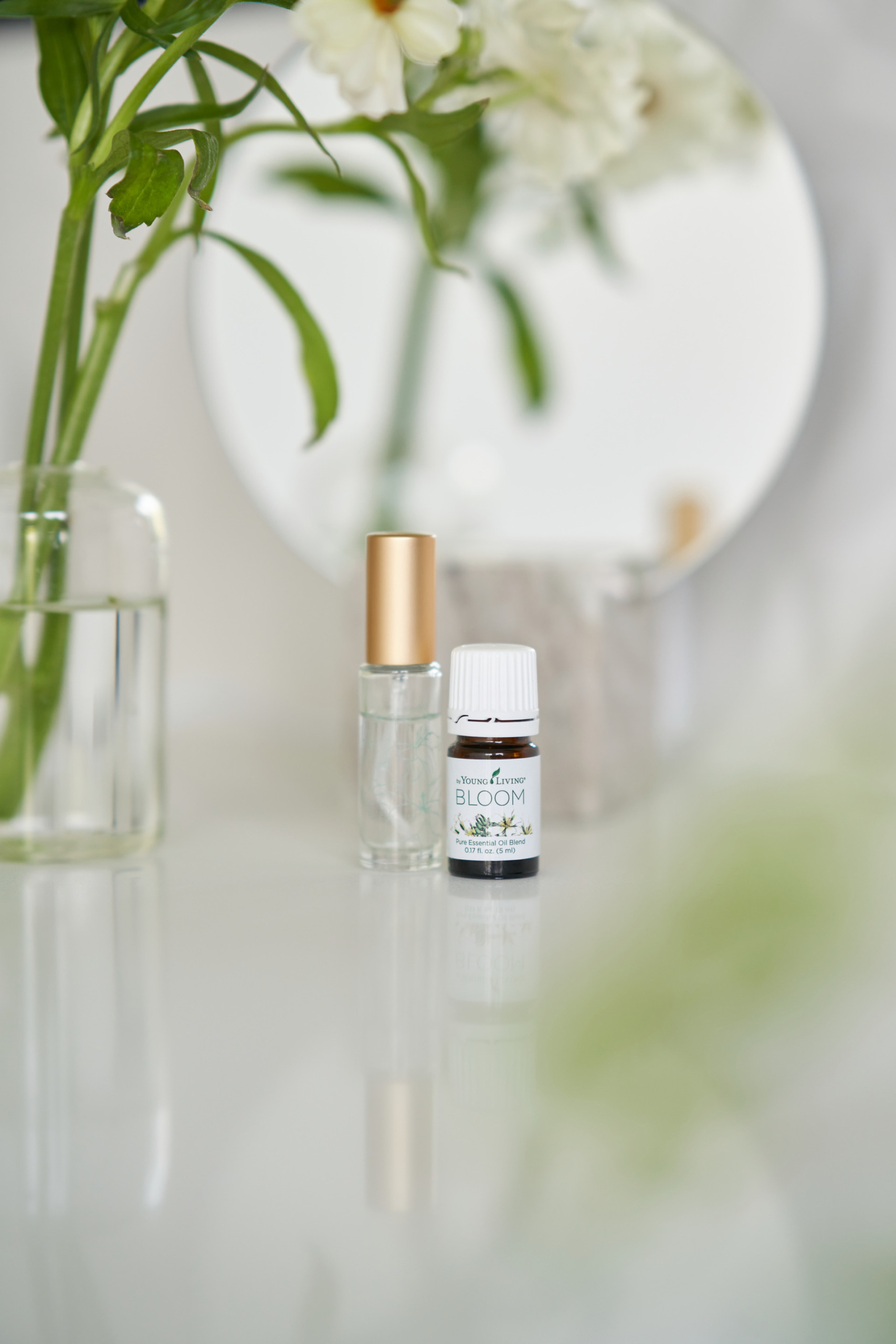 Another key element of this blend is caprylic/capric triglyceride, which is a skin-softening ingredient commonly used by clean beauty brands.
BLOOM essential oil blend uses:
While there are many ways you can incorporate BLOOM into your daily routine, here are some of our favorites:
Soothing massage: Since this blend contains hot essential oils, like Clove, we recommend diluting it before putting it on your skin. Simply combine 1 drop of BLOOM essential oil blend with 4 drops V-6™ Vegetable Oil Complex, or your favorite carrier oil, for a spa-worthy massage oil to pair with your wind-down routine.
Dreamy diffuser blend: This blend is a spring morning in a bottle. Diffuse 8–10 drops in your favorite diffuser to create a fresh, calming, nurturing space for your breath work, morning routine, or journaling practice. BLOOM diffuses especially well with citrus oils like Lemon, Grapefruit, and Tangerine.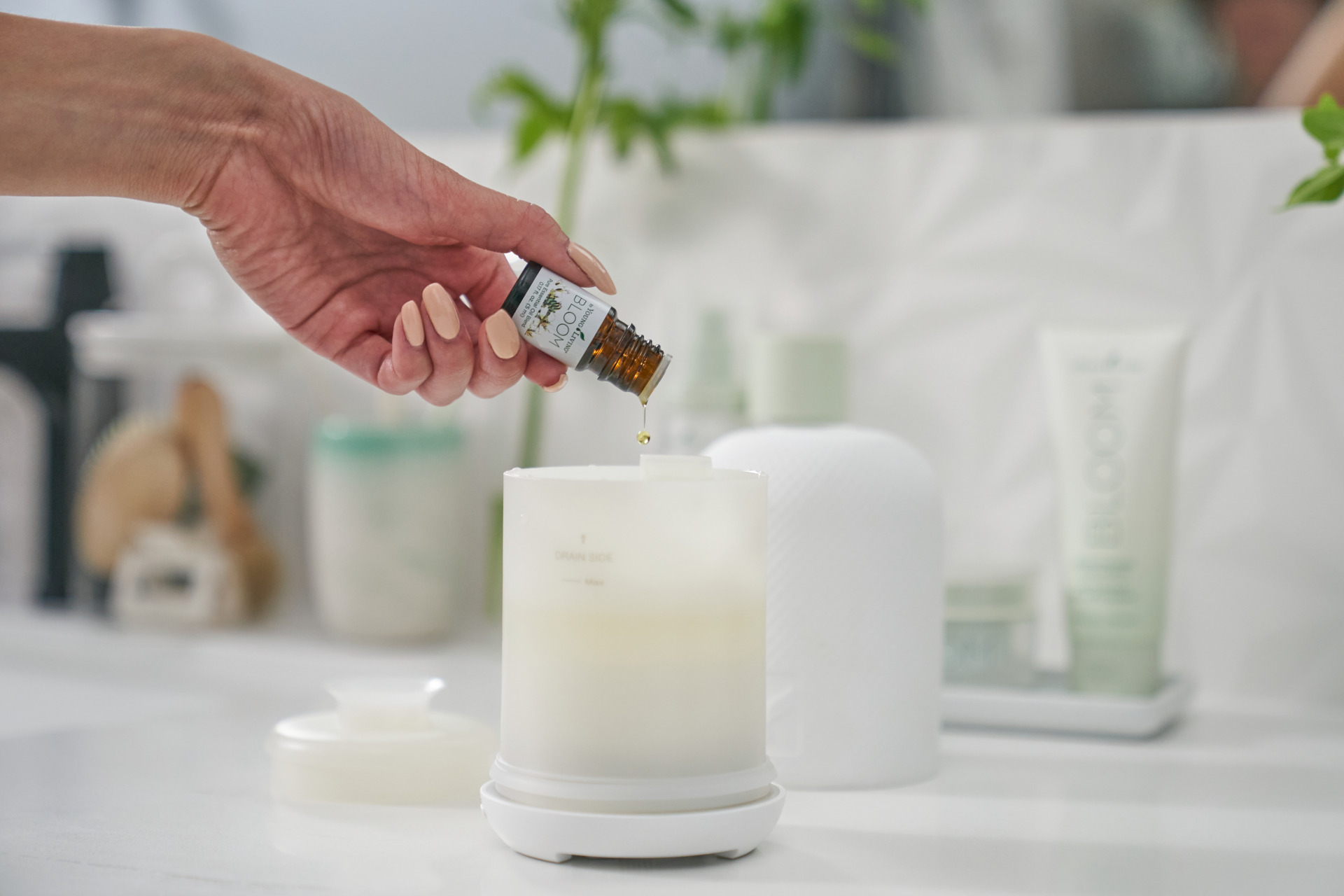 Skin care enhancer: Want to revive your skin or hair care routine with a boost of bright florals? Add BLOOM to shampoo, face cleanser, or lotion. You can even mix it with other favorites from our BLOOM skin care line to brighten the appearance of skin for a more radiant, glowing complexion.
Signature body spray: Make a custom personal scent that's as unique as you are using an 8-ounce glass spray bottle, 1 tablespoon vegetable glycerin, 1 tablespoon witch hazel, 6 ounces distilled water, and 28–35 drops of essential oils, including BLOOM. Shake well to mix and spritz onto your wrists, chest, or neck for a subtly floral fragrance that's free of harsh chemicals.
On-the-go roller: Looking for a convenient and simple way to enjoy BLOOM's calming aroma while you're out and about? Just add 15–20 drops of this blend to a 10 ml roller bottle and fill the rest of the way with V-6 Vegetable Oil Complex or another skin-loving carrier oil like jojoba or grape seed. Then cap your creation with a roller fitment and you're ready to roll!
Luxurious bath salt: Transform an ordinary bath into a posh experience with essential oil-infused bath salt. All you need is 5 drops BLOOM, 2 tablespoons Bath & Shower Gel Base, and 1 cup Epsom salt or rock salt. Mix thoroughly and then pour directly under the running faucet so the salt spreads evenly throughout your tub.
DIY BLOOM spray
Freshen up your home, car, or office space with BLOOM's bright and refreshing aroma. This quick and easy recipe is ideal for those moments when you need to take a step back after a busy day and invite a calm, nurturing vibe into your home. You can also use it as a personal fragrance instead of the body spray recipe above.
Ingredients:
15–20 drops BLOOM essential oil blend
10 ml spray bottle
½ tablespoon witch hazel
Distilled water
Instructions:
Add BLOOM and witch hazel to your bottle and fill the remainder with water. Spritz into the air or on your skin and enjoy the exquisite scent!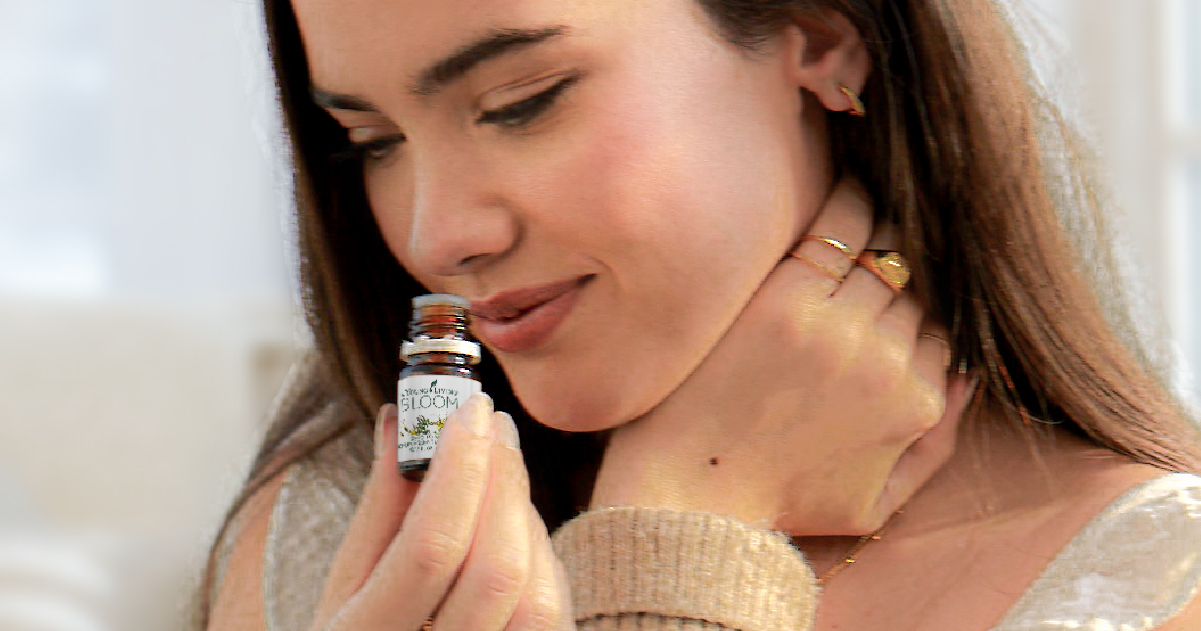 Looking for more essential oils to try this spring? Hop on over to this post for our top picks. Or click here to learn how to achieve your skin care goals this season.
What is your favorite way to use BLOOM? Tell us in the comments below!