The holiday season is almost upon us! As you start checking off your gift list and to-dos, take time to check in with yourself too. It's easy to get swept up in the holiday hubbub, which is why it's more important than ever to feel all your feelings: the good and the bad; the holly jolly and the bah, humbug. Whatever emotions this time of year brings out for you, we've put together a diffuser blend to match it. Discover scents for each wonderful, magical, and yes, even stressful moment.
What essential oils should you diffuse for Christmas?
Does the smell of a freshly cut tree or warm baked goods bring back joyful memories of holidays past? Whether you want to make your home smell candy cane sweet, Christmas tree fresh, or gingerbread spicy, here are some of the best oils for a fun and nostalgic holiday season.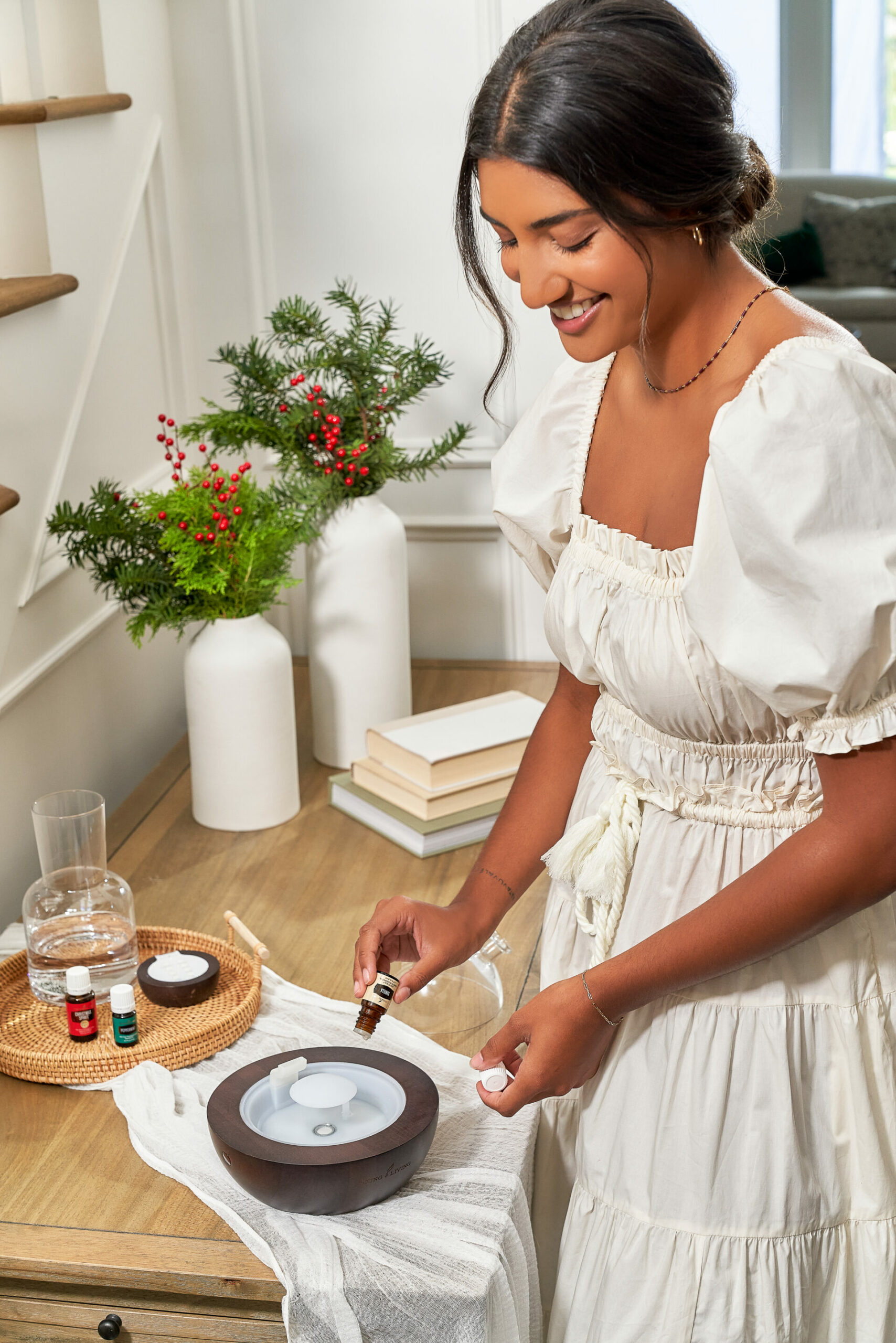 Christmas diffuser blends (for your holiday joy)
Now that you've got the roster of our best oils to fill your home with, it's time to get diffusing. Try these essential oil diffuser recipes to create the right fragrance for all your holiday feels.
Warm Noel
'Tis the season to invite calm and get cozy! Replicate the warmth and love of holiday festivities with the spicy smell of Cinnamon Bark, grounding aroma of Patchouli, and calming scent of Ylang Ylang.
3 drops Cinnamon Bark
3 drops Patchouli
3 drops Ylang Ylang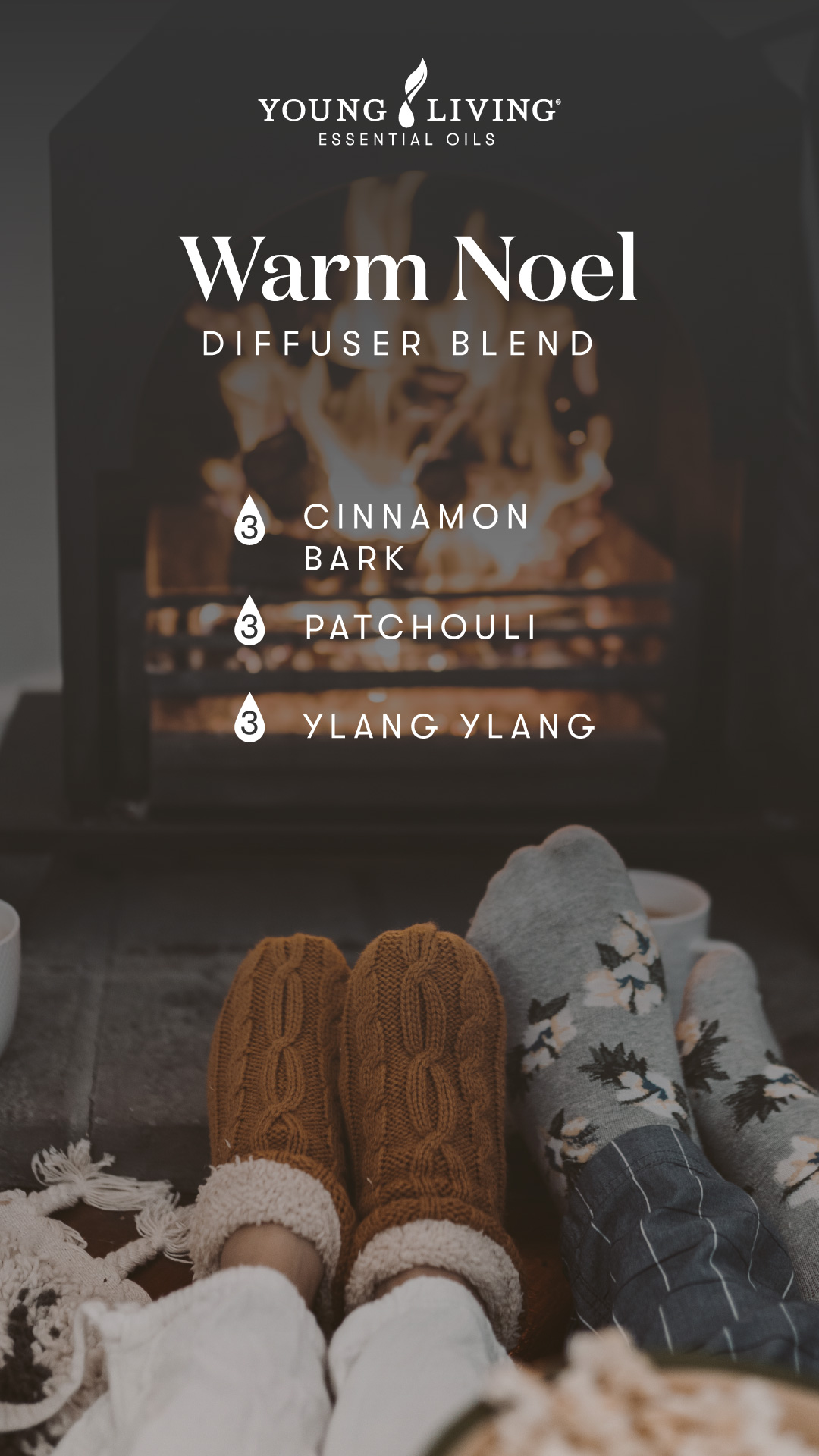 Holiday Hope
Diffuse this uplifting scent when you're missing loved ones during the holiday season. The peaceful aroma of Frankincense and soothing scent of Sacred Sandalwood™ combine with cheerful Lemon and fresh Geranium to invite joy.
3 drops Frankincense
3 drops Lemon
2 drops Geranium
1 drop Sacred Sandalwood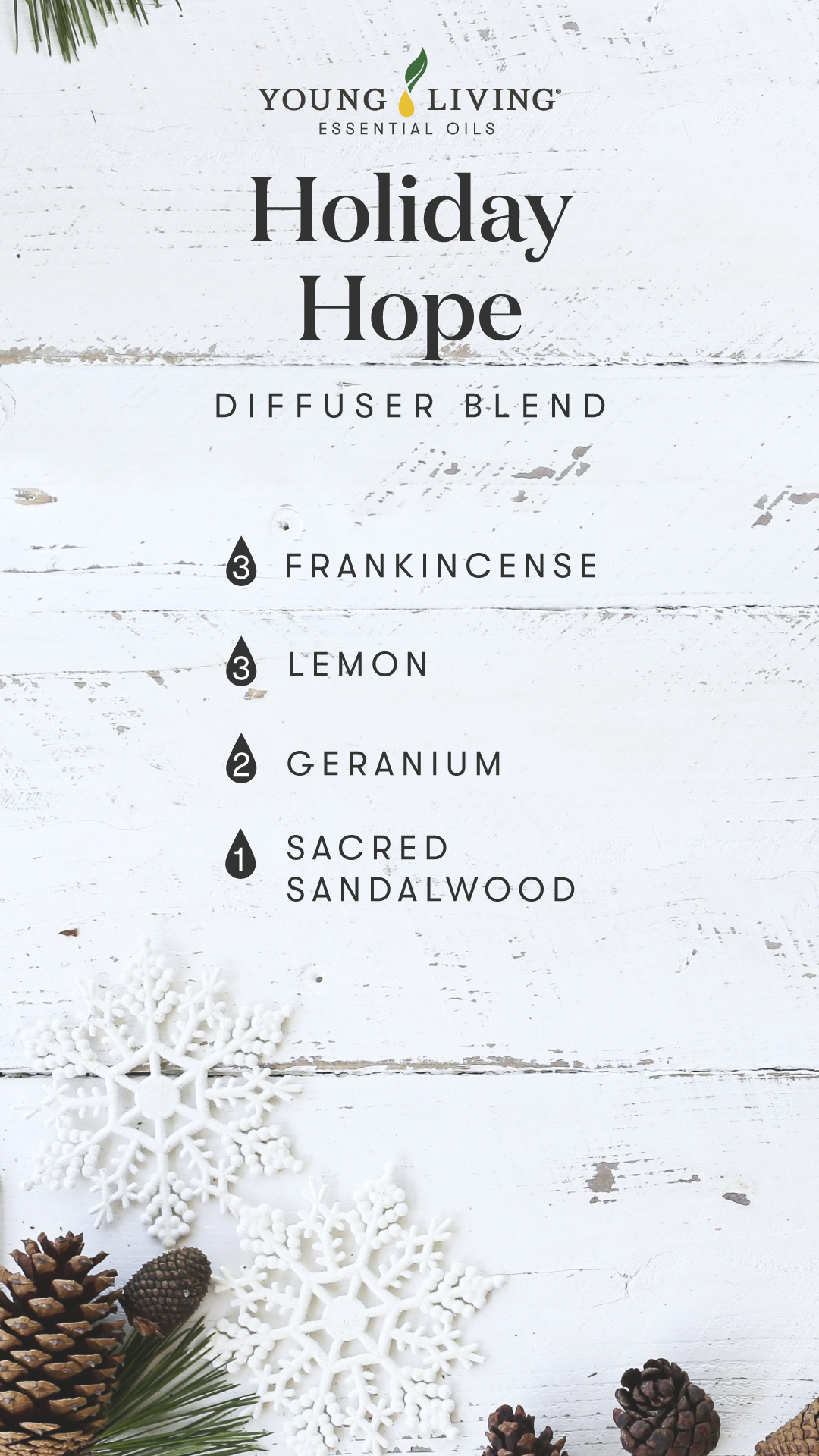 Christmas Eve and Can't Sleep
The hustle and bustle of the holidays and thoughts of gifts to give (and get) may keep you and your little ones up at night. But nobody's going to feel jolly when the whole household is wound up. Diffuse the peaceful scents of Lavender, Roman Chamomile, Frankincense, and Vetiver while you settle down and prepare for a restful night's sleep.
3 drops Lavender
2 drops Roman Chamomile
2 drops Frankincense
1 drop Vetiver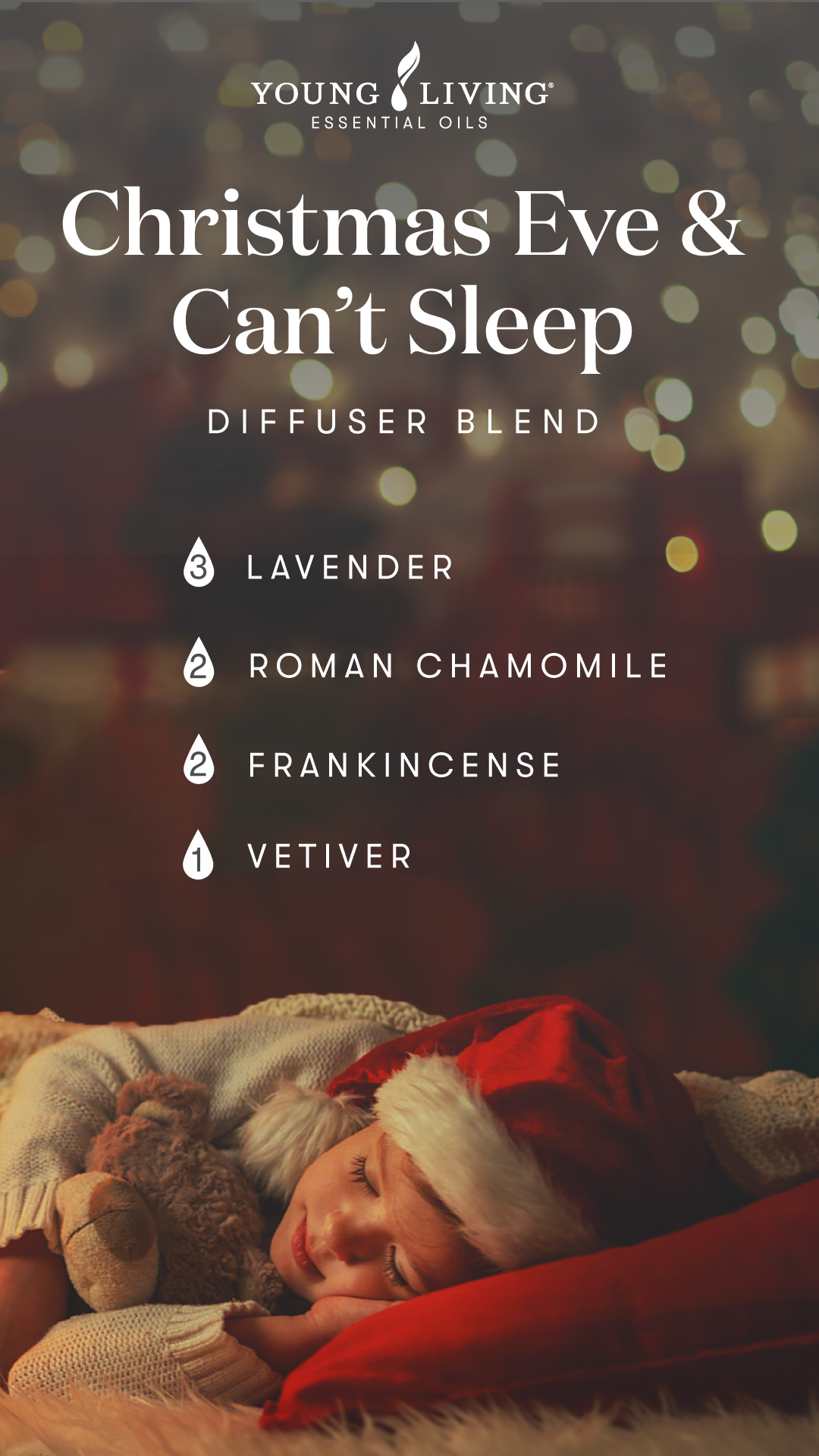 Tranquil Tidings
The hubbub of last-minute gift shopping or preparing for family to visit can put a damper on the season. Add calm to stressful moments by diffusing a blend of clean Cypress, invigorating Rosemary, and sweet, woodsy Juniper.
4 drops Cypress
3 drops Rosemary
3 drops Juniper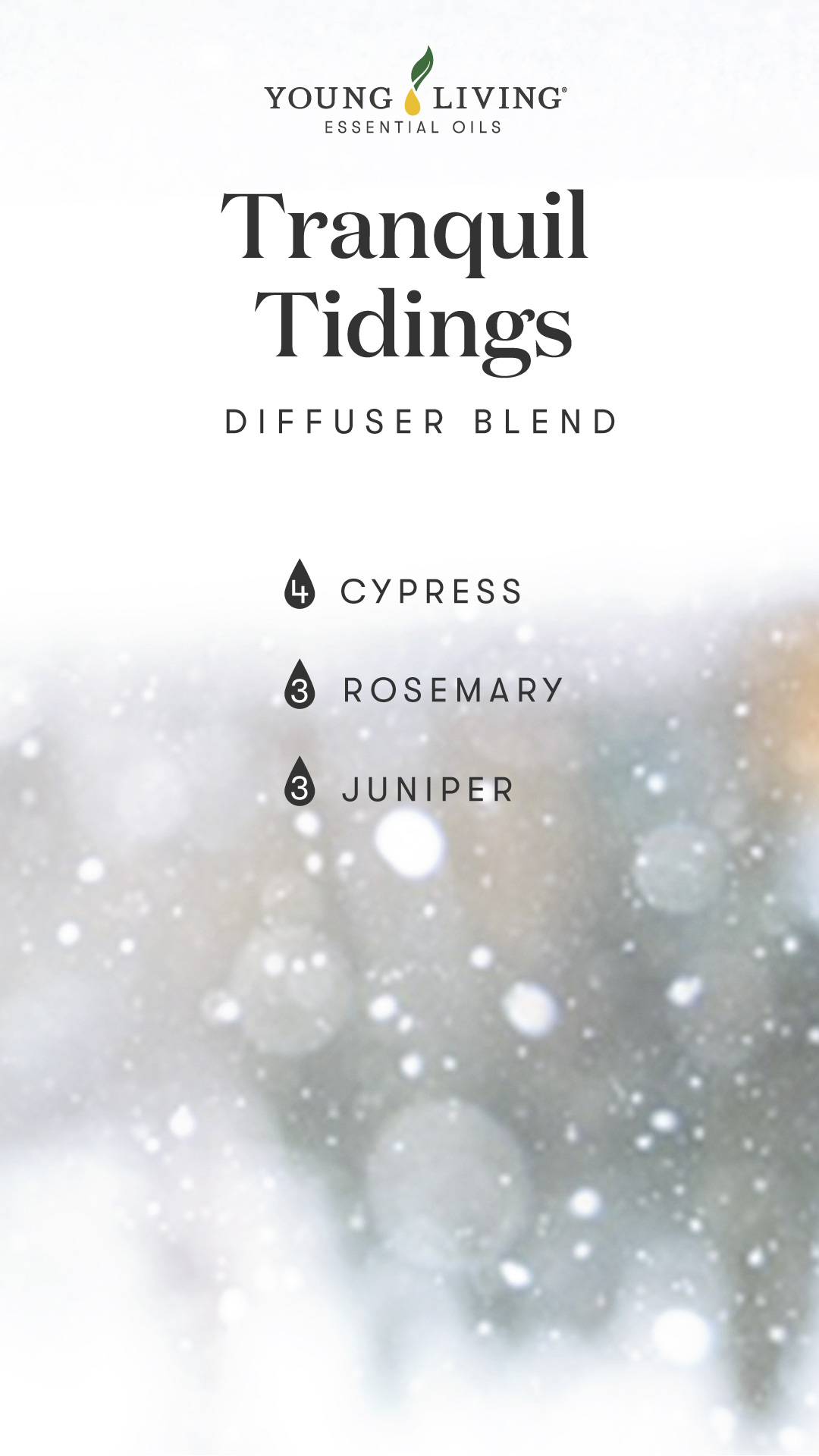 Jolly St. Nick
Santa Claus may be coming to town, but has holiday pressure sapped some of the season's magic? Evoke the excitement of waiting for Santa (aka Papá Noel) to deliver his gifts with sweet, refreshing Peppermint, cozy Christmas Spirit, and warm Vanilla.
3 drops Peppermint
3 drops Christmas Spirit
3 drops Vanilla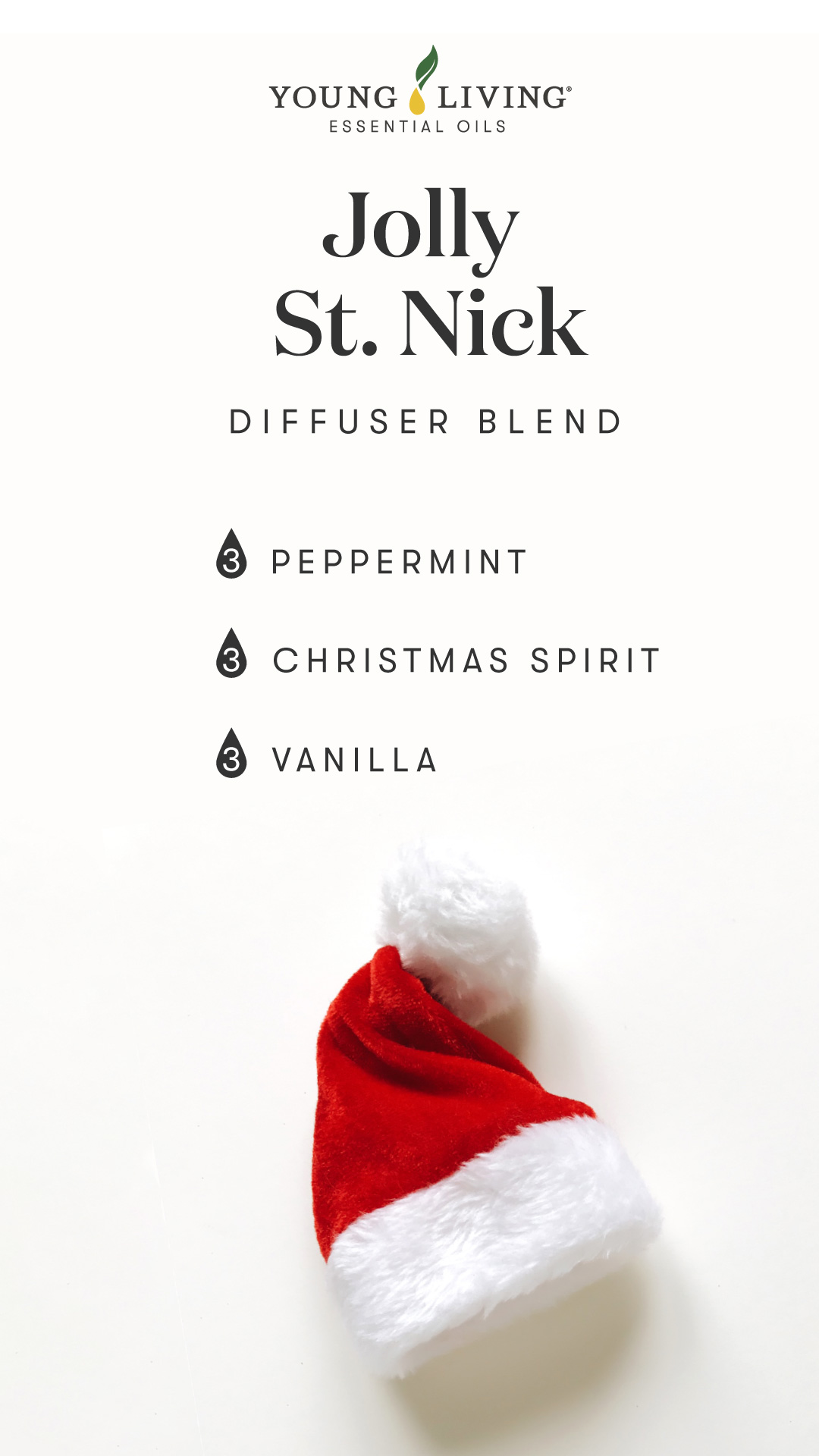 Holiday Nostalgia
Bring back the nostalgic scents of the holidays with the scents of evergreen trees, Christmas oranges, and warm spice. In this blend, Idaho Blue Spruce and Pine offer the freshly cut tree smell, while bright Bergamot brings the spicy-sweet citrus.
3 drops Idaho Blue Spruce
3 drops Pine
3 drops Bergamot