Jump to recipe
Learn how to make delicious roasted sweet potatoes with thyme and rosemary essential oil. These roasted potatoes are great served hot right out of the oven and also wonderful chilled the next day. The rosemary and thyme oils add delightful earthy flavours. Remember a little of these oils goes a long way and 1 drop of each is usually enough. You can also use the toothpick method for adding them. Method follows.
Toothpick Method: You can use the toothpick method for some of the stronger oils like oregano, thyme, rosemary, black pepper and ginger. Using this method helps to control the amount of oil you add to a dish or drink. Dip a toothpick in the bottle of oil and then swirl it in the dish or drink, mix in well and taste. If you desire more of that oil's flavour repeat, using a new toothpick each time until you are happy with the amount.
TIP When I have leftovers, I like to make a potato salad the next day by adding some mayonnaise or vegan mayonnaise (mixed with 3 drops lemon oil and 1 drop black pepper oil), chopped fresh parsley, a drop of thyme and a chopped spring onion. If you prefer a little sweetness in your potato salad you can add 1 tsp agave syrup or honey, to taste.
NOTE You will need enough sweet potatoes and potatoes to cover a large baking tray, but don't crowd them to ensure they roast properly. You can cut the potatoes and sweet potatoes any way you like, but the pieces need to be similar sizes so they all finish cooking at the same time. You may like to make enough for 2 baking trays so you will have leftovers.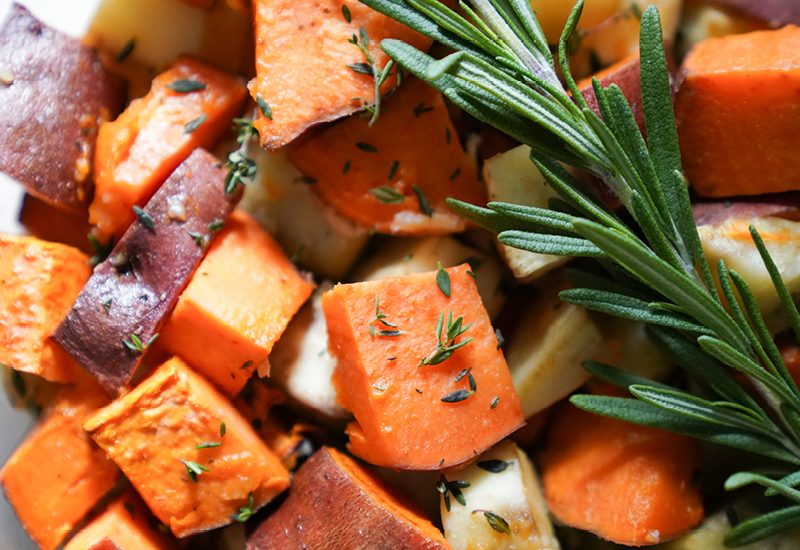 Ingredients
2 medium sweet potatoes
4 potato,
2 tbsp melted coconut oil or olive oil
1 drop each thyme and rosemary oil (to taste)
sea salt and freshly ground pepper (to taste)
sprigs of fresh thyme and/or rosemary (optional)
a little freshly chopped parsley (optional, for serving)
Instructions
1. Preheat your oven to 180C and prepare a large baking sheet by lining with baking paper.
2. Prep your potatoes by washing and peeling, or leave the skins on, if preferred, but make sure you scrub them very well to remove any dirt. Cut the potatoes in cubes or lengthwise in quarters.
3. Once the potatoes are prepped place them in a large bowl. Then heat the coconut oil and swirl in the thyme and rosemary oils or if using olive oil add the oils to it. Then pour the coconut oil mixture over the potatoes, sprinkle with salt, pepper and a few sprigs of thyme and/or rosemary and gently mix to coat well.
4. Place the potatoes on the baking tray and spread them around to allow them to roast evenly. Put them in the oven and roast for about 45 – 55 minutes or until they are cooked through and golden. You can place the tray under the broiler for the last 2 minutes of roasting to brown them a bit more if desired, but be careful not to burn them.
5. Remove from the oven and sprinkle with a little more salt and pepper. You can add a few fresh sprigs of thyme and/or rosemary and a little freshly chopped parsley before serving. Serve immediately or allow to cool and serve at room temperature. They will keep for up to 3 – 4 days refrigerated.
© 2023 COPYRIGHT (C) 2018 - ALL RIGHTS RESERVED - YOUNG LIVING
Now it's time for a sweet treat! Try these Gooey Chocolate Brownies with Frankincense Essential Oil recipe for something extra special.