Cool Azul Sports Gel delivers a cooling sensation to the skin with a unique, plant-based formula that includes pure essential oils. Here are three reasons why our members are loving this product:
Over 10 ml of Essential Oils
Cool Azul contains an unparalleled amount of essential oils: a full 10 percent of the formula! That means that each 100mL tube contains enough essential oils to overfill a 10-mL bottle. This amount is significantly higher than similar products on the market—more than 2–3 times as much in some cases.
The formula features 13 distinct essential oils that work together for a power-packed essential oil blend in Cool Azul: Young Living-exclusive Dorado Azul, Peppermint, Wintergreen, Sage, Copaiba, Plectranthus Oregano, Melaleuca, Lavender, Blue Cypress, Elemi, Caraway Seed, Vetiver, and German Chamomile.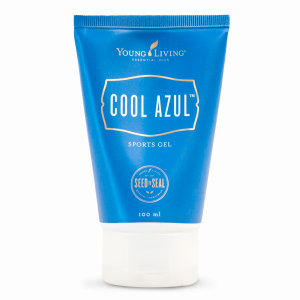 Hydrating Aloe Vera
The base ingredient in our Cool Azul formula is aloe vera, while other comparable products use water as their main ingredient. This gives Cool Azul  a thicker base, while giving you the smooth, cooling hydration of aloe vera.
Overall Experience
The combination of the aloe vera base and our special essential oil blend gives Cool Azul Sports Gel a great feel on your skin. The lightweight gel has a silky-smooth consistency and absorbs easily, leaving skin soft and smooth.
Cool Azul Sports Gel conveniently fits in a purse or gym bag, so whether your day is spent at an amusement park or running a marathon, you can easily keep a tube with you. I keep one nearby to make sure I'm always prepared for my summer adventures!