From spring cleaning to the trees coming back to life after winter, Spring is the season of fresh starts and new beginnings.
Whether you are looking to spruce up your cleaning routine or just in need of a fresh start, bring the scents of spring and a fresh start into your routines with the help of the Simplified by Jacob + Kait Spring Collection.
While many spring-scented candles and air fresheners contain harmful chemicals that can pollute your home, these refreshing essential oil blends are made exclusively with clean, sustainably sourced ingredients.
Fresh Linen™ essential oil blend – With notes of lemon, lavender, cypress, and tea tree Fresh Linen™ offers the clean, pure fragrance of freshly laundered linens blowing in the breeze and creates a fresh, uplifting environment. Plus, it might help motivate you to do that laundry that has been piling up!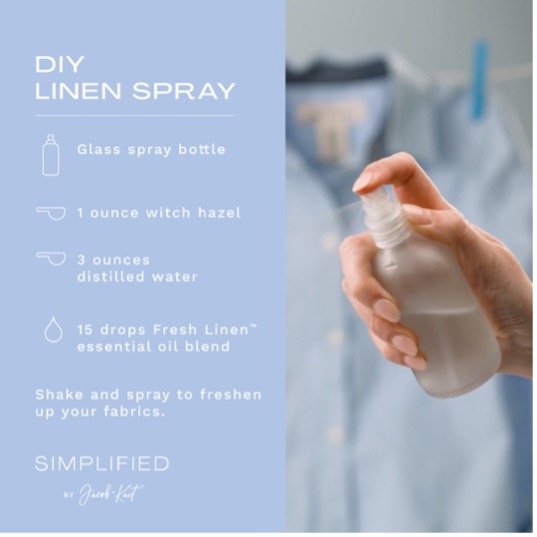 Spring Rain™ essential oil blend – Scents of spearmint, bergamot, patchouli, and tea tree bring to life the fresh, renewing aroma reminiscent of a spring rain shower and transforms any space into a lush, soothing sanctuary. Perfect to diffuse while reading a good book.
Tranquil Forest™ essential oil blend – This invigorating, crisp pine aroma inspired by a walk in the woods will transport your senses to a majestic evergreen forest with notes of pine, frankincense, lemon, and cedarwood.
YL Tip: Add these blends to dish soap, cleaning sprays, mopping solutions, and other cleaning products to infuse your spring cleaning with the scent of new beginnings—or diffuse them on their own, just for the smell of it!  
If you're looking for more ready-made Spring essential oil blends, look no further!
Awaken Essential Oil blend – Awaken your inner self-awareness with this uplifting aroma. Great for setting new goals with the new life of Spring.
Citrus Fresh Essential Oil blend – Remove stale winter odours from the air and invite in the clean, fresh scent of citrus and spearmint with Citrus Fresh.
Joy Essential Oil Blend – With a unique blend of citrus and floral oils, Joy is Spring in a bottle. Diffuse for an uplifting aroma or wear a personal perfume for a unique floral scent.
Lushious Lemon Essential Oil Blend – Add Lushious Lemon to your cleaners, hair care, or skin products or diffuse for a squeaky-clean scent that is sure to brighten up even the rainiest of spring days.
Thieves Essential Oil Blend – A key ingredient in our Thieves Home Collection, nothing smells as clean as Thieves. Use this blend as part of your spring-cleaning routine for a fresh, clean home.
Capture the essence of Spring with ingredients you can feel good about!