Scrub a dub, exfoliate in the tub—or just about anywhere you wash! The only thing that's more fun than making these exfoliating DIY loofah soaps is using them. Place a couple by the sink for a refreshing hand wash or keep a few in the shower for smoother, more radiant skin from shoulders to heels!
Here's how to craft your own DIY loofah soaps with essential oils—soft skin is only a few ingredients away!
Makes: About 15 soaps
Ingredients:
3 natural loofah sponges about 12-15 cms long each
1 kilogram of clear glycerine soap (available at health food stores or online)
Soap dye
Essential oils—see our suggestions below
Round silicone moulds about 7cms in diametre
Instructions:
Cut the loofah sponge into 1-inch-wide disks and place in the mould, lying flat.
YL tip: Tie a string around your loofah before you place it in the mould. The string allows you to hang it from a hook in your shower, so you never drop the soap again!
Cut the glycerine soap into about 28 gram squares. Put 2 squares in a microwavable bowl and microwave on high for 30 seconds or until melted.
YL tip: Two squares make 1 soap. To make larger batches, melt more soap and add the proper amount of oil and dye to keep the ratios the same. We like making individual soaps so we can customise scents and colours.
Add 3-4 drops of soap dye and 3-4 drops of your favourite essential oil to the melted glycerine soap. Mix well.
Pour the glycerine soap mixture into the mould, fully covering the loofah sponge.
Repeat until all the loofahs are covered with glycerine soap. Let them dry for 2-3 hours, pop the soaps out of the mould, and lather up!
Why exfoliate?
When exfoliating, you're removing the layer of dead skin cells sitting on top of your skin. Once those are gone, the lower layers can come to the surface, brightening the appearance of your skin.
But it's about more than healthier-looking skin. Removing that layer of dead cells helps the skin better absorb products like serums and lotions. For silky-smooth skin, exfoliate 2-3 times a week and follow the treatment with a rich moisturiser like our Coconut-Lime Replenishing Body Butter. The combination of exfoliation and moisturisation will help revitalise and rejuvenate the appearance of even the driest skin!
Or freshen up those feet with Lavamint Softening Foot Scrub!
Exfoliate with Lavamint Softening Foot Scrub and give your feet a refreshing minty aroma as well as remove dry skin.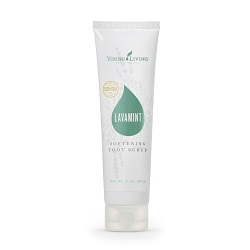 Scents we love
Each DIY loofah soap calls for 3-4 drops of essential oil, so keep the blends simple. You can also scent your soaps with just one essential oil for a nice concentration of your favourite smell. If you like to mix and match oils, here are a few ideas:
What essential oils are you going to use to bring aromatic bliss to your bath or shower?
Share in the comments!