Jump to recipe

Get your dinner party off to a great start with the best Bruschetta tinted with lemon oil! 
This is a light and easy entree to make when you are craving something fresh and healthy! I love making it when the tomatoes are ripe and in season. Young Living basil essential oil and lemon essential oil really elevate the flavours in this simple yet delicious dish.
NOTE: I like using different colour tomatoes in this recipe to make the colours pop
Chef Kate's TIP:  For a lighter version you can also serve the tomato mixture in lettuce cups if you prefer to not have bread. It's also great served over mixed greens or with fish or chicken.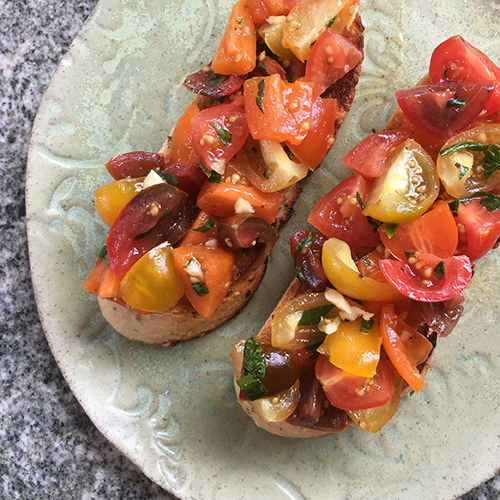 Ingredients
4 medium tomatoes or 10 – 15 cherry tomatoes (coarsely chopped)
4 tbsp red or brown onion (finely chopped)
1 clove garlic (finely minced)
2 spring onions (finely chopped)
2 tbsp parsley (finely chopped)
2 – 3 tbsp olive oil
1 drop Young Living basil oil (to taste)
3 – 4 drops Young Living lemon oil (to taste)
chilli flakes (optional, to taste)
sea salt and pepper (to taste)
For Serving
French bread or other bread (sliced on the diagonal in approx. 7cm pieces, and toasted)
olive oil (to drizzle once served) & a fresh garlic clove cut in half
shaved or grated Parmesan cheese (optional, for serving)
Instructions
Preheat oven to 180 degrees or use your oven grill (being careful not to burn the toast).
Place all the ingredients in a medium size bowl (except the bread, olive oil and garlic for serving) and mix well to combine. Check for seasoning and add more salt, pepper and lemon oil , if desired.
You can serve immediately or place in the refrigerator to let the flavours blend for 1 – 2 hours or overnight.
To serve place the cut bread on a baking sheet and drizzle with a little olive oil. Toast the bread in the oven and remove when done and rub with the halved peeled garlic cloves, if desired.
Set the bread on a plate or platter and evenly spoon the tomato mixture covering the toasted bread. Drizzle with a little more olive oil, if desired and top with a little Parmesan or fetta cheese and serve immediately. Enjoy!
© 2023 COPYRIGHT (C) 2018 - ALL RIGHTS RESERVED - YOUNG LIVING
Instead of Lemon Oil, you may also like to try Chef Kate's Mini Pavlovas with Tangerine Cream The Tangerine adds a lovely citrus burst to the cream.
Let us know your favourite culinary oil recipe in the comments below: