Let's be frank – most of us don't know much about Frankincense other than its historical usage.
You'll be flabbergasted at all the things that Frankincense can do, its no wonder this oil was referred to as the "king of oils" back in the day.
With an amazing history, Frankincense was profoundly referenced in the Bible, with the Three Wise Men bringing gifts of Gold, Frankincense and Myrrh. An ancient oil with beauty and relaxation benefits, frankincense was highly valuable and traded around the Middle East and Africa for more than 5,000 years.
We extract this special Frankincense oil by steam distilling the resin from the Boswellia Carterri tree, grown at our Seed to Seal farm in Oman.
Check out 15 easy ways to use Frankincense Essential Oil:
Frankincense is one of the best essential oils to assist with relaxation during yoga and meditation. Trouble focusing during yoga or meditation? Give frankincense a go. Apply it to your temples to help you focus, relax and be calm.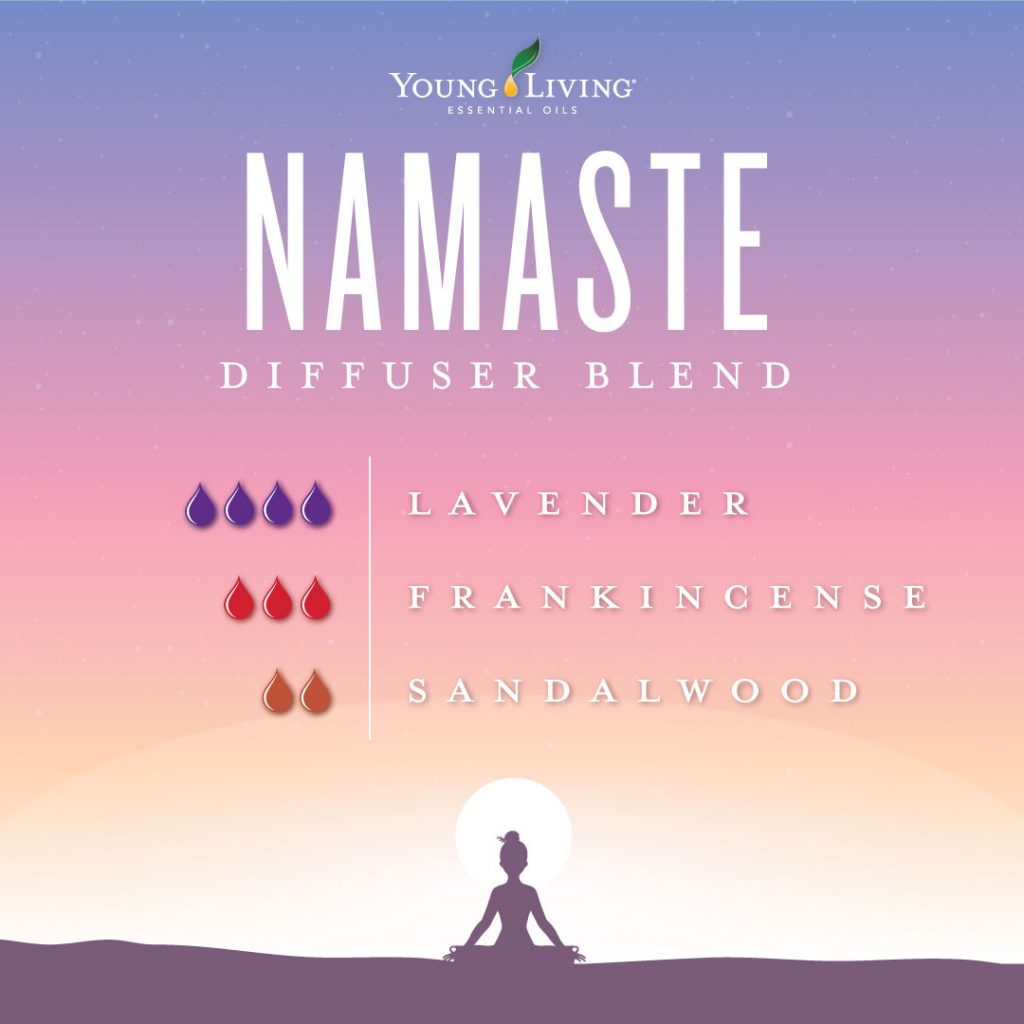 2.
Room Reviver
Add Frankincense's amazing aroma to any room by making this DIY Room Spray with Frankincense oil. Simply combine 10 drops of Frankincense essential oil with 1-2 cups of water in a spray bottle, shake well and spritz away!
3.
Divine Blends
Create inspiring blends by combining Frankincense with complementary oils to suit your mood.
4.
Inhale Inspiration
Rub a few drops into your hands, cup lightly over your nose and breathe deeply to enjoy the rich aroma that promotes a sense of grounding and purpose.
5.
Post-Workout Pamper
Massage 2 or 3 drops of Frankincense onto tired muscles to help soothe them after exercise.
6.
Spruce up your Skin
The benefits of Frankincense go well beyond its taste and smell. Give your skin a fresh clean by adding a few drops of Frankincense to your Orange Blossom Facial Wash to leave your skin feeling fresh and clean without over-drying.
7.
Enhance Your Beauty Routine
Mix 2 drops of Frankincense with 2 drops of Lavender Oil and to your favourite moisturiser and mix through. This blend when applied, improves the appearance of blemishes and enhance the appearance of a youthful complexion.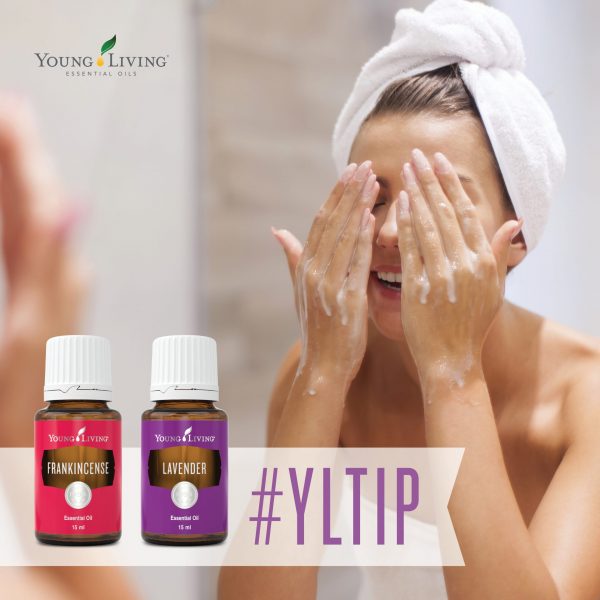 8.
DIY Toner
Make your own marvellous toner by filling up a bottle with water or witch-hazel and add about 7 drops of Frankincense.
9.
Spot on for Spot Treatment
Frankincense soothes and reduces the appearance of skin imperfections and spots.  Use as a spot treatment by dabbing the spot with a few drops on a cotton bud.
10.
Even out Skin Tone
It's incredible for your skin to even out skin tone and reduce the appearance of age spots. Use Frankincense topically by adding 2 to 4 drops mixed with a carrier oil, like V6 Vegetable Oil or shea butter and rub it directly onto the skin.
11.
Balance Dry Skin
Frankincense also helps balance dry skin and can reduce the signs of ageing such as fine lines.
12.
Get Glowing
Try our amazing YL DIY facial Glow Serum which will really get your skin glowing.
DIY Glow Serum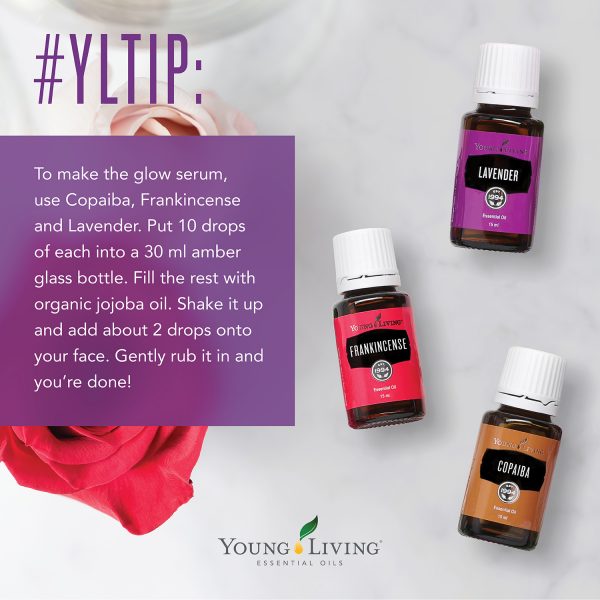 13.
Fight Flaky Winter Skin
Is your skin experiencing winter dryness? Frankincense can help improve the look of flaky skin. Add a couple drops of Frankincense oil to the moisturiser of your choice to help hydrate and rejuvenate the skin. The scent of Frankincense essential oil combined with your moisturiser will add a warm, spicy and clean scent to your skin.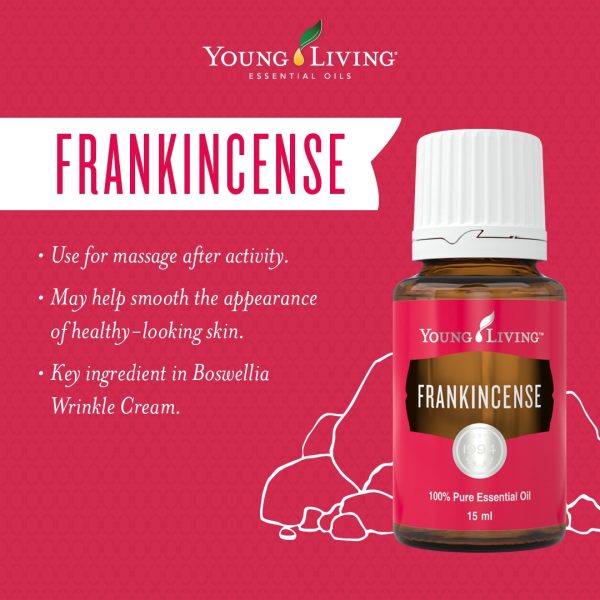 14.
Treat Your Scalp To Some Rejuvenation
Say goodbye to dull locks. Frankincense helps promote healthy looking hair and is excellent at moisturising the scalp and hair. Simply add a few drops of Frankincense essential oil to your shampoo.
#YLTIP:  Spritz this recipe over your hair throughout the day to keep it from looking dry!
1 cup distilled water
10 drops Ylang Ylang essential oil
10 drops Frankincense essential oil
8 drops Cedarwood essential oil
15.
Cooking Companion
Use Frankincense as a flavouring by utilising its woodsy, balsamic notes in your cooking. Just add a few drops into your recipes.
#YLTIP Add a drop of Frankincense to your favourite raw chocolate recipe for a deep, earthy flavour.
If you'd like to try Frankincense yourself find it here!
Enjoyed all the skincare tips in this article? Then you may also like Save face 5 DIY's for your skin type.
If you love your 'Frank' and use it daily, tell us in the comments.