Finding old memorabilia from those who have passed is always bittersweet, but when Young Living Co-Founder and CEO Mary Young started rummaging through some of the old notebooks of her late-husband and Young Living Founder D. Gary Young, she was shocked to find the formulas for two very special essential oil blends: Roots™ and Wings™. While most Young Living blends were formulated by D. Gary Young himself, we haven't had an original blend since his passing—until now.
Launched at our 2022 U.S. & Canada Convention, the Roots & Wings™ Collection was inspired by the apothecary of Mother Nature. The two oil blends in this collection work hand in hand to create a sense of nourishment and stability that frees you to take off and expand, reaching new heights within yourself. These are blends Gary handcrafted himself and are a way to connect you back to the founder who used his in-depth knowledge of the earth to inspire us all to take flight.
Roots essential oil blend 
The Roots blend embodies the age-old knowledge of our elders, combining six botanicals mentioned in some of the earliest ancient writings. Thoughtfully selected for their ability to ground and center the mind, the oils in this blend provide stability and calm in every drop.
Myrrh: Myrrh has a soft, earthy aroma and was commonly used as a fragrance and in topical balms as far back 1600 BC.
Idaho Grand Fir: This woodsy oil was cherished by indigenous people who looked to these trees for protection, anchoring, and grounding. Idaho Grand Fir has a refreshing aroma that evokes the nostalgia of smelling a freshly cut Christmas tree.
Sacred Frankincense: Sacred Frankincense is one of the oldest and most revered oils known to man. It has a grounding, woodsy scent.
Angelica: Known as the "oil of the angels," Angelica has a very delicate aroma and captivates your heart and soul with its intoxicating scent.
Balm of Gilead: This very rare and ancient oil was thought to hold special properties that were highly sought after by healers and rulers around the world.
Cistus: Referred to in the Bible as "rock rose," Cistus was an anointing oil traditionally used to nourish the skin.
Benefits of Roots essential oil blend
Our Roots blend reminds us that we come from a long line of human endeavor; and while we may feel disconnected from those who have passed on, this blend stands as a testament to ancient healing and our never-ending connection to Mother Nature. The wisdom captured in this bottle helps lay the groundwork to soar to new heights, providing a strong foundation of knowledge and skill to call upon in times of need.
How to use Roots essential oil blend 
 Incorporate the legacy of our ancestors by adding Roots into your everyday life:
When meditating, either diffuse this blend or place a few drops into the palm of your hands. While you breathe in the grounding scent, envision the roots of a tree. The roots hold the tree up, providing strength to weather storms and provide nourishment for both itself and the trees around it. Imagine your own roots growing stronger and providing a safe space for others to lean on.
Mix 1 drop Roots with 1 drop carrier oil such as V-6™ Vegetable Oil Complex. Massage it onto the bottoms of your feet and breathe deeply. While meditating, ponder your own core values and the intention you want to set for your life. What beliefs influence your decision making? How can these beliefs hold you back? How can they set you free? Many times, you're holding onto an old belief that no longer serves you. Send those beliefs down to your roots to be healed and transformed into a belief system that works for you now.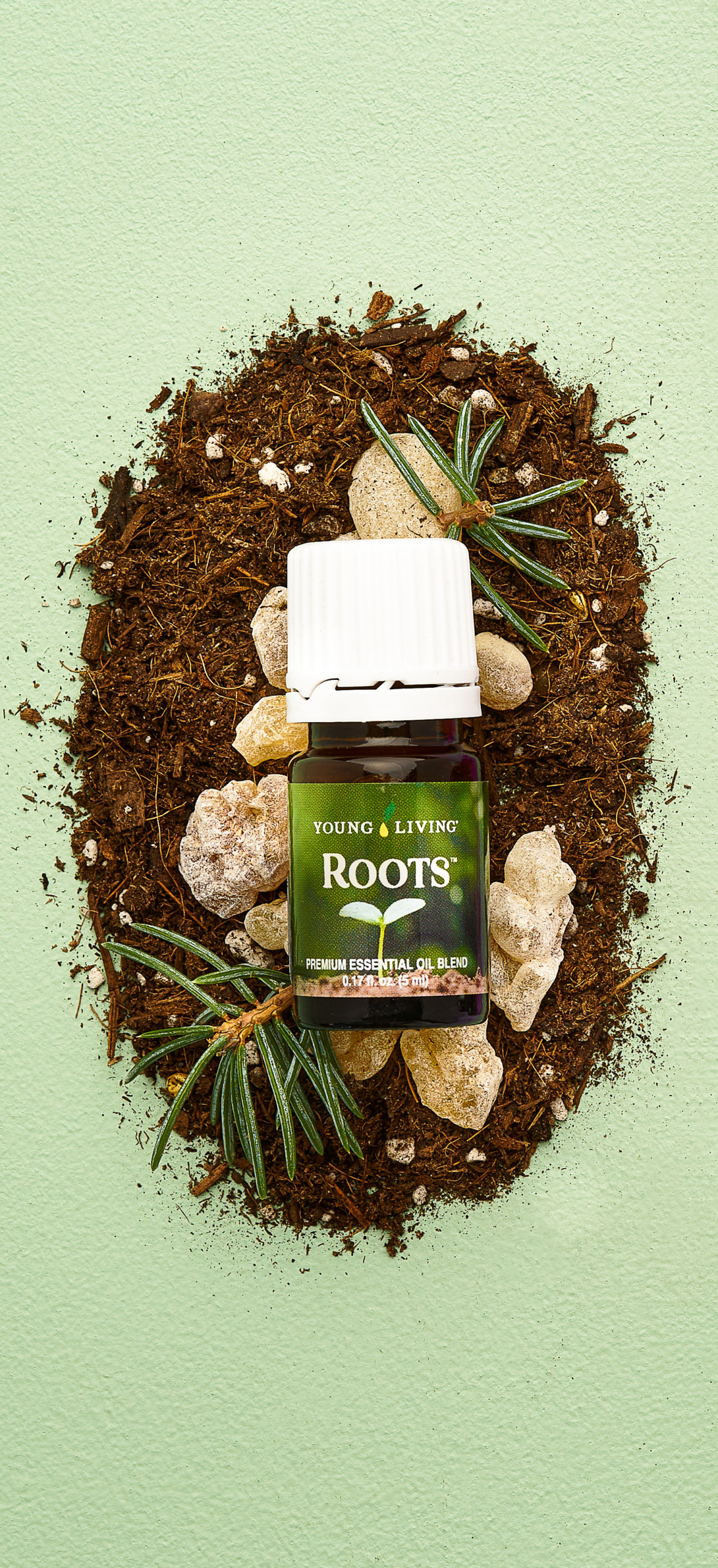 Wings essential oil blend
 Taking flight is an act of bravery, and sometimes all you need to go after your dreams is a little push. Like Roots, Wings essential oil blend contains the ethereal properties of Angelica and Sacred Frankincense, but it's the exotic florals and uplifting citrus that truly make this blend take off.
Geranium: Fresh, floral, and harvested from both Africa and Madagascar, Geranium essential oil is known for its uplifting aroma.
Rose: Obtained from the queen of flowers, Rose oil creates a peaceful, loving, and nurturing environment—giving you all the reassurance you need to trust in yourself and set your sights on new heights.
Northern Lights Black Spruce: Northern Lights Black Spruce brings a woodsy scent to ground you when you've gotten a little lost.

Ylang Ylang

: Ylang Ylang provides a cheery aroma for a happy heart.
Lavender: Native to the Mediterranean, Lavender has been used for centuries to calm and soothe worried souls.
Orange: Known as liquid sunshine, Orange essential oil has a bright, uplifting aroma that cleanses and refreshes the air when diffused.
Tangerine: Loved by children and adults alike, Tangerine has a delightfully sweet, citrusy aroma that helps you connect with your inner child and create a happy, contented mindset.
Melissa: Also known as Lemon Balm, Melissa has a fresh, lemony aroma that creates a peaceful atmosphere for you to plan your next big adventure.
Sacred Sandalwood: This grounding, rich, woodsy oil has been revered as culturally and spiritually significant for at least 2,000 years.
Idaho Blue Spruce: Considered a sacred tree by those indigenous to the land, Idaho Blue Spruce was used traditionally for smudging and purification rites. This oil is steam distilled from the wood, bark, and needles of the Picea pungens tree and creates a grounding, evergreen aroma.
Myrrh: Native to the Arabian Peninsula, Myrrh is a relative of Frankincense and has an earthy, sweet aroma that's been used by world rulers and religious leaders for centuries.
German Chamomile: German Chamomile has a calming aroma that can soothe everyday worries and create a tranquil atmosphere.
Benefits of Wings essential oil blend
While Roots takes you back to ancient knowledge, Wings is all about taking what you know to fuel new discoveries. It's a special aroma meant to pique your curiosity and to encourage you to try something new—always with the strength of your legacy to drive you onward and upward.
How to use Wings essential oil blend 
 Go on a journey of self-discovery by adding Wings into your everyday life:
A new life starts with little steps—or maybe a little mist of essential oils from a diffuser. Start your day with a positive outlook by diffusing Wings during your morning routine. Breathe deeply and repeat: "I am capable of accomplishing anything I put my mind to."
Dilute 1 drop of Wings with 4 drops carrier oil. Apply it to your heart, wrists, and neck to enjoy an aroma that will invite clarity, brightness, and unlimited possibilities.
Place 1 drop in the palm of your hand. Rub your hands together and cup over your nose. Inhale to enjoy the one-of-a-kind aroma, helping you feel lighter and more free.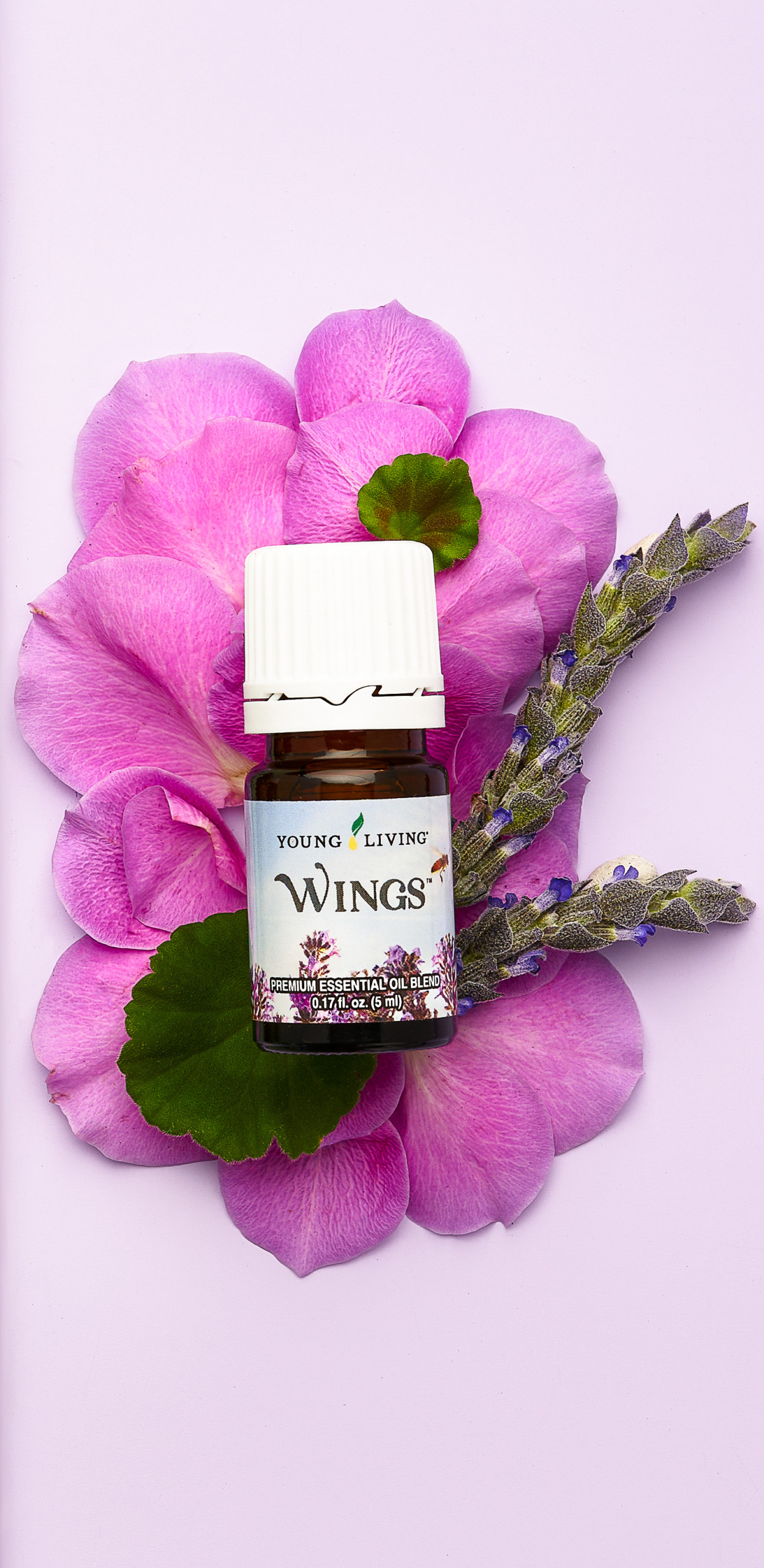 Roots & Wings Collection
While you can enjoy the benefits of these oil blends on their own, we recommend using them together to bring spiritual balance to your mind and body—just as Gary had intended.
Benefits of using Roots and Wings together
When you know where you've been, it's easier to know where you're going. Finding balance is often a lifelong endeavor, but when using these two blends together, you can tap into ancient knowledge while catapulting yourself toward modern endeavors. Use these blends with clear intentions and see the path open up before you.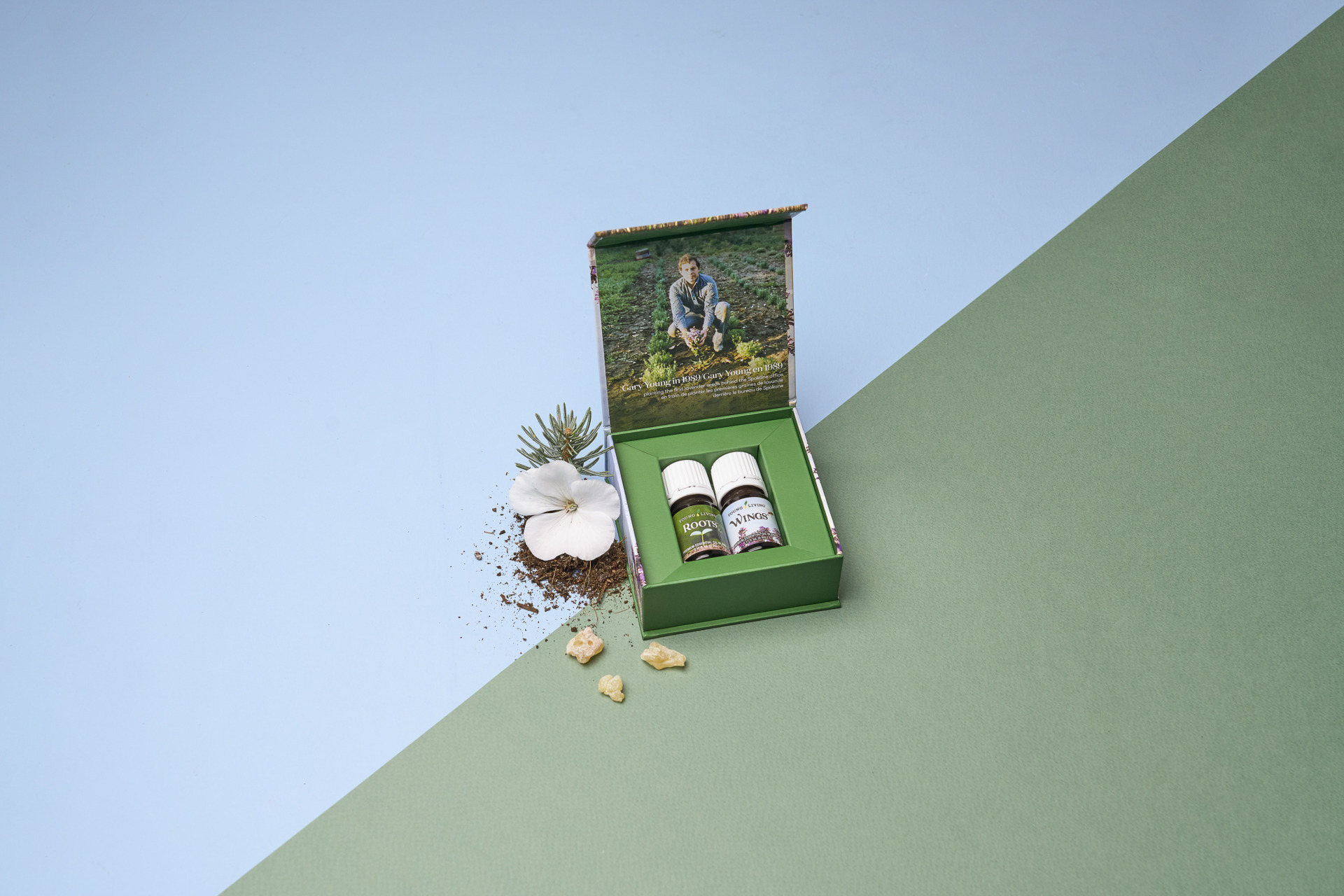 Why is the Roots & Wings Collection important?
Gary Young was always asking the what-ifs, the hows, and the whys of the natural world. His constant curiosity was the power behind his many discoveries, and it's that same curiosity that keeps us looking for new ways to incorporate natural healing into our daily lives. The roots he left us are guiding the future of Young Living, and these two blends are yet another testament to his connection to Mother Nature and the aspirations that keep us going strong.