ComforCleanse Capsules - 150 ct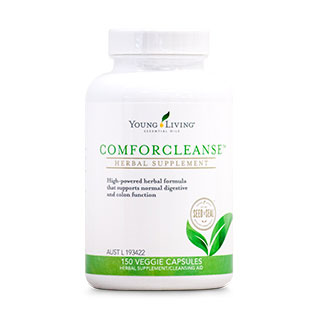 ComforCleanse™ is an effective combination of herbs and essential oils that aids in the relief of constipation and helps reduce the occurrence of constipation. It effectively combines healthy fibre, minerals, herbs and essential oils to cleanse and balance. Conveniently packaged in capsule form, ComforCleanse also contains Cascara sagrada bark and psyllium.
ComforCleanse was formulated to help cleanse and restore balance with the entire bowel in mind.
ALWAYS READ THE LABEL. FOLLOW THE DIRECTIONS FOR USE. VITAMIN AND MINERAL SUPPLEMENTS SHOULD NOT REPLACE A BALANCED DIET. IF SYMPTOMS PERSIST TALK TO YOUR HEALTH PROFESSIONAL.
ComforCleanse Capsules Product Information Page
| | |
| --- | --- |
| Item No. | |
| Item | |
| Wholesale | |
| Retail | |
| PV | |
This item is currently not available for purchase.
These products are only available to purchase by Young Living members. To become a Young Living member click on the "Become a Member" link at the top of this page.
* All prices shown include GST. Shipping charges not included.
Product Snapshot
Product Snapshot
ComforCleanse was formulated to help cleanse and restore balance with the entire bowel in mind. The colon is the final component of the digestive tract; it extracts water and salt from solid wastes before they are eliminated from the body. Although the bowel is comprised of the small and the large intestines, it is commonly used to describe the large intestines, which consist of the colon, the rectum and the anus. Therefore, a 'bowel problem' is any problem affecting these parts of the digestive tract.

KEY INGREDIENTS
Berberis vulgaris
Burdock Root Powder
Chamomile Oil German
Citrus reticulata
Copaiba Oil
Echinacea purpurea
Ferula assa-foetida
Foeniculum vulgare
Frangula purshiana
Garlic Clove Powder
Mentha piperita
Pectin
Pimpinella anisum
Psyllium Husk Powder
Rheum palmatum
Rosmarinus officinalis
Zingiber officinale
FEATURES
Vegan-friendly formula
Contains Cascara sagrada (Frangula purshiana) bark traditionally used as a stimulant laxative
BENEFITS
Decrease and relieve constipation
Can be used as a laxative
Helps reduce occurrence of constipation
Promotes bowel evacuation
Improves bowel waste elimination
Supports normal digestive and colon function
Suggested Uses
Suggested Uses
DIRECTIONS
Adults take 2-3 capsules before breakfast and at bedtime. Drink at least 2L of water throughout the day for best results. Always read the label. Follow the directions for use. If symptoms persist talk to your health professional.

WHO SHOULD TAKE COMFORCLEANSE?
Those suffering from the uncomfortable effects of constipation.

CAUTION
Drink plenty of water
Vitamin and mineral supplements should not replace a balanced diet.
This product contains Cascara sagrada (Frangula purshiana) bark and may produce a laxative effect.
Do not use when abdominal pain, nausea or vomiting are present or if you develop diarrhea.
If you are pregnant, breast feeding, taking medication or have a medical condition seek the advice of a healthcare professional before taking this product.
Prolonged use may cause serious bowel problems.
Use in children under 12 years is not recommended.
Do not exceed recommended dosage.
Not for long-term use, do not exceed 2 weeks.
Not to be used as a weight loss product.
Keep out of reach of children.
Store in a cool, dry place.
Ingredients
Ingredients
Ingredients
Frangula purshiana (Cascara sagrada) stem bark
Psyllium husk
Foeniculum vulgare (Fennel) seed powder
Burdock root powder
Allium sativum (Garlic) clove powder
Berberis vulgaris (Barberry) root bark powder
Echinacea purpurea (Echinacea) herb top powder
Rheum palmatum (Turkey rhubarb) root extract
Ferula assa-foetida powder
Pectin
Copaiba (Copaiba reticulata)† gum/resin essential oil
Ginger (Zingiber officinale† root essential oil
Tangerine (Citrus reticulata)† fruit essential oil
Anise (Pimpinella anisum)† seed essential oil
Peppermint (Mentha piperita)† herb top essential oil
Rosemary (Rosmarinus officinalis)† leaf essential oil
German Chamomile (Chamomilla recutita)† flower oil
Rice bran
Bentonite
Silicon dioxide
Hydroxypropyl methylcellulose (HPMC)
†100% pure, therapeutic-grade essential oil
Popular Products

Popular Products

FAQs

Frequently Asked Questions

Native to western North America, Cascara sagrada is a species of buckthorn that grows up to an impressive height of 15 metres.
Yes, ComforCleanse is both vegetarian and vegan friendly.