After a full day of working hard, supporting friends and family, and keeping life running smoothly, protectors need powerhouse products. With the Dewdrop Essentials Collection, you and your loved ones can enjoy a complimentary Dewdrop™ Diffuser to infuse your workspace or private den. You'll also receive four universally appealing essential oils: Idaho Blue Spruce and Northern Lights Black Spruce to remind them of outdoor adventures, Peppermint to keep their senses sharp, and Lemon, because who doesn't love Lemon?
This limited-time Father's Day collection is available now through June 30 at 11:59 p.m., MT, and is ideal for macho men, refined gentlemen, or anyone, male or female, who adores diffusing essential oils.
Perfect for protectors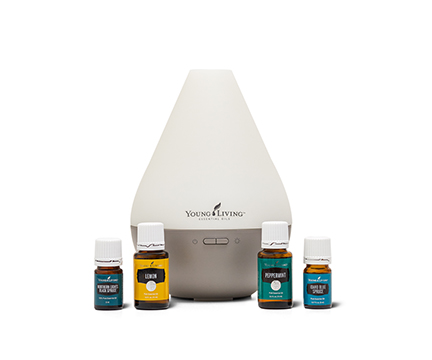 Dewdrop Essentials Collection
Show those at-home heroes how much you care with a complimentary diffuser and crisp, cool oils.


Complimentary Dewdrop Diffuser
- Infuse the air with earthy, complex, or sharp-scented scents.
- Combine Idaho Blue Spruce, Northern Lights Black Spruce, and Peppermint for an outdoor adventure scent or diffuse Lemon to brighten up any room.


Idaho Blue Spruce essential oil*, 5 ml
- Use this straight-from-nature aroma as a cologne, perfume, or beard or hair oil.
- Diffuse this stalwart scent to make any hideaway homey and smelling great.


Northern Lights Black Spruce essential oil*, 5 ml
- Add a few drops to your favorite face cream to boost moisture.
- Mix it with your shampoo to bring the sensation of mountain breezes to your morning shower.


Lemon essential oil, 15 ml
- Snuff out stinky smells by placing an oil-infused cotton ball in your sock drawer or shoe closet.
- Put a few drops on a rag to remove icky messes and sticker residue in a cinch.


Peppermint essential oil, 15 ml
- Cool skin after working in the yard by combining a few drops with aloe vera gel.
- Blend a drop or two with a small amount of V-6™ and rub it into tired muscles.

Item no: 39058
Retail price: $120.07
Wholesale price: $91.25
PV: 75.98
ER/Shop:Shop and ER (ER must be processed between June 1−30)**
Limit: No limit
LTO: Yes
Ship to NFR/APO: Not available for NFR or APO; U.S. only.
Order date and time: Offer is valid from June 1 at 12 midnight, MT, to June 30 at 11:59 p.m., MT. Who can order: All U.S. accounts, including existing members, new members, upgrades, and reactivations


*These items are considered dangerous goods. Shipping restrictions apply.
**If you order this collection on ER and it goes out of stock, it will be removed from your template and could possibly drop you below your PV requirement.