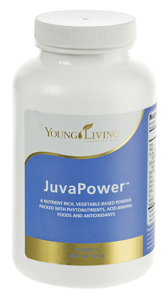 Gary Young had great insight when he formulated Young Living's JuvaPower®. In fact, the supplement turned out to be so effective that both he and his wife, Mary, have continued to take it every single day.
When developing this product, Gary specifically targeted the liver, an organ that often takes the brunt of a busy lifestyle. The liver is one of the most important organs in the body, as its main job is to filter and purify the blood coming from the digestive tract before circulating it to the rest of the body. It also detoxifies chemicals and converts carbohydrates to energy, storing that energy in the form of glycogen and fats. As it does, the liver secretes bile that ends up in the intestines.
JuvaPower helps combat the negative effects of a modern lifestyle by providing many of the world's best liver-supporting, nutrient-rich foods: rice seed bran, spinach leaf, tomato fruit, beet root, flax seed bran, oat seed bran, broccoli floret/stalk, cucumber fruit, dill seed, barley sprouted seed, and many other natural ingredients, as well as Young Living's essential oils anise (Pimpinella anisum) seed and fennel (Foeniculum vulgare) seed.
When these whole-food fibers are consumed, the body generates this food power to optimize normal liver function and to promote healthy intestinal cleansing. Essentially, your body not only gently cleanses, it also replenishes and fortifies with these amazing nutrients.
The most prevalent ingredients in JuvaPower, rice seed bran and spinach powder, offer great benefits in and of themselves. Rice seed bran has been known to have tocotrienol rich fraction (TRF) that can boost the activity of liver enzymes that clear toxic substance from the liver. In addition, spinach is one of the highest known antioxidant foods with an extremely high score on the ORAC scale. In each serving, you receive a hearty 2.7 grams of rice seed bran and 0.81 mg of spinach powder.
Try this tip: Take the majority of your JuvaPower dosage in the evening and let these nutrients go to work for you overnight. You'll discover just how beneficial a happy, healthy liver can be in your life. We'd love to hear of your success!
For more information on JuvaPower, visit www.youngliving.com.
—Jennifer
Associate Product Manager, Nutrition