Contrary to popular belief, you don't need trendy decor or expensive candles to create the right mood. And while a carefully crafted playlist can add to the ambiance, there's an even easier way to restore balance, wake up the wanderlust, or freshen your outlook: aromatherapy.
Aromatherapy is a mood master. The right scent can transport you to faraway places, help you relive magical moments, or boost your motivation. Set the mood—or cater to your current one—with a bottle of essential oil-infused DIY linen spray.
How to make DIY linen spray
Whether your state of mind calls for the soothing scent of Clary Sage or the heartening aroma of Royal Hawaiian Sandalwood™**, you can answer the call with a quick and easy DIY linen spray.
Ingredients
4 ounces distilled water
2 ounces witch hazel or rubbing alcohol
35-45 drops essential oil
Instructions
1. Put witch hazel or rubbing alcohol in a spray bottle.*
2. Add essential oils (see below for scent ideas).
3. Add water and shake well.
4. Lightly mist your linens.
*Because oil and water don't mix, witch hazel and rubbing alcohol act as emulsifiers to help the ingredients combine.
YL tip: Always shake your linen spray before using it to maximize the scent.
Question: Do essential oils stain?
Some oils have a naturally dark color due to their constituents. Check out our guide on which essential oils stain before spritzing with those scents.
To play it safe, go with these tried and tested linen spray recipes. The oils are diluted enough that they shouldn't stain your linens. We tested these sprays on clean, white tissues to ensure they didn't leave a trace of anything other than a lovely scent. We still recommend doing a spot test before using the sprays to make sure they won't discolor table runners and terrycloth towels.
Spray this serene scent on your yoga mat, inside your car, on your bedding—wherever you plan to take your timeout.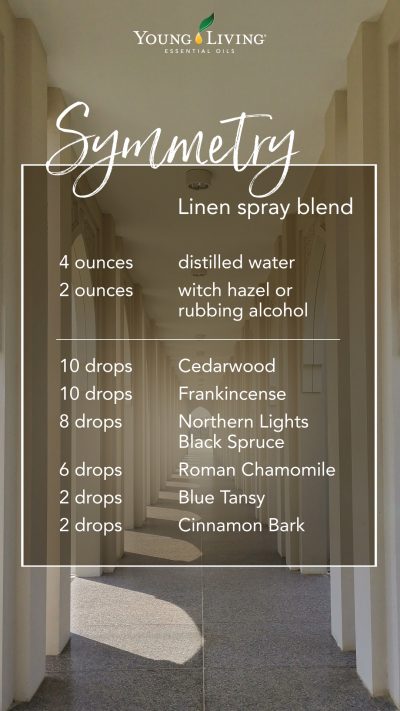 Seascape
linen spray 
Nothing soothes the soul like the feeling of sand between your toes and the sound of waves gently breaking on the shore. Experience that beach-life vibe in your home with crisp, clean scents of Bergamot, Eucalyptus Globulus, Lavender, Rosemary, and Spearmint.
Spray this coastal collection everywhere! The seaside smell is so divine you'll want it on your curtains, bedding, bathroom linens, and outdoor furniture.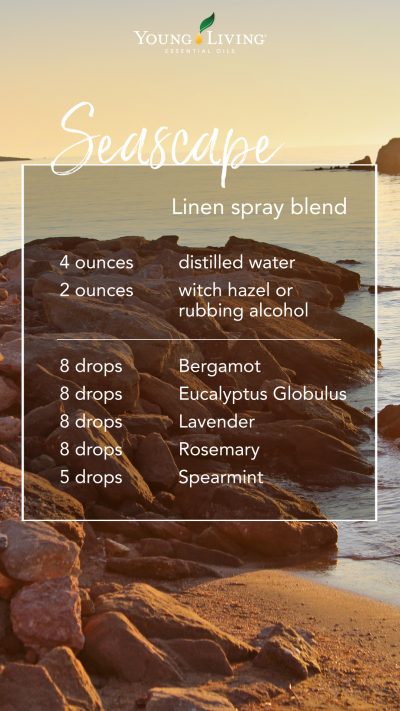 Repose
linen spray 
Sometimes you need a little extra help settling down before bedtime. Quiet today's tension and tomorrow's to-do list with the soft, soothing aromas of Clary Sage, Copaiba, Ylang Ylang, Orange, and Vetiver.
Spray this subtle solution on your pillowcases, bedspread, and little ones' bedding before drifting off to dreamland.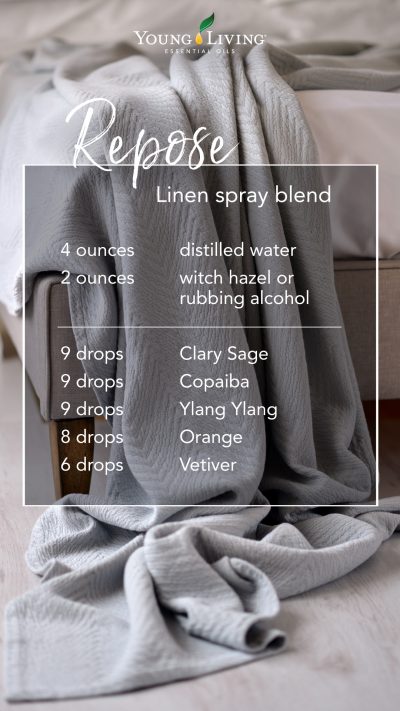 YL tip: Keep a bottle of Seedlings® Linen Spray on hand and use it to refresh crib sheets, car seats, and clothing with the calming aroma of Lavender oil, Bergamot oil, Ylang Ylang oil, and other essential oils.
Spray this fantastic freshener on towels and guest beds, in musty closets and minivans—anywhere you need to clear the air.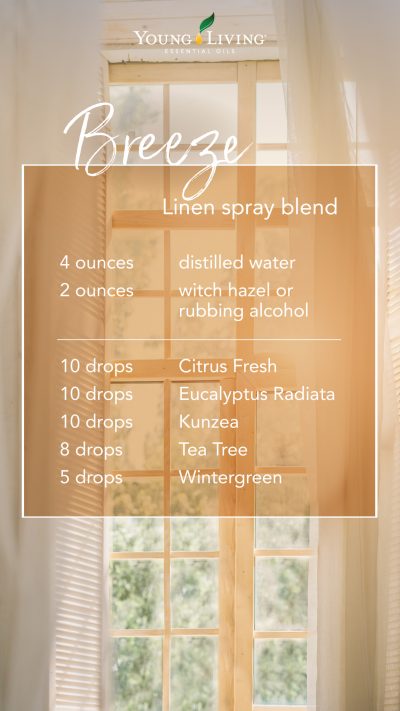 Spray this motivating medley on your office chair, sofa, favorite blanket, or car seats when your mood could use a quick pick-me-up.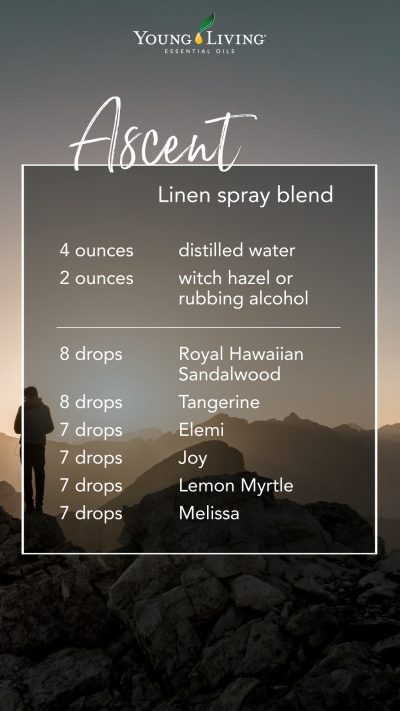 Sunrise
linen spray 
If we could put sunshine in a bottle, this blend would be it. Packed with citrus oils like Grapefruit, Lemon, and Lime and the lively, bright scents of Raven™, Black Pepper, and Geranium, this DIY linen spray is a sunlit orchard in every spritz.
Spray this inspiring aroma on your winter coat, decorative pillows, and throw blankets to enjoy a freshly picked scent no matter the season.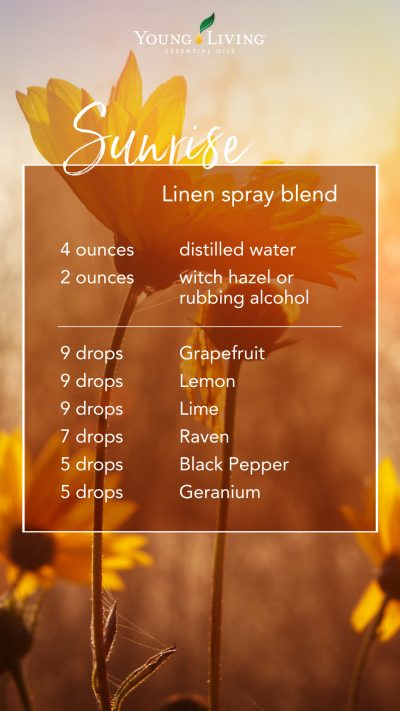 Wildwood
linen spray 
Need to escape reality for a spell? Let the warm, spicy scents of Coriander, Jasmine, Juniper, Lemon, and Sacred Sandalwood™ transport you to a mountainside cabin where you can breathe in rejuvenation and let go of expectations.
Spray this woodsy wonder on bedding, blankets, and furniture when life calls for something cozy.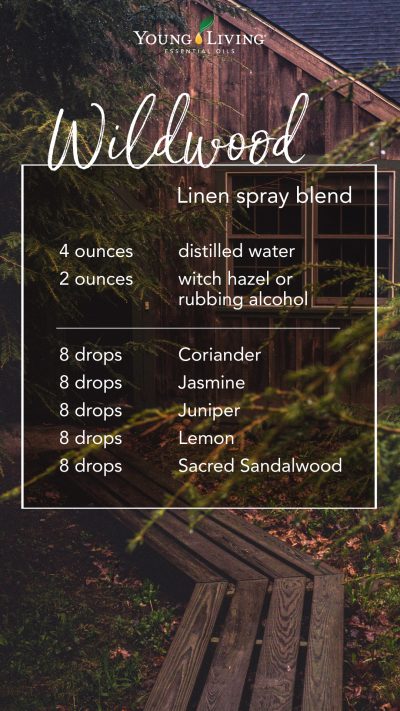 Need even more scentspiration? Try a bottle of Thieves® Household Cleaner. With one bottle, you can make 29 different DIY cleaners! If you discover an especially tough stain while tidying up, try this DIY stain remover packed with pure essential oils.
What oils do you love to put in your linen sprays?
Share with us in the comments!
**Royal Hawaiian Sandalwood is a trademark of Jamwin, LLC.