Which three Young Living products use Wintergreen and Peppermint essential oils, leave a cooling sensation when applied topically, and were created by Young Living Founder D. Gary Young? You guessed it—Cool Azul®, Panaway®, and Deep Relief™ Roll-On! You already know you need all three in your essential oil arsenal, but do you know why? Keep reading for the unique ingredients, aromas, and uses of each product!
---
Cool Azul
Ingredients: Wintergreen, Peppermint, Sage, Copaiba, Oregano, Lavender, Blue Cypress, Elemi, Vetiver, Dorado Azul
Scent: Mint, menthol, and a hint of sweetness. It smells like a wintergreen mint that you keep around for fresh breath!
What sets it apart: Its diversity! Available as an essential oil blend, a cooling sports gel, and a pain-relief cream, Cool Azul covers all your athletic and adventure-time needs.
Cool Azul® essential oil blend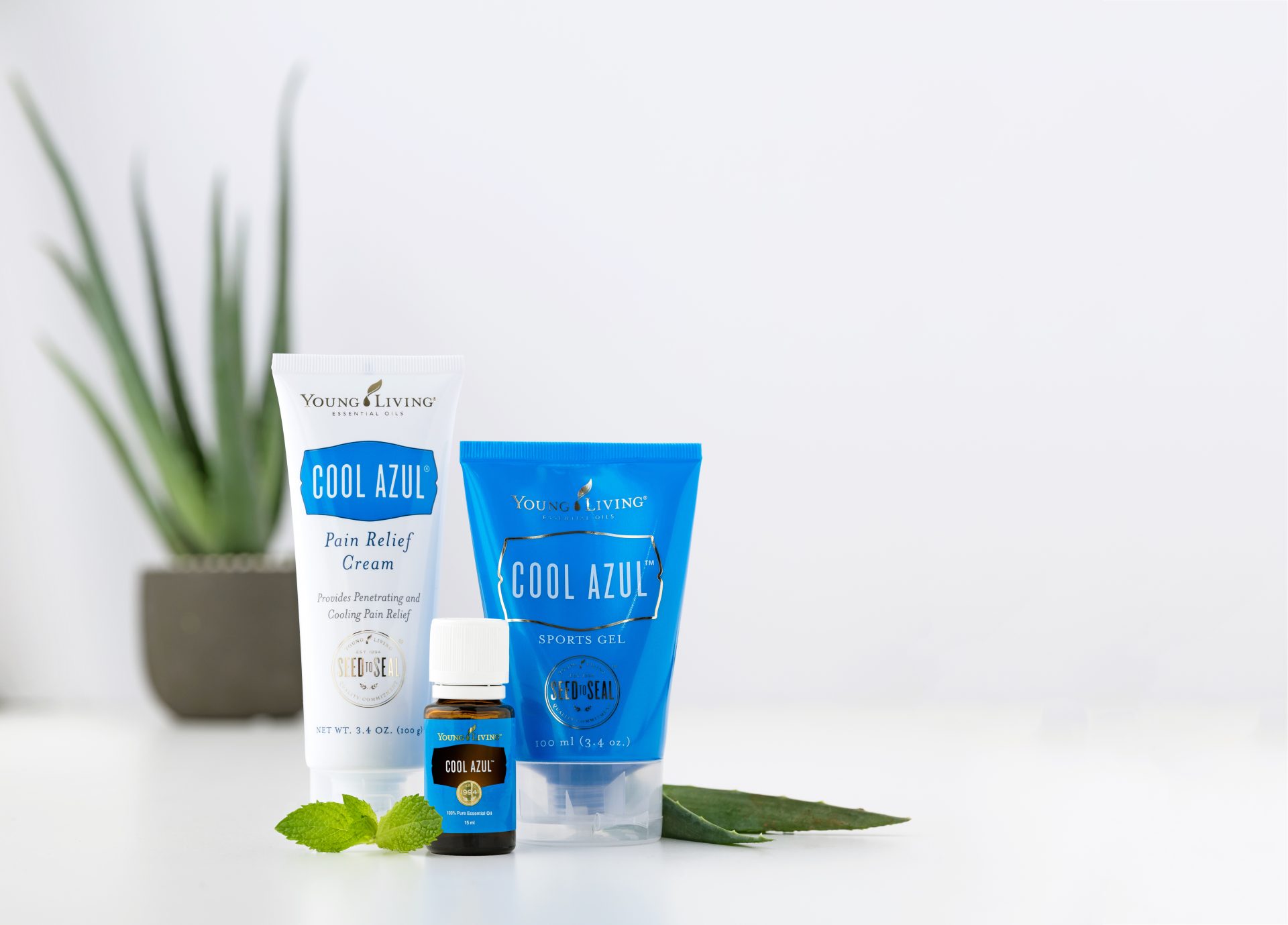 Pack the biggest Cool Azul punch with the essential oil blend. At its most potent, standout ingredients like Wintergreen and Peppermint really shine. Dilute with V-6™ Enhanced Vegetable Oil Complex for an invigorating massage that smells delicious, feels amazing, and helps you not completely regret that 10-mile hike. Or attach an AromaGlide® Roller Fitment and take it on the go so you can easily get post-activity application.
Cool Azul® Sports Gel
Made with gym junkies and ironmen in mind, Cool Azul Sports Gel is just the thing your muscles beg for before, during, and after the twentieth pull-up. Its aloe vera base makes for speedy absorption, which allows this formula's incredible amount of essential oil—10 percent—to get right to work. You may be cursing your trainer's name, but you'll be singing the praises of Peppermint, menthol, and camphor moments after application.
Cool Azul® Pain Relief Cream
Did kickboxing beat you up just a little too much today? Are you seriously regretting signing up for that cross-training class? When you walk away from exercise class with a new bump, bruise, or strain, you'll be thankful you stashed Cool Azul Pain Relief Cream in your glove compartment. Or maybe your biggest opponent is just your office chair. Then it's a relief that this cooling cream works just as well for simple backaches!
---
PanAway® essential oil blend

Ingredients: Wintergreen, Helichrysum, Clove, Peppermint
Scent: Sweet, minty, and warm. The mix of Wintergreen and Clove gives it the aroma of minty root beer!
What sets it apart: Know that uncomfortable feeling that results from wrangling kids, sitting in three-hour lectures, or binging Netflix? It's a nuisance that needs a natural touch and a cooling hand. Enter PanAway! Dilute 1 drop of this Young Living must-have with 4 drops V-6, rub into your temples and neck, and experience the stimulating aroma and refreshing sensation even in a busy grocery stores and stand-still traffic. To embrace the full benefits of PanAway—always diluted—try the following:
Apply to your chest in the morning for a minty experience that's

refreshing and awakening.

Add a drop or two to the bottom of your feet for an evening luxury.
Create a spa getaway by combining 10 drops with 1 cup Epsom salt in a warm bath.
---
Deep Relief™ Roll-On<