Soft, dimmed lighting; the sounds of wind chimes and water; a cool, refreshing towelette—there's nothing quite like a day at the spa. The carefully cultivated atmosphere envelops you in sights, sounds, and smells that make you feel relaxed and rejuvenated the moment you walk through the door.
While you may not have wind chimes or a water feature, you can still turn any space into a spa-like sanctuary. All it takes is a few drops of fresh, flower-scented essential oils in your diffuser. Even if the sights and sounds at home are less spa-like and more real life, when you inhale these serene scents, you'll remember to recharge.
So pour yourself a glass of lemon water, put cucumber slices on your eyes, and breathe in the tranquil aromas of an opulent, at-home spa with these five diffuser blends.
Day at the Spa diffuser blend
Close your eyes and imagine the smell of your favorite spa. You're probably envisioning a complex aroma that is subtle, fresh, and warm all at the same time. Nail that classic spa smell by starting with Lavender, adding Bergamot and Geranium, and tying it all together with Marjoram, Citrus Fresh™, and Frankincense. The result: a sweet yet herbaceous, clean yet floral scent that will make all your spa dreams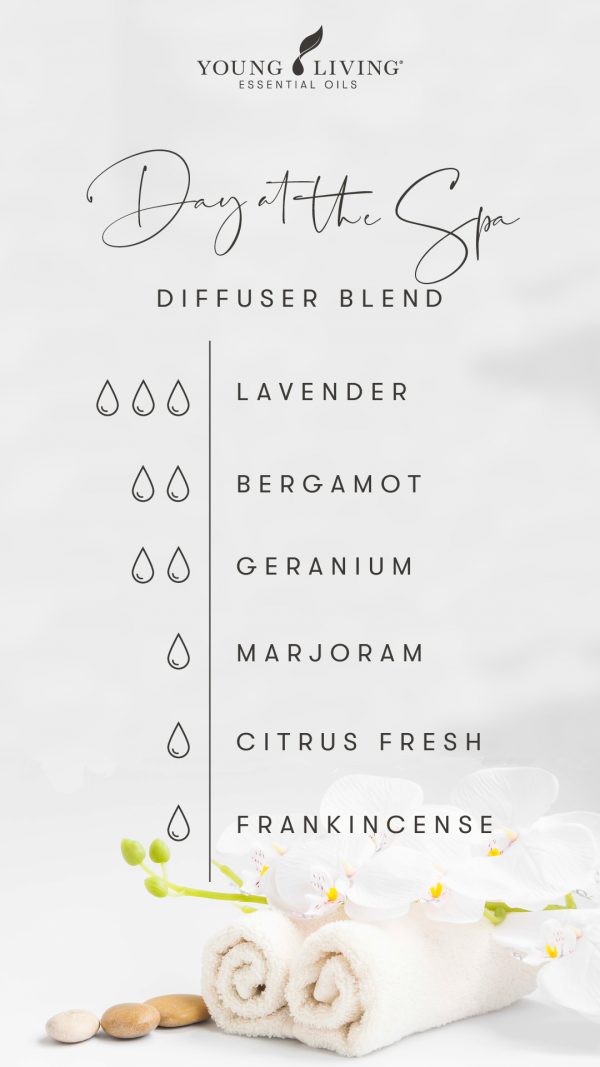 Zen Garden diffuser blend
Japanese maple trees, babbling streams, and patterns in fresh sand—capture all the elements of a Zen garden in one diffuser blend. This arrangement is the ideal aroma for meditation and becoming one with nature. Begin your Zen garden by planting some Cedarwood, Pine, and Tea Tree for an exotic orchard. Scatter drops of Rosemary and Lemon into your diffuser to finish off this botanical blend.