What is the best essential oil for hair? We're head over heels you asked! While there are over a dozen lock-lovin' essential oils, we've trimmed the list down to the best of the best. These seven EOs are true MVHPs (most valuable hair players)—make sure you put your 'do on your to-do list!
The best part about incorporating essential oils into your hair care routine? How amazing your hair smells every time you whip it back and forth.
YL tip: Did you know the best oil for hair isn't an essential oil? It's Mirah® Lustrous Hair Oil, a strand-out multitasker that does everything from smooth flyaways to boost shine.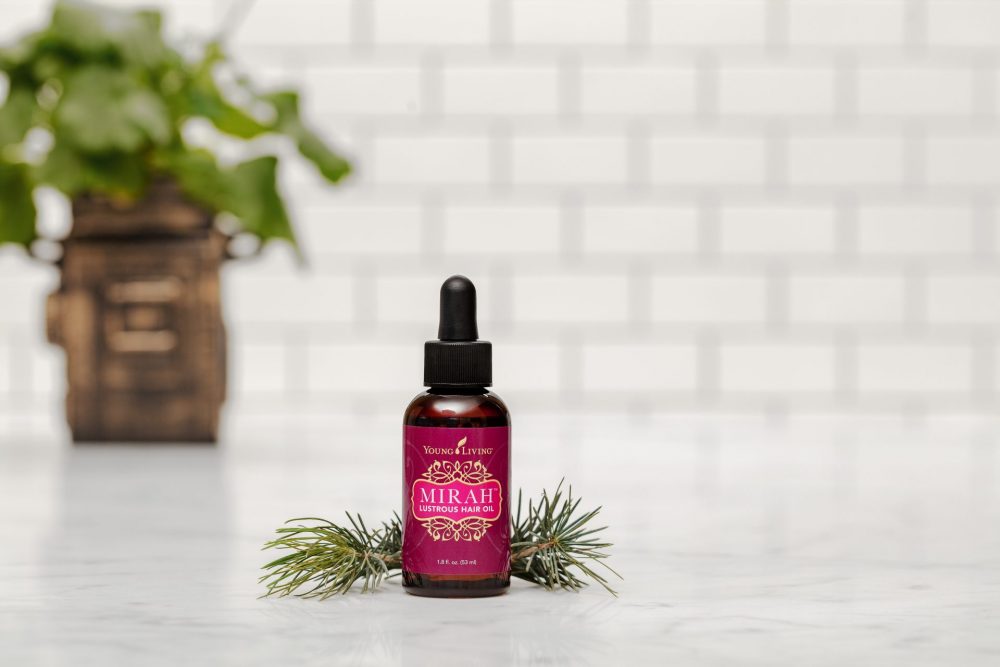 How to use essential oils for hair
Essential oils + your hair = a match pomade in heaven
It's time to learn how to weave those EOs into your hair care routine! From DIY hair masks to exfoliating scalp scrubs, we've rounded up the best ways to use essential oils for hair.
Dry hair
If your hair feels drier than the Sahara Desert, it's time for an essential oil-infused oasis. Simply adding a drop or two of Cedarwood or Peppermint to your conditioner can hydrate the most parched hair. You can also create a dry hair spritz or add essential oils to carrier oils for extra shine and moisture.
Lubricate your locks. Let those powerful essential oils work their magic while you work on your beauty sleep with a moisturizing night mask.
What you need:
3 drops Ylang Ylang essential oil
2 drops Orange essential oil
2 tablespoons of a heavy carrier oil like olive or avocado
What to do:
Combine ingredients and spread through hair, starting on the ends and working your way up. Wrap head in a towel and let sit for 10 minutes before rinsing and shampooing.
Rise and shine. After styling, put a dab of Mirah Lustrous Hair Oil in your palm and add 1 drop each of Cedarwood and Rosemary. Rub between your palms and smooth over hair for added shine.
YL tip: Did you know frizz is caused by a lack of moisture in your hair, not the air? Follow these 10 tips to tackle even the frizziest situations.
 Oily hair
Has your bob lost its bounce due to overachieving oil glands? Believe it or not, oily hair can totally benefit from essential oils. The trick is choosing oils with cleansing properties. When combining them with carrier oils, go for non-greasy options like jojoba oil.
Wash those oily worries away. Add a few drops of Tea Tree oil to your shampoo and massage it into your scalp for extra cleansing power and an extra bright, fresh scent.
Wet it and forget it. Leave-in conditioners can work wonders on oily hair. Give it a try!
What you need:
• 2 cups distilled water
• 1/3 cup of your favorite conditioner
• 3 drops Orange essential oil
• 3 drops Peppermint essential oil
• 3 drops Thyme essential oil
What to do:
Combine ingredients in a spray bottle and spray on wet hair before drying as usual. Note: Shake well before using.
Give oil the brush-off. By now, you and dry shampoo should be thick as weaves. This DIY dry shampoo recipe uses household ingredients plus Rosemary, Tea Tree, and Cedarwood essential oils.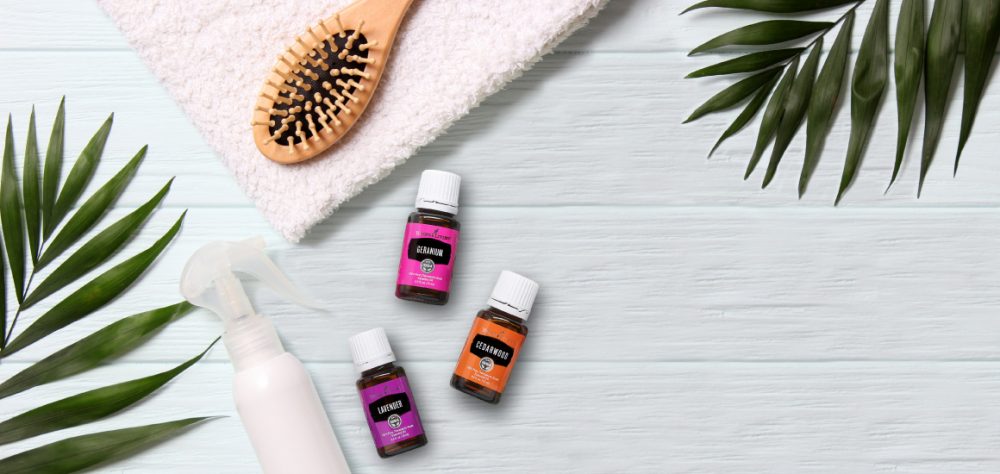 Normal hair
Not dry and not oily? You likely fall in that sweet, somewhere-in-between spot: normal. Try one—or all—of these ideas to turn normal hair into the mane event!
Take your conditioner to a new, EO-infused level. Add 15 drops of essential oil to every 8 ounces of conditioner. For extra moisture and an exotic scent, add 10 drops of Cedarwood and 5 drops of Ylang Ylang.