Jump to recipe
This healthier version of Rocky Road is so delicious, your friends and family will love it! The traditional recipe has lots of sugar, so this is a great alternative.
You can find healthier marshmallows and chocolate chips online or in your health food store. They even have gluten-free marshmallows. You can also find chocolate chips that are even dairy-free and sugar-free. Happy hunting!
Chef Kate TIP:  Try using different kinds of nuts and dried fruit pieces are also good to add. You can roast the nuts if you prefer, but this Rocky Road recipe is pretty much all raw if you don't.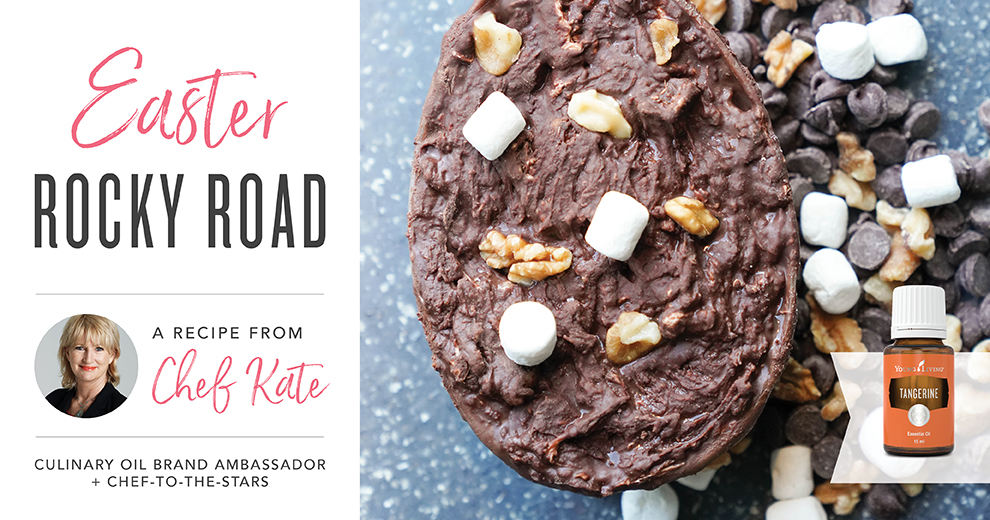 Notes
I like to use a little sea salt when making chocolate treats as the salt brings out the chocolate flavour.

Ingredients
1½ cups (200gm) pitted dates
1 cup (70gm) raw cacao powder
1½ cup melted coconut oil
pinch of sea salt (optional)
2 – 6 drops tangerine essential oil (to taste)
1¼ cup (75gm) roughly chopped walnuts
1¼ cup (75gm) roughly chopped pecans and/or macadamia nuts
½ cup goji (wolfberries) (optional)
2 cups mini marshmallows
1 cup chocolate chips (optional)
Instructions
Place the dates in a medium glass or stainless bowl and pour boiling water over them and let them sit for approx. 5 minutes to soften them. After they are softened, drain them and place them into a food processor with the melted coconut oil, cacao powder, sea salt and tangerine oil.
Blend on high until the mixture is well combined and pretty smooth then taste and add a little more tangerine oil and blend again to combine.
Transfer the mixture to a large bowl and add the chopped nuts, marshmallows and chocolate chips and mix well by hand. Then spread the mixture out into a medium baking pan or glass container lined with baking paper (lining with baking paper makes removing the cut pieces easier and clean up a breeze). You can also use an egg-shaped container or form the shape yourself.
Place the pan in the fridge to cool and set. When the Rocky Road has set gently cut it into pieces (any size you desire) and serve immediately or store covered for up to a week in the fridge. You can also wrap and freeze some of the pieces, if you like to have healthy sweet treats on hand.
© 2023 COPYRIGHT (C) 2018 - ALL RIGHTS RESERVED - YOUNG LIVING