Jump to recipe
You'll fall in love with delicious, moist chocolate cake that is full of healthy goodness. It's sure to please and it's a wonderful way to add a little more nutrition to your life. Young Living Orange or Tangerine oils go really great with chocolate cake. I've also used a little Young Living rose oil in this chocolate cake recipe for special occasions…it's divine!
NOTE: To make beetroot puree, peel and chop 1 – 2  beetroots (depending on their size, you'll need ½ cup of puree). Place the cut beetroot into a pan and cover with water. Bring to a boil, then reduce heat and cook until beetroot is tender, about 15 – 20 minutes. Let beetroot cool and then put them in a food processor with a little of the cooking liquid and process on high until smooth.
Chef Kate TIP: The smaller you cut the beetroot pieces the quicker they will cook. You can also use pre-cooked beetroot or unsweetened apple sauce.

Total Time
1 hour, 5 minutes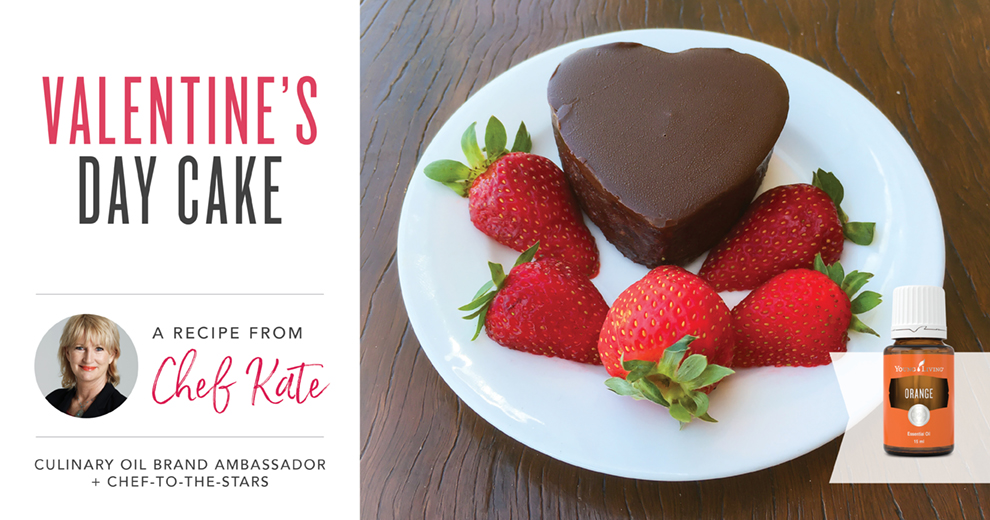 Ingredients
Ingredients
1½ cups gluten-free or regular flour
½ cup cacao powder
1 cup coconut sugar or organic raw sugar
1 tsp baking soda
½ tsp sea salt (to taste)
¼ cup melted coconut oil
2 tsp vanilla
½ cup cooked beetroot puree or apple sauce
¾ cup water
1 tsp apple cider vinegar
3 drops Young Living orange or Young Living tangerine oil (to taste)
Chocolate Glaze
½ cup maple syrup or honey (room temperature, to taste)
¾ cup cacao powder
¼ cup melted coconut oil
1 tsp vanilla (optional)
1 – 2 tbsp warm water (if needed to thin a little)
2 – 3 drops Young Living orange or Young Living tangerine oil (to taste)
Instructions
Preheat oven to 180 degrees and prepare a round baking tin (approx 23cm) by lining it with baking paper or rubbing with coconut oil. Ramekins or small individual heart shaped baking tins are good for making individual cakes. You can also use 1 larger heart shaped tin. Spring form pans work great as it is easier to remove the cakes.

In a large mixing bowl, combine the flour, cacao powder, coconut sugar, baking soda and salt and whisk together.

Add the melted coconut oil, beetroot puree, water, apple cider vinegar and orange oil. Then mix the batter by hand until well combined.

Pour batter into prepared cake tin, ramekins or small cake tins and bake for approx. 35 minutes, or until a toothpick inserted in the middle of the cake comes out clean. Smaller cakes will cook faster so test them after 15 – 20 minutes.

Let the cake cool in the tin for approx. 20 – 25 minutes and then run a knife around the edges of the cake tin and remove the cake. If using baking paper just lift the cake out and remove the paper or release the spring form pan and place cake on a rack to cool and glaze. Allow the cake to cool completely before adding the chocolate glaze.

To make the chocolate glaze, combine the maple syrup, cacao powder, vanilla, water and orange oil in the food processor or blender and process until smooth. Taste and add a little more maple syrup and orange oil if desired. You may need to thin the glaze with a little more warm water so it's easy to pour over the cake, but do not make it too thin.

After the cake has cooled while they are still on the wire rack, place a baking tray or plate under the rack and pour the glaze over the cake and gently spread to cover. The excess glaze will run down the sides. Place the cake on a platter or individual plates and place whole or cut strawberries or other berries around them and serve. You can also top with whipped cream or whipped coconut cream.

Add the strawberries and serve immediately or you can store the cake in the refrigerator until you are ready to serve (for up to 3 days) then add the strawberries and serve.
© 2023 COPYRIGHT (C) 2018 - ALL RIGHTS RESERVED - YOUNG LIVING