Jump to recipe
These chicken fajita kebabs are delicious and easy to create!  The Mexican spices and oils really bring out the flavours.  If you are in a hurry you can simply make the chicken fajita kebabs in a frying pan by adding a little oil in a medium hot pan and cooking until the chicken is cooked through for approx.  8 – 10 minutes. Then remove the chicken form the pan and set aside and cook the veggies in the same pan adding a little more oil. When cooked plate it all together on a platter or in a bowl and serve with warm tortillas, guacamole and a salad.
NOTE: For a vegetarian option try using cubes of baked firm tofu (1 package) or 2 medium sweet potatoes that have been marinated for 30 minutes, then baked in a 180-degree oven until cooked through. The tofu should take a little less time than the sweet potatoes to bake.
Chef Kate TIP: If using wooden or bamboo skewers soak them for 20 minutes in water before using to prevent them burning on the grill.

Prep Time
8 hours, 50 minutes
Total Time
9 hours, 5 minutes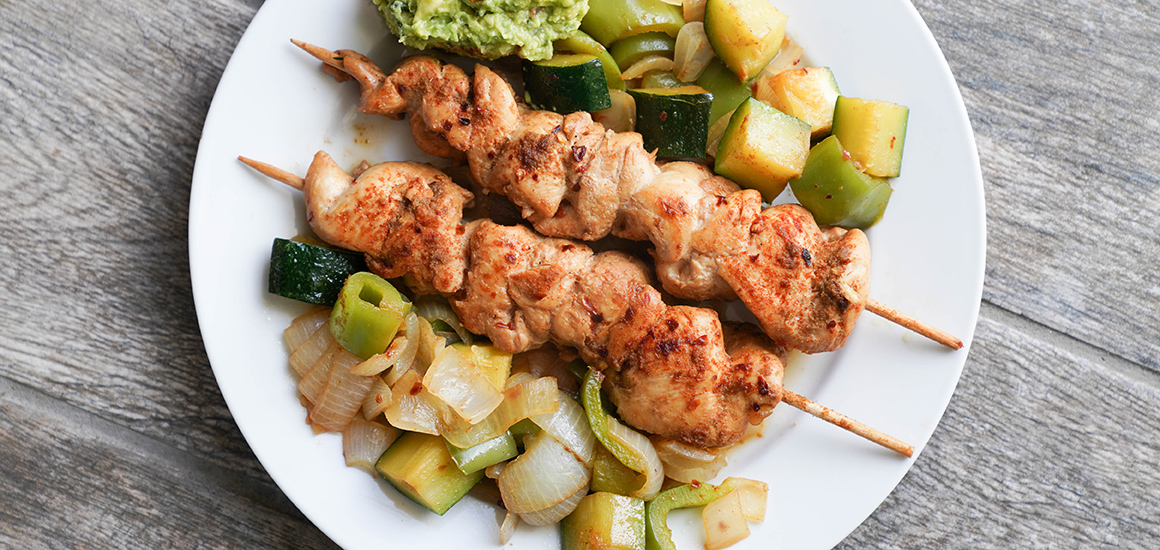 Ingredients
2 chicken breasts, cut in bite size pieces
1 onion, cut in large bite size pieces
2 zucchinis, cut in medium bite size cubes/pieces
1 capsicum, cut in bite size pieces
Guacamole, for serving (recipe follows)
Frijita Marinade
½ cup olive oil
¼ cup fresh lime or lemon juice
1 tsp cumin powder
1 tsp paprika or smoky paprika
1 tsp chilli flakes (optional, to taste)
1 tsp sea salt (to taste)
freshly ground pepper
4 – 6 drops Lemon Oil (to taste)
1 drop of Lime Oil
1 drop Coriander Oil (optional, to taste)
Instructions
In a medium-large glass or stainless bowl whisk all the marinade ingredients together.
Place the chicken in the bowl with the fajita marinade and gently mix well to make sure all of the chicken pieces are well coated. Cover and place the bowl in the refrigerator for at least 30 minutes and up to 8 hours.
When ready to cook, preheat the grill to medium-high heat. Place marinated chicken, onion, zucchini and peppers onto skewers.
You can also just use the chicken on the skewers and sauté the marinade veggie in a pan with a little oil until cooked and serve with the chicken kebabs.
Discard leftover marinade or re-heat gently on the stove until reduced by half then to pour over cooked kebabs before serving. You can also bake the kebabs if you prefer in a 180C oven for approx. 15 – 20 minutes until the chicken is cooked through.
Lightly oil the grill grate. Place the kebabs on the grill, cover, and cook until the chicken is opaque and cooked through approx. about 8 – 12 minutes, turning once or twice during cooking. Transfer to a warmed platter and serve immediately with guacamole.

Guacamole

I just love avocados and this recipe goes well with Fajitas! It's also wonderful served with fresh veggies, corn chips or as a delicious vegetarian sandwich spread. The citrus oils add so much flavour! For added protein try adding ½ a cup of cooked black or pinto beans.

NOTE:

Try adding a swirl of black pepper and/or thyme oil, but a little thyme oil goes a long way so use sparingly. Use the toothpick method for stronger oils. Place a clean toothpick in your oil bottle and shake a little to get oil on it then swirl the toothpick into the guacamole and stir well, add a little more, if desired by using a clean toothpick.

Chef Kate TIP:

If you are not a fan of coriander add parsley instead.

MAKES

Approx. 1½ cups

PREP TIME

10 minutes

Ingredients

2 ripe avocados, pits removed
2 tbsp fresh lime or lemon juice (to taste)
1 tbsp finely chopped coriander or parsley
2 tbsp finely chopped red onion (optional)
½ tsp ground cumin
½ tsp sea salt (to taste)
freshly ground pepper (to taste)
1–2 drops culinary lime oil and/or lemon oil (to taste)
Optional Additions
½ cup cooked black or pinto beans
½ cup grated broccoli stems
½ cup finely chopped tomatoes
½ tsp fresh or dried thyme leaves
½ tsp maple syrup or honey (to taste)
Chilli flakes (to taste)
Jalapeños, finely chopped (to taste)
Instructions
In a medium-sized bowl (glass, stainless or plastic) gently mash the avocado with the lime or lemon juice.
Add the rest of the ingredients and gently mix to combine. Add any of the additional ingredients and gently mix.
Check for seasoning, add a little more salt, lime or lemon culinary oil, if desired. It is best served immediately but will keep for a few hours in the refrigerator.
© 2023 COPYRIGHT (C) 2018 - ALL RIGHTS RESERVED - YOUNG LIVING