Jump to recipe
This is a festive twist on traditional trifle using our Cinnamon Bark Essential Oil with apples, ginger snaps and ginger bread men for the holidays. You can use other seasonal fresh fruit if you like. Nectarines, peaches, pears and figs also go great with cinnamon. The recipe calls for cooking some of the apples, but if you prefer you can use all the apples raw with the honey and Cinnamon Bark Essential Oil to save time.
I suggest reading through the whole recipe before you go shopping as there are a few options to consider.
NOTE: You can make your own thick custard or if pressed for time you can buy some. Yoghurt also works if you are looking for a lighter version, but it is the holidays so splurge a little. If you do use yoghurt just sweeten it to taste and add a few drops of vanilla or buy vanilla yoghurt. Remember keep it simple!
 Chef Kate's TIP: I have given specific amounts so you have an idea however amounts will vary a little depending on the size of your trifle container. You'll need enough to make the layers and fill the container. If you have any ingredients left over, they are great for a little snack or breakfast too.
I found health versions of ginger snaps and gingerbread men at my local health food store, however, they are a bit more expensive.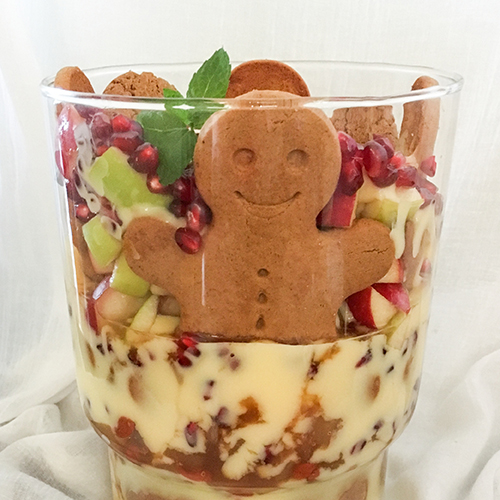 Ingredients
10 – 12 apples, cut in cubes (red and green apples)
2 cups filtered or spring water (approx.)
4 – 6 whole gingerbread men (if using)
4 cups crumbled (in large pieces) ginger snaps (reserve a few for serving)
4 cups of thick custard or sweetened Greek yoghurt
½ cup wolfberries/goji berries (reserve a few for serving)
½ cup pomegranate seeds (optional, reserve a few for serving)
½ cup honey or maple syrup (reserve ¼ cup) (to taste)
pinch of sea salt (to taste)
2 – 4 drops of Young Living Cinnamon Bark essential oil (to taste)
For Serving
crumbled ginger bread snaps
wolfberries/goji berries and/or pomegranate seeds
fresh mint leaves (optional, for serving)
Instructions
Place half the cut apples in a medium bowl and drizzle with a little honey mixed with 1 – 2 drops of Cinnamon Bark essential oil, stir to coat and refrigerate until needed.
In a medium sauce pan add the water, the remaining apple pieces, wolfberries, honey and a pinch of salt to bring up the flavours (you'll need enough water to almost cover the apples). Heat the pan on medium heat and cook the apples until just tender, approximately 10 minutes. Strain the apples into a shallow bowl, reserve the cooking liquid and put the apples in the fridge to cool, (be careful not to burn) and reduce until there is about a cup left. You'll want a syrupy consistency. Remove from heat and cool then stir in the 1 – 2 drops of Cinnamon Bark essential oil.
To assemble the trifle, place a little of the custard in the bottom of your serving container (for a great presentation you can use individual glasses and make desserts for each guest and just serve a ginger bread man with each glass but making one large trifle is much easier and quicker to create).
Add a layer of crumbled ginger snaps followed by a layer of cooked apples and a little of the cinnamon apple syrup. Then add a layer of custard and then fresh apples. At this point if you are using ginger bread men stand them up against the glass bowl and gently push their feet into the layer below so they stand up to the top of the bowl. If you need to add another layer first do so. The idea is to have the ginger bread men show through the glass, but some of the custard does cover them a little as the longer the trifle sits.
Repeat the layers until all the ingredients have been used, finishing with custard and some ginger snaps. Sprinkle with wolfberries/goji berries and/or pomegranate seeds and a few mint leaves if desired. If you have a gingerbread man left place on top or next to the trifle when serving, just for fun. Serve immediately or chill until ready to serve. MERRY CHRISTMAS - your friends and family will love this recipe!

Find other Chef Kate Recipes here!
© 2023 COPYRIGHT (C) 2018 - ALL RIGHTS RESERVED - YOUNG LIVING