Jump to recipe
This fragrant tangy marinade works great with seafood, veggies, tofu, chicken, and meat. It's sure to please at your summer BBQs and parties. You can serve the prawns on skewers or take them off the skewers and serve them on top of a salad. Pour a little of the remaining marinade over the salad as a dressing. These are great served warm or chilled, which is great because you can make them the day before if serving chilled for easy entertaining on the day.
Chef Kate's TIP:  You choose how many prawns and the size you like. I have used medium/large wild caught prawns and 3 – 4 to a skewer works well. Serve 1 – 2 skewers per person. For the fresh herbs, I like using a mixture of parsley, coriander, and mint I like the colour and freshness they add to the dish.
NOTE: This recipe makes approx. 1¼ cups marinade and will keep in the refrigerator for up to 1 week. I suggest pouring only some of the marinade in the bowl with the prawns to coat them and reserving the rest for serving with the prawns and making the sauce.

Cuisine
Australian
Category
Recipes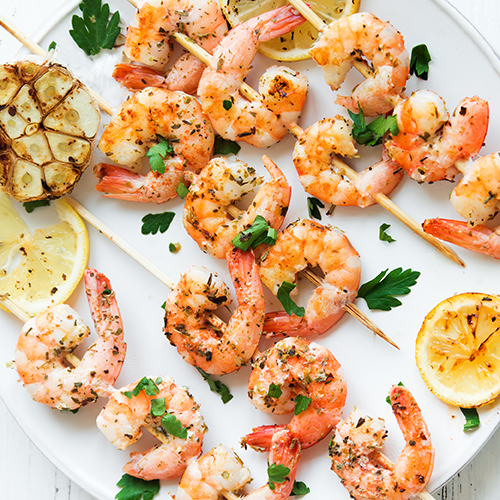 Ingredients
16 – 32 prawns (shells removed and cleaned)
8 BBQ skewers (if using)
Marinade ingredients
½ cup olive oil
¼ cup honey
¼ cup fresh lemon juice (to taste)
3 tbsp tamari or soy sauce (to taste)
2 cloves garlic, finely minced (to taste)
½ tsp lemon zest
2 tbsp finely chopped fresh herbs
1½ tsp sea salt (to taste)
½ tsp fresh ground pepper (to taste)
6 – 8 drops Young Living Lemon essential oil (to taste)
1 – 2 drops Young Living Basil essential oil (to taste)
Citrus and Herb Dipping Sauce
½ – ¾ cup Citrus Garlic Marinade (from above ingredients)
½ – ¾ cup mayonnaise or plain yoghurt
½ tsp sea salt and freshly ground pepper (to taste)
1 tbsp finely chopped fresh herbs
1 – 2 spring onions, finely chopped
4 – 6 drops Young Living Lemon essential oil (to taste)
For Serving
Freshly chopped herbs and spring onions (optional)
Dipping Sauce (recipe above)
Lemon wedges
Instructions
Mix all the marinade ingredients together in a medium sized bowl and set aside.
Place the prawns in a large bowl and pour approx half the marinade over them and gently stir to coat. You can cook them right away or refrigerate for a couple of hours to let the flavour infuse.
Prepare the Citrus and Herb dipping sauce by combining the sauce ingredients together and refrigerate until needed.
When ready to cook the prawns place them on skewers, if using (you can do this step ahead of time and refrigerate until ready to cook).
Heat the BBQ or a grill pan and brush with oil so it does not stick (I'm not a fan of cooking sprays, but if you like to use a natural one it does help them not to stick on the grill). When the BBQ or grill pan is hot, gently place the prawn skewers or prawns on the BBQ or grill pan and cook for approx 2 – 3 minutes on one side then turn and cook for approx. 2 – 3 more minutes until cooked through (you may want to cook 1 extra prawn so you can test it to see if it is ready). When done, set the prawns on a platter, drizzle with a little of the marinade and cover to keep warm, if not serving immediately.
When ready to serve place them on a serving platter with a bowl of dipping sauce or on top of salad greens drizzled with some of the remaining marinade and serve some dipping sauce on the side.
© 2023 COPYRIGHT (C) 2018 - ALL RIGHTS RESERVED - YOUNG LIVING