It's the season to come together, with the refreshing attitude January unleashes. And in the spirit of celebration, nothing screams 'party' quite like an essential oil blend of Orange, Tangerine, Grapefruit, Lemon, Spearmint and Mandarin: Citrus Fresh.
It's uplifting, refreshing aroma is the life of this party. You know, there's always one in the room. He or she 'can't make it?' No worries, Citrus Fresh's zesty burst of flavour will liven up their drinks.
Maintain the 'New Yeeeear' energy with these essential oil mix ideas.
Let the motivation, anticipation and positivity engulf you with every breath of this aromatic summer treat. Diffuse Citrus Fresh with Spearmint first thing every morning to continue this high-energy state, year-round.
Kick the first week of January off with Citrus Fresh in a different way, everyday:
1. Make an all-natural room spritz
You shop for organic food and do yoga on the weekends. Now, it's time to make your house as free from harsh chemicals as possible. Citrus Fresh oil is the perfect replacement for artificial fragrances in the home. Just combine a few drops with distilled water in a spray bottle for your new spray!
As you wander from room-to-room, send your senses on a 'tropical adventure.' It's safe to spritz on the bed, in the closet, near the little ones (and pets), and around food. Use this solution to clean your surfaces (wiping away dirt and bad vibes).
Tip: Take an extra, handbag-size bottle and fill it with the liquid. Spray it on your clothes for all-day freshness (and a natural remedy for that 3.00pm slump).
Cliffside Dreaming
Combine the bubbly scents of Grapefruit and Citrus Fresh™ with high-class Geranium and the depth of Blue Cypress for an aroma that will have you considering a one-way ticket to a Mediterranean cliffside villa – right at home!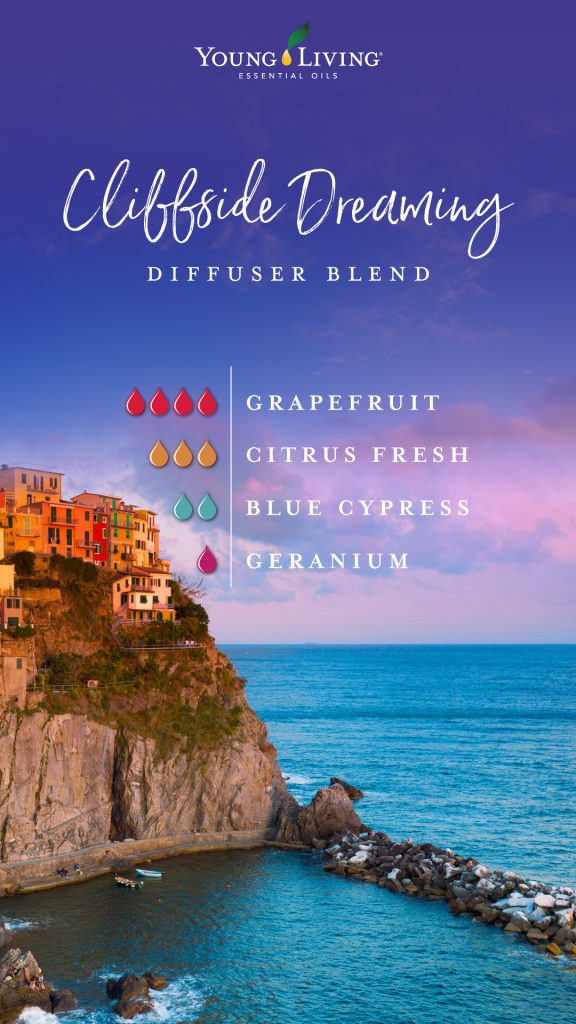 2. Add to your juices
Do you juice it up? Are smoothies more your thing? Start the morning off with this invigorating blend running through your body. Citrus Blend is the perfect flavour partner for fruit, vegetable juices or NingXia Red. Just add a few drops into your drink of choice and wait for the happiness to flow through you.
Tip: The hint of flavour also works in your water bottle, so don't be afraid to try it.
3. Run a citrus-infused bath
Had a long day at work? Is it Sunday self-care time? Elevate your mind and body, soaking in a hot tub with Citrus Blend. Add a few drops into the hot water and let your worries defuse.
4. Blend with your moisturiser
For more radiant-looking smoother skin, you must try this essential oil on your face at night. Because some citrus oils can cause photo sensitivity, only use it in your bedtime routine. Oh, and did we tell you Citrus Fresh tones and tightens your skin? You betcha! A few drops into your favourite night moisturiser.
5. Before you slide into bed
Unable to shut down your brain at bedtime?  Slowdown that chatter, diluting  Citrus Fresh and applying to your wrists, neck or ears. It helps to relieve everyday stresses and sets you up for a relaxing night's sleep.
6. To massage the body
Tense neck and shoulders? Add Citrus Fresh to V-6 Vegetable Oil Complex for a   custom massage blend that empowers the skin. Thanks, honey.
YLTip: Love the smell? Together, these blend into a naturally uplifting (DIY) perfume. Your new signature scent?
7. In your workout room (and office)
Citrus Fresh injects an elevating scent into a room, which makes it perfect for your exercise space or office. Wherever you need a zesty mood boost, diffuse Citrus Fresh one to three times a day.
It's a fresh, citrus aroma with a minty twist that you can use in almost anything you do around the house. Citrus Fresh sounds, smells & tastes like a New Year's resolution that's super easy to keep.
Love the fresh smell of citrus?  Check out our 8 things you should know about grapefruit oil or love lemon, find 21 ways to use it!
 Let us know your favourite citrus oil in the comments below: